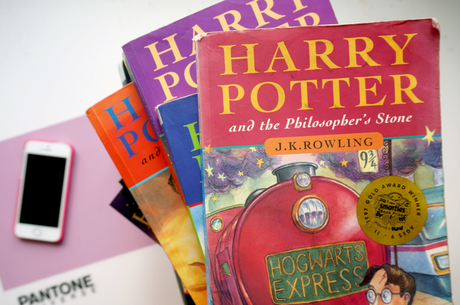 I feel incredibly protective of the Harry Potter series as it was such a huge part of my childhood, a craze that swept us 90's kids up and transported us to a place full of magic and mystery. I always find it so shocking when people of a similar age haven't read the books and have no interest to start. It's such a huge part of my life that I really can't imagine not having it to fall back on. I remember the excitement of queuing up outside Waterstones at midnight awaiting the release of the Deathly Hallows then rushing home and staying up all night at my grandparents house reading to discover if Harry could fulfill the task that Dumbledore left him.I think those who have read the books will always have a special feeling for the Harry Potter series which is difficult to put into words other than it is a feeling that is certainly not going anywhere. 
What is your favorite book? It's so difficult to pick one but the first book that comes to my mind is Harry Potter and The Goblet of Fire as they get to go to the Quidditch World Cup and Harry is selected for the Triwizard Tournament. 
What is your favorite film? Having not seen the films for a while I feel quite distanced from them and means I would probably enjoy more rather than nit picking them apart. The Potter films were never going to live up to the books as it is impossible to please an audience who are so deeply attached. I don't really have a favorite but I do prefer the later films over the first ones.
What is your least favorite book? I don't have one. 
What part of the books and movies made you cry? RIP Dumbledore. RIP Sirius Black. 
If you could hook up with any Harry Potter character who would it be? Sirius Black. The character from the books, NOT Gary Oldman. 
Who is your favorite character? Hermione Granger/Hagrid.
If you could have the Resurrection Stone, the Invisibility Cloak or Elder Wand which would you choose? The invisibility cloak. 
Which house would you be in? Hufflepuff. 100%. 
If you could meet any member of the cast who would it be? Emma Watson. 
Have you ever played any of the video games? Yes. I used to have Harry Potter and Chamber of Secrets on my Gameboy Colour. 
If you were on the Quidditch team which position would you play? I think I would probably be a seeker as I always used to be a striker when I was on the girls football team at school and ran the 100m sprint in athletics. Mind you, I am also extremely clumsy with butter fingers so this probably wouldn't work out too well. 
Were you happy with the ending? I consciously choose to forget the epilogue as it's my least favorite part of the entire series. The fact that the anticipation and yearning for the next installment of Harry Potter is over is something that will never be OK. 
How much does Harry Potter mean to you? Everything. 
I am still holding onto every little snippet of Harry Potter and can't wait to see the Fantastic Beasts and Where to Find Them which is being written into a screenplay consisting of three films, the first of which is being released in 2016. If you haven't read the Harry Potter series then I urge you to go and pick it up. I'm sure you are never too far away from a Harry Potter book as you can always find the books sitting on the shelves of charity shops. If you have read the series already, there is certainly no harm in starting it again. I have lost count the amount of times I have reread the books and they just get better.