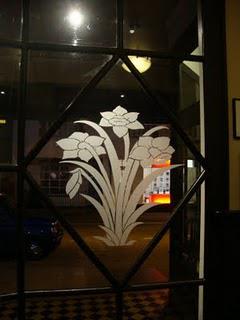 Our second eating out experience in Cheltenham was at The Daffodil. This had been the choice of my friend. And what a good choice it was too.
The restaurant is in an old cinema, with a lot of the features still in place. The entrance hall ha art deco type stained glass, and original cinema style doors, as well as stairs either side up to the bar in the circle.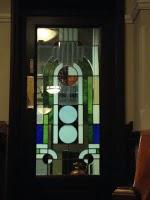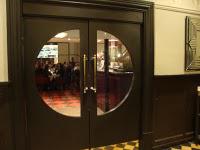 The restaurant, in my opinion, feels very airy, but still with an intimate feel at the tables with the level of lighting and the table settings. The kitchen is open, and is the focal point of the room, and at either side are the curving staircases to the bar.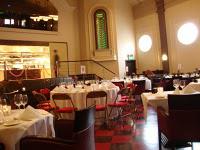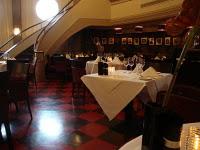 We ate from "The Dailies" section of the menu. Our friend had called ahead to check about gluten free options, and the waitress was very good and explained which dishes I could choose from. Being the "Dailies" the choice was limited, and out of the three options for each course, there was only one of each I could have. Luckily, the ones I would have chosen anyway.
Between the three of us we ate pretty much the whole of the menu: Pigeon breast with tarragon risotto, courgette and mint soup, Sea Bass with sauce vierge,  Pork with wilted greens, Salmon and courgette salad, rice pudding, parfait and chocolate pudding. The highlights of the meal were the courgette soup which was very fresh and flavoursome, the pigeon, which was a new taste for Tim  along with tarragon - his new favourite ingredient, and the rice pudding. (apologies for the photos, but low lighting and no flash makes for dull photos)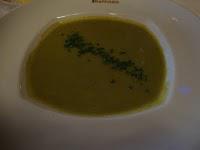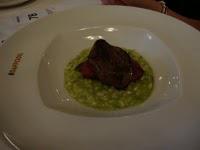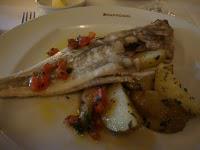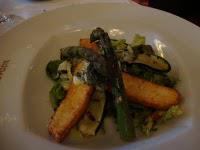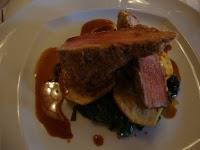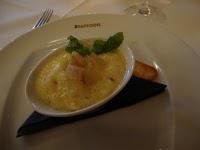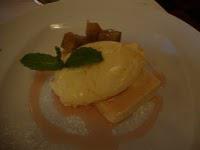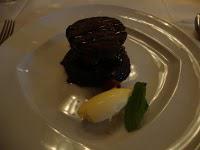 All round, the food was good, and there were some excellent flavours. I was a little disappointed with the fish, and we all thought the pork dish was the best main. We finished the evening in the upstairs bar for some rather unusual and exciting cocktails and coffee.
I would recommend The Daffodil. The setting is superb, as seems the full, varied and seasonal menu.
The "Dailies" do offer very good value, but perhaps we made bad choices.