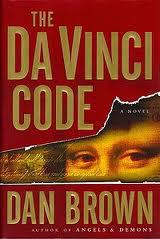 I had picked up the Da Vinci Code few years back but left it in between,last week I decided to reread it again and I completed it this time.
The book is based on Christianity and its belief , it talks about a Holy Grail an alternative reality of Jesus Christ .The books starts with a murder of Louvre  museum curator "Jacques Saunière" in Paris, Robert Langdon, a Harvard symbologist, along with granddaughter of Jacques Saunière, Sophie Neveu gets caught up in his murder investigation.Jacques Saunière leaves clues for his granddaughter to know reality about her family which she considered to be dead long back in an accident.Eventually in this search she gets to know about lot of things like Secret societies, Templar kings and much more.
The day I started the book I couldn't wait to see the movie, hence I saw it  midst of reading the book.I found the book to be better as its very informative at many instances and the ending of book and movie are quite different .I just don't want to break its suspense here :)
Undoubtedly Dan Brown has done amazing jobs to his book "The Da Vinci Code". The story is powerful and magnificent. Mixing with a lot of traceable truth and facts, he made his novel sound extremely convincing and  entertaining.