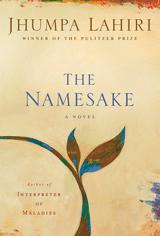 Title:Namesake
Author: Jhumpa Lahiri
Paperback: 291 pages
Publisher: Mariner Books; First edition (September 1, 2004)
Language: English
ISBN-10: 0618485228
ISBN-13: 978-0618485222
Synopsis:
Ashoke and Ashima natives of Calcutta move to United States after their arranged marriage in India.Ashoke is a PhD student at MIT , soon after Ashima gives birth to a son .They are undecided about theirs child's name , ultimately relying on a postal letter from Ashima's

 

grandmother but letter is lost somewhere in transition, and they are forced to choose

 

a name for their son before his release from Hospital. Ashoke decides to name his son "Gogol" after Russian Author
Nikolai Gogol
and in memory of a tragic train accident of his past.
The Novel revolves around the life of Ashoke , Ashima and their son Gogol .The cultural differences and the generation gap between parents and kids. Gogol's struggle in search of his own identity and his embarrassment that surrounds his name. Ashima's loneliness in a new country and how she adjusts and make it home.
About the Author: Born in London to Bengali parents, Jhumpa Lahiri currently resides in Brooklyn with her husband and two children. Her debut work of fiction, a collection of short stories entitled Interpreter of Maladies, won the 2000 Pulitzer Prize for Fiction. She is currently a member of the U.S. President's Committee on the Arts and Humanities. Her novel The Namesake was also made into a 2007 film
My Thoughts on the Book:

I picked up this on the thought that I would like reading it and was not least bit disappointed. Lahiri's writing is poetic and descriptive she is able to very well describe the lives of Ashoke , Ashima and their family as Immigrants in USA although a bit slow at times.
The book is also made into a movie which I had seen many years ago before reading it.I liked the movie as much I had liked the book. 
All in all the is expectedly excellent and a must read.