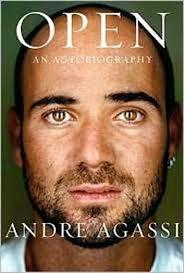 "The scoreboard says I lost today, but what the scoreboard doesn't say it is what I have found. Over the last twenty-one years I have found loyalty: You have pulled me on the court, and also in life. I have found inspiration:You have willed me to succeed, sometimes even in my lowest moments. And I have found generosity: You have given me your shoulders to stand on, to reach for my dreams - dreams I could have never reached without you. Over the last twenty-one years I have found you, and will take you and the memory of you with me for the rest of my life."
I came across this book reading an article about self-development books, which was mentioning Open as an inspiring and motivating lecture. I couldn't agree more.This is one of the most amazing autobiographies that I have read, a captivating life-confession that I have enjoyed until the last word. Even though I didn't know much about tennis I was fully engaged in each and every match described. I could feel all the emotions: the dedication, the anxiety, the fury, the happiness, the disillusion. One can identify with this destiny, as we all are struggling throughout our lives to find out who we truly are and what we truly want to do with our lives.
I have a lot of respect for Andre Agassi and for the courage it must have taken to write this memoir in which he revealed his tough upbringing and unhappy childhood. I admire the way he was so open andhonest about his life and this book has to be one of the best autobiographies I've read yet. Furthermore, I was touched when I read the passage in which he dedicated his book to his children and confessed that he was late in discovering the magic of books and he hopes that his children avoid the same mistake he made. As an avid reader, this brought a smile to my face!