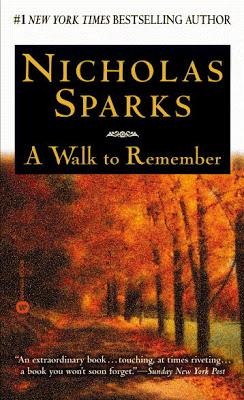 A Walk to Remember is my second book by Nicholas Sparks the first  being  the Notebook . The book is about two teenagers who fall in love with each other in-spite of different  of personalities. 
The book helps you realize so much about life. Jamie Sullivan the daughter of the pastor Herbert.
No one really likes Jamie at school they think she is not "normal" she is very quite a sweet to   everyone no matter how or what they say to her.She is very religious. She helps everyone in need.
Landon young man who attends the same school as Jamie he never talks to her. But the day comes when he has class with her and even asked her to the dance. After all the laughs he got from his friends for asking her he was ashamed he didn't even want to talk to her anymore.
A play Jamie was doing was coming up she asked Landon if he would play the main part of the play, Landon didn't want to but he owed her an apologie from the other night when she was very sweet.
He did the play and during spending time with Jamie he fell in love with her. He told her how he felt but Jamie told them that he could like her.He was confused. later on he found out she has Lukima. He was scared of losing Jamie. This was a test for him. He saw how she went through so much pain but he was always beside her.  Landon and Jamie got married, but after a few moths she passed away it was hurtful to Landon.He learned to love her even though she wasn't there by his side.It is a quick read that will have you smiling and in tears all at the same time.