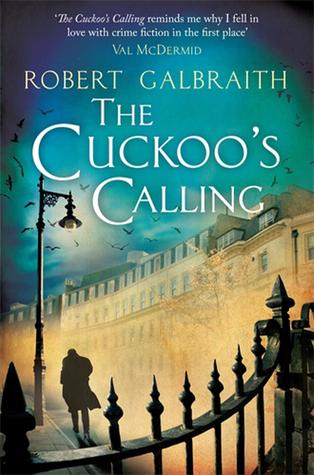 What's it all about?:
After losing his leg to a land mine in Afghanistan, Cormoran Strike is barely scraping by as a private investigator. Strike is down to one client, and creditors are calling. He has also just broken up with his longtime girlfriend and is living in his office.
Then John Bristow walks through his door with an amazing story: his sister, the legendary supermodel Lula Landry, known to her friends as the Cuckoo, famously fell to her death a few months earlier. The police ruled it a suicide, but John refuses to believe that. The case plunges Strike into the world of multimillionaire beauties, rock-star boyfriends, and desperate designers, and it introduces him to every variety of pleasure, enticement, seduction, and delusion known to man.
You may think you know detectives, but you've never met one quite like Strike. You may think you know about the wealthy and famous, but you've never seen them under an investigation like this.
What did I think?:
There's been a lot of publicity about this book, as there always is when a psudonym is revealed to be one of our most famous authors, trying her hand at a spot of adult crime fiction. Our main character, Cormoran Strike, is one of the most mysterious and compelling main characters that I have read in recent times. He works as a private detective, but business has been a bit on the quiet side, so when John Bristow walks into his office, requiring his services to investigate the death of his sister, supermodel Lula Landry, which he considers to be suspicious, Strike is propelled into a world of broken families, the insistent paparazzi, dodgy deals, drugs and a bit of rock and roll, which Strike is no stranger to himself.
However Strike has more than a few skeletons in the closet himself. The author teases us with tidbits of his life, without every saying too much so the reader is kept intrigued and on tenterhooks as to what is going to be revealed next, if at all. His main issue at the moment is that he has a prosthetic leg, after part of it was blown off while he was serving in Afghanistan, but he is desperately secretive about this fact, and tries to keep his limp under wraps when in company. We also learn that he has just escaped from a toxic relationship, and as a result, has to live in his office, with just a camp bed as his luxury, but again, not many details are given about the woman he has left, leaving the reader craving more. What else? Well, he had a relatively disrupted childhood with an unfit mother, he has a rock and roll father that he never sees, and numerous half-siblings dotted about the place. There is so much depth and layers to this character that I thoroughly enjoyed reading about him and definitely cannot wait to find out more – I get a sense we have only just scraped this surface with this one!
As for the plot in general, I thought it was a brilliant and exciting read, which put me in mind of some of the real classic crime fiction that we used to see. No frills, nothing fancy, no head-spinning twists, but just a good, clean mystery to unravel which was very refreshing. In fact, I only have one little niggle with this book, I would have loved for the character of Robin, Strike's secretary to be a little stronger. Perhaps it was because Strike is such a prominent character himself, but it would have been nice if she had been better defined. As for the author writing under the pseudonym of Robert Galbraith, I completely understand her reasons behind it  (why should you be so negatively or positively rated on just your name anyhow?) and sympathise that it came out before she was ready for the world to find out. I'm hoping that this is going to be a series of books, as it is advertised as Cormoran Strike #1, as I can't wait to delve a little deeper into Strike's enticing world.
Would I recommend it?:
But of course!
Star rating (out of 5):