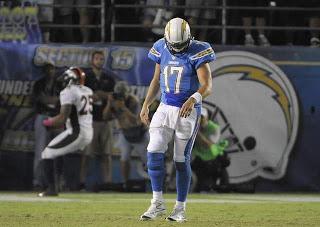 Photo: Dennis Poroy - AP Images
- Troy Ballard
At the beginning of this season, when the troops had been rallied to start a fantasy league, I made the unknowing mistake of drafting Philip Rivers as my quarterback — and the moment I did, a good buddy of mine said two words, "
rookie move."
Naturally, I laughed. I thought that his rapid and quick regression over the past two seasons were nothing more than a fluke. After all, Rivers was competing for a Super Bowl no more than three seasons ago.
The dude was even in the Pro-Bowl last season!
However, after watching Rivers fall apart at the seams and manage to turn the ball over six times in the infamous
Monday Night Football
collapse against the Denver Broncos — in what will surely be remembered as the worst loss in the Norv Turner-Rivers era — something is inexplicably wrong.
Rivers went from being widely regarded as one of the top quarterbacks in the NFL to... what is best in-captioned in the image to the right of this article. People say that a picture speaks a thousand words, and this one absolutely does.
The Chargers' quarterback had been plagued with turnovers, lack of confidence, poor awareness and an entirely baffling inability to close-out games. His numbers over the past two-seasons have been so atrocious, it's shocking that Turner has at least considered benching his quarterback.
Here's some food for thought (courtesy of CBS Sports):
- Over the past 22 games, San Diego is 11-11
- In that window, Rivers has 37 touchdowns and 29 interceptions
- In Rivers' first five seasons with the Chargers, he threw 135 touchdowns and 57 interceptions
- During that window, San Diego was 55-25
People have a tendency to point fingers at receivers, offensive line troubles, but I'll point straight back at Rivers' 2010 campaign. San Diego's offensive line was flimsy at best, and the entire receiving corps was shredded apart by injuries. The Chargers had signed nobodies, and Rivers still had the best season of his career, passing for 4,710 yards and 30 touchdowns.
But since that 2010 season, the slope has become more and more slippery for the once highly regarded passer. Someone pointed out, with objectivity mind you, that the only reason Rivers was in the Pro-Bowl last season was because he was replacement for Tom Brady. I didn't realize that immediatley.
It's reached the point where I am actually considering the possibility that San Diego might clean-shop entirely this off-season. That ownership might decide along with Turner (who surely has to be fired at this point, and if he's not, we need to start considering a conspiracy theory), that Rivers needs to go too. The Chargers will make a sudden jump-up move in the draft with a team that is looking to deal away a high pick (think Cleveland), and draft a player like Matt Barkely.
Of course, that's all speculation.
There comes a time when something isn't working, and change has to happen. Rivers is flirting with that line, and this latest loss to Denver reinforces that. San Diego is arguably one of the most frustrated organizations in the NFL, and when the tipping-point is reached, Rivers could find himself on the outs.
The Chargers were on a bye this week, and there is still time to turn around this season, but it's going to take a radical change from Rivers. This team is based around his success, and when he struggles, San Diego flops. That makes his immediate future with the team in great doubt.
I do, however, know something that's already happened— he's out on my fantasy team.
Be Sure to follow Beard and Stache on Twitter 

@BeardAndStache

, and also Troy 

@TroyBallards

, like our Facebook page 

HERE

!