Hello lovelies, Since it is November now i thought it would be a great idea to do the Christmas tag as posted by the lovely Georgina. If you love getting all festive then feel free to join in.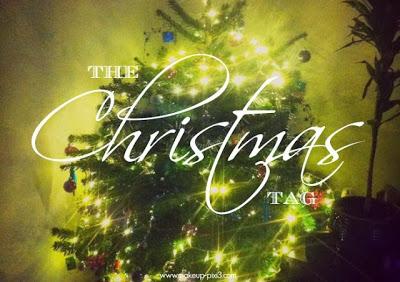 1.  Do you prefer a real Christmas tree or synthetic?
There's nothing like a real Christmas tree i love the smell and it just looks so much better, but i can't stand the mess and with having a toddler around it's a no no for now so it's synthetic all the way.
2.  You're in a coffee shop, it's December, what do you pick?
It's an oldie but my all time favorite is hot chocolate and costa's is absolutely amazing, It is my goto hot drink in the winter and when it's topped off with marshmallows and a dusting of chocolate it's even better, yum yum.
3.  What's your favorite color scheme for decorating the tree?
I get bored with the same colours year after year so i like to change it up abit. last year we had silver and turquoise but i think for this year it will be the traditional red, green and golds.
4.  Giving or receiving?
I do love receiving who dosen't but there is nothing better than giving it makes me feel so happy to see someone's face light up at the gift i have gave them, it's priceless.
5.  To mince pie or not to?
A few years ago i would have said no, but now i absolutely love them they are  my weakness at this time of year. I had to resit buying them when i've been doing my shopping, home made ones are the best and i am going to try and attempt to make my own.
6.  What's your traditional Sunday lunch?
Seeing no one in my family likes turkey we usually have either roast chicken or steak pie with roast potatoes, lots of veg including sprouts my fave, pigs in blankets and a nice gravy followed by a nice glass of wine.
7.  Christmas day fashion
Ever since i was little it was a day where everyone wore their best clothes and it's something we still do, i really like getting all dressed up with a nice dress and some tights, if you can't get all glammed up at Christmas when can you.
8.  What's your favorite Christmas song?
Walking in a winter wonderland is my most favorite Christmas song and really gets you in the festive mood, we also listen to it when we are decorating the tree i just love it.
9.  What's your favorite Christmas film?
Hands down it has to be Home Alone i have loved this film since i first saw it, it's one of hose christmassy feel good films. Oh and Elf, i love snuggling on the sofa and having a good laugh with that film there's nothing better.
10.  Open presents before or after lunch?
Having kids means it usually being woken up at the crack of dawn with excited little faces wanting to rush in and see if Santa has been, that has to be the best thing about Christmas for me.
If you are going to have fun and join in which you so should then don't forget to tag Georgina.