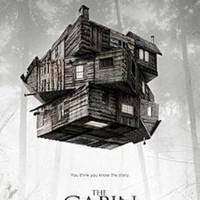 Movie: The Cabin in the Woods
Director: Drew Goddard
Cast: Kristen Connolly, Chris Hemsworth and Anna Hutchison
Rating: ***
Despite reading some good reviews about TCITW, I watched the film with least expectations, hoping to see yet another clichéd horror flick. But, I was proved completely wrong by the end of this film. Written by Josh Whedon and Drew Goddard and Directed by Drew Goddard, 'The Cabin' is a one-time must watch horror film. In a long time if I really had fun watching a horror film then it most definitely has to be the film in discussion.
In short, a trip by a bunch of friends into the wilderness to a secluded cabin turns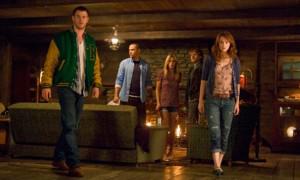 horrifying when they get more than what they bargained for. The horrifying part is not what they're seeing but something they're yet to discover. What's the secret behind 'The Cabin in the Woods' forms the crux of the story?
The masterminds behind this film – Drew Goddard and Joss Whedon craft an interesting horror flick in spite of breaking the suspense quite early on in the film. Of course there are moments of gore, violence, blood-splashing but the film still keeps you hooked because behind all this there's something bigger and crazier that'll stun you. There are instances which will give you vague memories of 'Evil Dead' and few other films that fall in this category however that thought fades away before you begin to feel convinced. Having worked together, Joss and Drew come together as amazing pair, who not only pay reverence to an ancient genre called horror – but simultaneously make it appear funny and intellectual.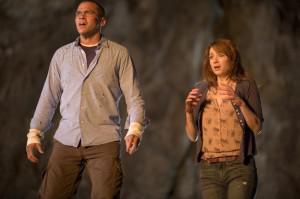 The plot is stereotypical however what saves this film is something you have to watch and enjoy. I believe this is the strength of the film – to make everything appear hackneyed but successfully give it a sly effect which eventually turns your experience into one rollercoaster ride.
The casting works in the film's favor and especially having someone of little or no face value does scare you. The theory is simple – have a bunch of unknown faces barring one known face (Chris Hemsworth), and have them killed ruthlessly, it'll definitely scare the living day lights out of you. On the contrary if you have someone of a superstar status or many, you automatically tend to believe they're invincible. You take any horror flick; you'll find this theory very much applicable.
Lastly, people who've devoured horror films throughout will love and find this film entertaining. But, if you've never appreciated or found horror films entertaining and relaxing, I doubt you'll enjoy this one either.