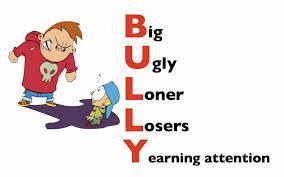 "Who is this student's mother? Where is she?" A large man with a deep voice yelled. "I need to speak with her now."
Claire knew that no matter what  that man was angry about, her son, Roger,  was the target of his rage, and that his mother; ME, was the person he was searching for. She would have loved to run away and hide but her sweet, fair-haired son, Roger, was approaching and the red-faced, enraged father was grasping him by his collar. Claire breathed deeply, aware that other mothers were holding their children's hands, relieved that their little darlings were not the culprits. "I'm his mother,"  Claire managed to say before the tirade began. "What's wrong with your son?" the father yelled. "I was walking  along, holding my daughter's hand and chatting to her when your aggressive son came out of nowhere and hit her without provocation. What's the matter with him? Do you and your husband or boyfriend beat him up?" Claire glanced at her son who was wearing that now familiar expression of sheepishness and defiance while the angry father was probably waiting for me, his mother, to get my Roger to apologize. BUT,  I knew that it was not  going to happen. I blurted out "I'm so sorry. I will talk to my child," and looked into my son's eyes wondering for the 100th time what was wrong with him and what made him hit other students?" I was angry too, because I was no longer an ordinary mother. I was the mother of The Bully, a title I've lived with for years. When my toddler  was barely three years old, my girlfriend's husband said that my darling child had intimidated their son and was too rough. Then I was asked  to remove him from the playgroup because he'd boxed a child there and was no longer welcome. After that, angry mothers, raging fathers and tearful schoolchildren came to complain. I sought the help of a therapist and did my best to implement what I'd learned there. To no avail. As Roger grew older, there were less complaints.
One day, soon after my younger son had started  school, he came home sobbing. "What happened?" I asked. "He, he, he took my lollipop." "Who did?" "The big boy." "Did you simply give it to him?" "Yes."  "Why?" "He said I had to." And Claire felt  more relieved than she had felt her whole life. Her younger son, the Bully's brother, was now the victim. She and her husband had one son who was a bully and the other, a victim.
Both boys came from the same parents and lived in the same house so, how could they have produced two sons so different?
Can anyone explain this phenomena?