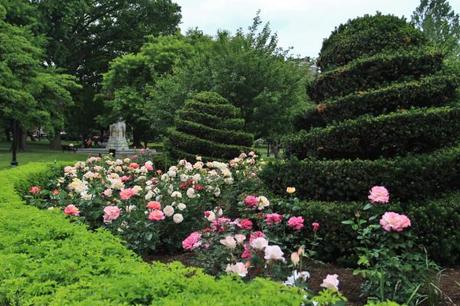 Roses in the Public Garden are cared for by the Friends of the Public Garden's Rose Brigade, in collaboration with the Boston Parks and Recreation Department (Photo: Elizabeth Jordan)
"When spring finally came, the rose bushes burst into life, rising day by day toward the sun," according to The Boston Globe piece Public Garden's roses delight after winter's bite. The article, written by Peter Schworm, celebrates the dazzling blooms that draw so many to the Public Garden, and tells the behind-the-scenes story of their care.  A volunteer group of the Friends, the Rose Brigade, has been working in collaboration with the Boston Parks and Recreation Department for years to care for these treasured bushes that adorn America's first public botanical garden.
The Brigade is made up of men and women of all ages. Newcomers are happily welcomed, as are occasional or one-day helpers. Gloves, tools, and instructions are supplied.
During the high season of roses, June through September, the Brigade gathers every Tuesday from 5-7 pm. As the days grow shorter in October we meet earlier. Ad hoc projects occur in April, May, and December. There is a colorful flag to help everyone find where we are working.
Congratulations to our Rose Brigade volunteers and the Boston Parks and Recreation on wonderful blooms this year, and thank you for your efforts to enhance these spectacular sights for all to enjoy.