My first restaurant review with the FBAI and Burrp at The Bombay Canteen in Mumbai.
Super excited.
My boys and I eat out often ,but its generally Mughlai ,Punjabi , Chinese, Mangalorean ,the usual same old ,same old.
And we generally just move around a radius of 5 km.
But as they say Nothing Ventured , Nothing Gained.
This was just one of those experiences.
So this lunch was just about that .
An introduction to a curated menu, with the comfort of familiar desi Indian food and the zing of the unfamiliar, different tadka.
And the chef behind this global desi fusion restaurant is Top Chef Masters Winner Floyd Cardoz.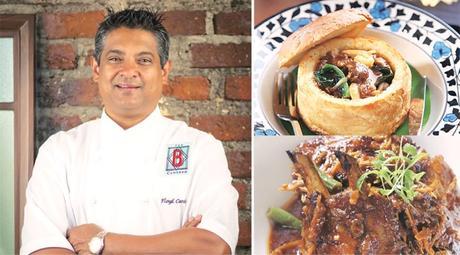 Pic www.wikinewsindia.com
I was super enthusiastic,primarily because I generally don't indulge in Fusion with Indian.But the mustard oil worked well.Yes ,there was a lot of mustard.
Burrp.com at  is a relaunched player into a market that is already full of apps offering similar facilities. Well ,what I found different was the What to Eat ,Where feature In this app. That's a feature designed to review the best dishes of the restaurants. So when you go through the list, you'll know that the toffee and candied Carrot was the most amazing at the Bombay Canteen.Just saying.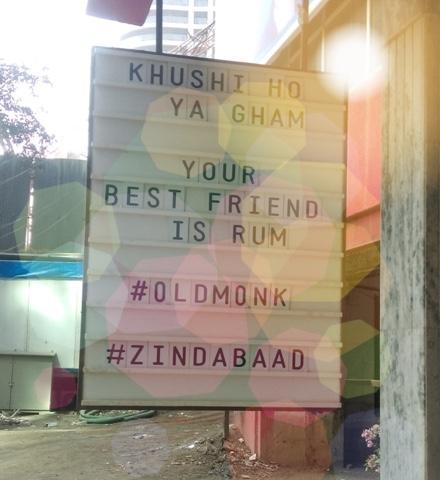 When you see this at the entrance of a restaurant,with a lot of kitschy colourful stuff placed around,you know someone has done something good.
A lot of attention to detail has been paid to set up a happy ambiance, the servers are enthusiastic,quite- they never wanted to wait when the first round of drinks was over. "Another? " sounds like music to the ears when you aren't driving.
This was a specially curated menu for the 15 food bloggers and once the basic intros were done... All were most interested in the drinks. And photographs.So there was a list of Fancy Drinks for the Winter like Season.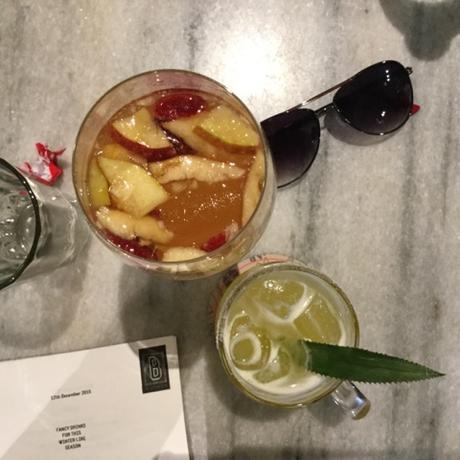 Mine was the GANGA JAMUNA MARGARITA,fresh orange and mosambi and lemon juice with tequila and with a cactus leaf stirrer. Cute! Fresh and mildly sweet and citrusy with just the right amount of tequila . Something you can keep drinking. The other was an WINTER APPLE CIDER SANGRIA. White wine and apples and strawberries and a hint of brandy. That tasted of  cold ,almost mulled wine with a kick of fresh fruit flavor. I never got the brandy. And I can smell brandy. Anyone can,right?
So there was a MASALA COKE with desi flavours and a CINNAMON & CURRY LEAF ICED TEA. I have a very simple philosophy when I'm eating out. I'm a non vegetarian and I avoid mocktails and Coke. I mean if you have to take the calories,you might as well get the best deal.So I skipped.The food started with the CHHOTA :the small eats or the appetisers or the bite sized bytes.
We started with KEJRIWAL TOAST.
Its a standard in most clubs in Mumbai and on my blog too. And like the versions...
Well this one was a wee bit different.
The egg was perfectly fried and the cheese was done beautifully. But the difference was in the coconut and coriander chutney that accompanied the toast.
The first bite was yolk, same old, same old...then came the kick of the chutney.
Mildly spiced, it was a smooth combination with the mozarella cheese.
Since we are so used to the salsa type cheesy topping on Eggs Kejriwal, this was a definite plus.
The best part was that the coconut was just there. not clashing with the bread. So we started well.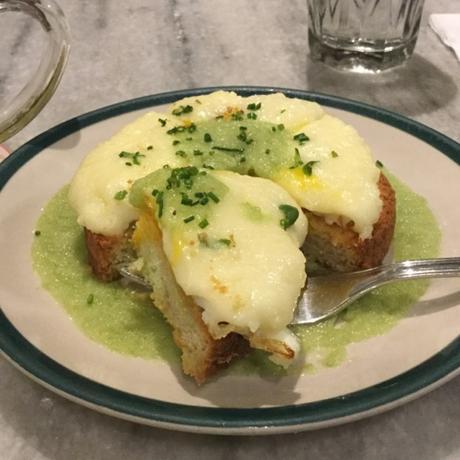 The second appetizer was the CHEESLING BHEL. It had cheesling, which are small squares of fried four and cheese dough along with some green apples and Kohl Rabi. Now, I've been missing the kohl Rabi here in Mumbai,and I guess I missed it here too. The mustard oil was a little too much for my overloaded senses. For a Bengali, this comes across as a version of Jhol Murri(Bhel made Kolkata style with extra virgin Mustard Oil) . We in north India smoke the oil. So,I couldn't really get what I was looking for in this.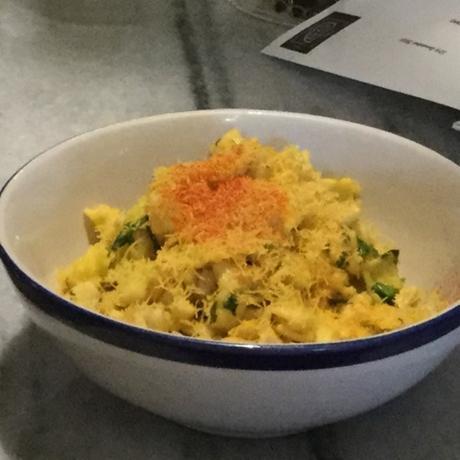 But here, the smoking stuff was ,well ,smoking .
SMOKED MUSHROOM SEEKH.
Very well made, not pasty at  all, as most vegetarian seekhs are.
Not doughy at all. Just light and gently held together.
Just like a melting the mouth mutton seekh kebab. The smokiness of the mushrooms was complementing the salsa-Kachumber salad. And you could make out that these were not just button mushrooms. Definitely worth tasting. And ordering again.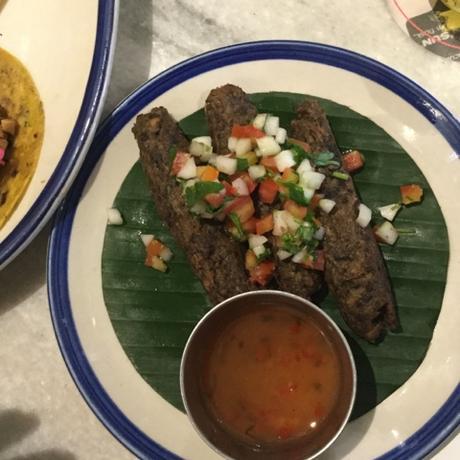 Next on the SPICY CHETTINAD CHICKEN DESI TACOS on  methi theplas.OK ,very pretty and yum.I loved the combination of the gujarati theplas and the south Indian Chettinad chicken. With a tiny bit of briney purple cabbage.Only, it wasn't spicy enough for me. I love smoking hot ,spicy. But that not withstanding, definitely one plus on the menu.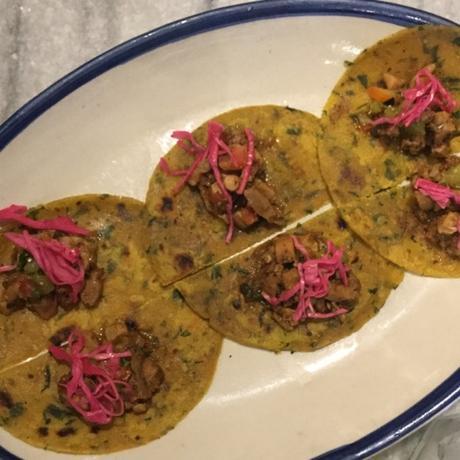 So starting with the BADA section of the menu. Or the mains...The icing on the cake.CHORIZ PER EEDU.Goan pork sausage ,cooked to mushy goodness with some herbs I never bothered with and a soft egg (the eedu for the non mumbaikars).Awesome!It was just one complete dish. And served with Buttered Pao bread.With a bowl of this you don't really need anything else. I wish it were cooler here, would totally justify this heavenly pool of cholesterol and fat.Awesome! Did I say that already?The pork was perfectly cooked and the egg took on the taste of the choriz and then there was butter and peppered mashed potatoes within or something. It was so fabulously done that the flavours married with each other. I didn't really need the bread. And I could definitely have had more.With or without the salli.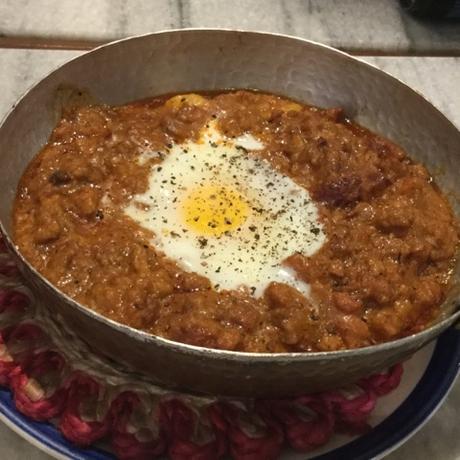 And then came what I was waiting for. The SARSON KA SAAG with corn bread , jaggery and white butter.And some radish sticks.The
saag
was good. I have to say that. After having made
saag
for almost 20 years , I know a good
saag
when I taste one.Caramelised onions and a little jaggery syrup floating on melted white butter.Good job!The totally American tasting corn bread felt a little alien to my taste buds accompanying the
saag
. But that's only because I have a thing against sweets in the main course. The bread was well made and standing alone was perfect, but the Saag takes the cake! So the next time you crave a good sarson ka saag, come to Bombay Canteen. It is a difficult job to cook saag,the pureed mustard ,spinach and bathua greens must just come together without clumping or leaving a watery edge. And this was just right.So kudos to the chef.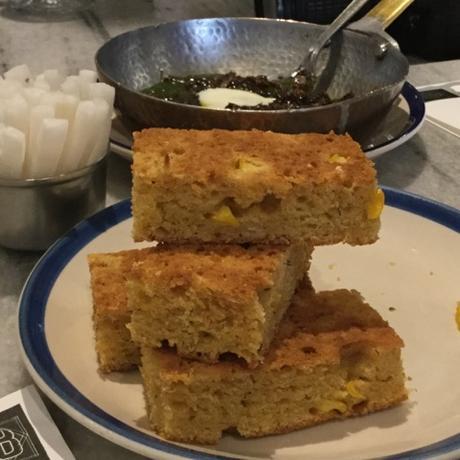 This was the VIDESHI STYLE BAINGAN BAKE . finely sliced aubergines or Baingans baked and served with a light mustard dahi and spicy tamatar chutney and peanut masala.For me, I don't like Aubergines at all. Period.And I did taste a bit , but I could not be converted. But the mustard dahi was great. Very light, tangy and mustard ey. And the tamatar chutney with peanut masala was fabulous.The accompanying sauce and peanut chutney was fantastic. And I  loved the flavor of the mustard dahi. Where the Cheesling bhel was like a bowlful of Dijon mustard, this was a perfect marriage of the delicate tang of the yogurt and the perfect mustard sauce. Even the color was so pretty.I would've had some more.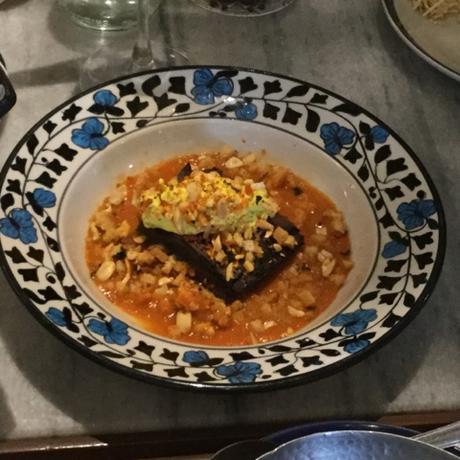 And he saved the best for last.That's why I have dessert first.So this was GAJAR HALWA TOFFEE PUDDING. With candied dilli carrots, roasted cashews and tamarind toffee sauce.OK, simple put ...Carrot cake, topped with chopped gajar ka murabba. That was where ordinary ended and spectacular began.I am not a nuts person and cashew nuts figure way too low on my list to bother with then.But these were so well toasted or roasted, I had em all.And then I touched the Tamarind Toffee Sauce. I could have just died.Toffee sauce is cloyingly sweet. Well this one was not. It was just sweet and just tangy, tamarind fragrance was still there. And you could taste the butter or the ghee used to make the sauce.I scraped the bowl and went all Oliver Twist out here. I just had to have some more.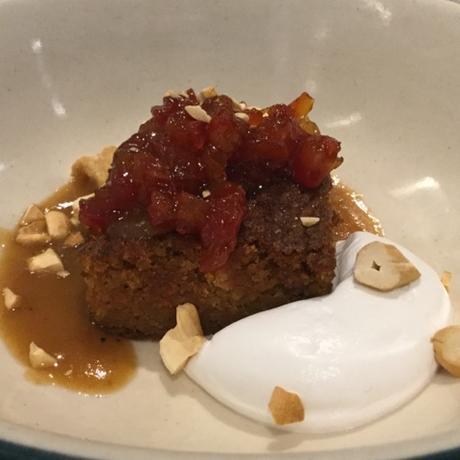 OK, there was a dollop ,rather a
quinelle
of cream too. It went well with the
gajar ka murrabba
. The candied carrots tasted different from the regular stuff too. Maybe they were candied in house. they were just mildly sweetened so went well with the cream .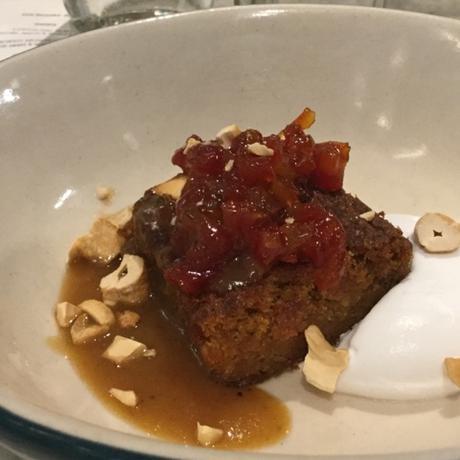 The cake, well...that would've been better. But the toffee sauce was something you can drown in.And if the calories were lost in the Realm of Chaos, I would have made my dinner of a bucket full of that sauce.
Now if I have to ever grovel to learn how to make that sauce(I tried making it at home...but it was either too gooey, to sour or too whatever:not even close to that bowl)I will.
I need to go drown my senses in that sauce again.
So once you check out the Burrp App, you  can check out what I recommend. I recommend the GAJAR HALWA TOFFEE PUDDING : you must!And also go for the CHORIZ PER EEDU,SARSON KA SAAG and the SMOKED MUSHROOM SEEKH.In whichever order your heart desires.And by the end of the meal you'll realize why the man was one of the Top Chef Masters.
So go on try a fusion meal at Bombay Canteen. You certainly won't be disappointed.