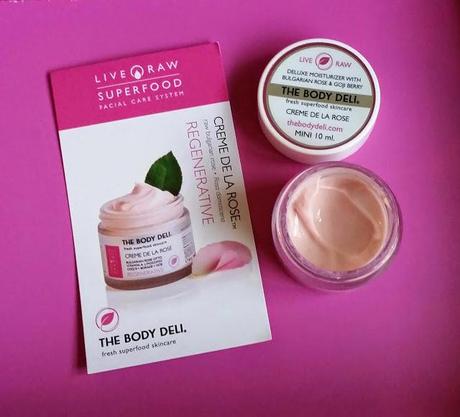 I received this sample of Creme de la Rose by The Body Deli in my Autumn/Winter sampler box from A Beautiful World. I have wanted to try this after I found their Light Facial Emulsion wasn't quite the right product for my skin type.  
The Body Deli use organic superfoods and raw ingredients in their products to preserve the integrity of the micronutrients. The Body Deli report that Crème de la Rose is their most popular product and takes being handcrafted to a whole other level. Each small batch is hand blended for 3 hours and takes over 24 hours to make. This rich and luxurious cream is aimed at someone with either dry or mature skin, and is very much the kind of product I am drawn towards. As someone with dry skin and in my mid thirties I had high hopes for this product. Crème de la Rose is designed to speed up cell turn over, improve skin elasticity and firmness and reduce the appearance of wrinkles.  Crème de la Rose is made with Bulgarian Rose, Goji Berry and Macademia Nut Oil, and has a subtle Rose fragrance. I have to say that given the name I did expect there would be a stronger fragrance, this is a minor detail. As you can see from the photo, Creme de la Rose is a thick cream and has a pretty baby pink color. It has a lovely silky texture thanks to all that hand blending. This super luxe moisturiser absorbs well, making it good for both day and night use.  I would need to use this cream for a longer period of time to comment on it's anti-aging properties but I have thoroughly enjoyed using it and will be sad when I finish my sample. Crème de la Rose has done a fantastic job of keeping my skin soft and supple. I always struggle with my skin in Winter, and I feel that this moisturiser has kept the effects of the cold and central heating at bay. When trying a product that has been on my wish list for a while (especially if the price tag is higher) I am always a little apprehensive as to whether it will live up to my expectations. I am pleased to say that this does, I am really happy with how healthy it has made my skin look. 

Antioxidant Micro-Clustered Ionized Water, Rose Damascena Hydrosol, Aqueous Solution of Rosemary, Lavender, Rose, Nettle, Macadamia Nut Oil, Meadowfoam Seed Oil, Virgin Coconut Oil, Cetearyl Olivate and Sorbitan Olivate (Olive Oil Emulsifier), Shea Butter, Kukui Butter, Alpha Lipoic Acid, Coenzyme Q10, MSM (Methylsulfonylmethane), Olive Leaf Extract, Goji Berry (Lycium Barbarum) Rose Hip Seed Oil, Carrot Seed Oil, Brown Rice Amino Acid Complex, Calendula, Comfrey, Xanthan Gum, Guar Gum, Vitamin E (Alpha-Tocopherol), Tocotrienols (Rice Bran), Vitamin A (Retinol Palmitate) - Lecithin Phospholipid Emulsion, Allantoin, Squalane, Borage Oil, Evening Primrose Oil, Tamarind Seed Extract (Tamarindus Indica), Lactobacillus/Kelp Ferment Filtrate, Colloidal Oat Flour, Beta-Glucosamine, Citric Acid, Rose Damascena Bulgaria (Otto), Sandalwood, Rose Geranium, Ylang-Ylang, Zeaxanthin, Leuconostoc/Radish Root Ferment Filtrate (Natural Preservative System)

.