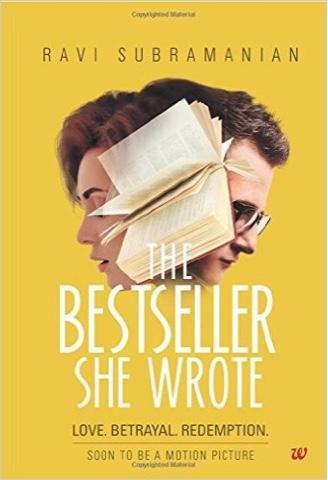 A Book review.
I have been living on a diet of thrillers and murder mysteries for the past month or so. Ruth Rendall and Patricia Cornwell have been keeping my spectacles company, thanks to my friendly neighbourhood librarian. Dr Scarpetta seems to be walking in the ridges of my gray matter. More words to wander in.
"The BestSeller She Wrote" arrived in the mail a few days back. So I set my part mouldy, part dog eared books aside to make room for an Indian author. Full attention to Mr Ravi Subramanian. After all Mr Modi insists that we must Make in India.
First impressions are hard to shake.So I'll put those down first. Yellow. Ugh. Not a very reader friendly color."Soon to be a motion picture."Obviously,next we'll hear of the author being embroiled in a brouhaha about movie rights and script rights etc. Been there,seen that.What was the big idea of releasing a book if it must be made into a script?Fame? Money? Vanity?Ravi Subramanian 

revealed some secrets of the publishing industry in this book. So all he budding authors, read this book.




Next on, the guy on the cover. You can't pass a 25 something to be 40 years old. 

This is not a Mills and Boon Romance.

It took me a day to get over the cover.

Time was ticking, I had to review the book in 7 days and also be part of two events.

Sleep deprivation and reading in the washroom was so not worth it.

I don't want to be the toxic bitch here, but I'll try to put in some nice words.
The books revolves around a successful author-full time banker, part time family man, part time author, almost Chetan Bhagat like in stature- only this one is supposed to be handsome.
How he manages to write his books and work in a bank that needs all your attention seems to be akin to Hawkeye from The Avengers.
Superhuman. 
Someone give me that power. 
Or maybe a couple of pairs of invisible arms. 
So much to do and so less time.
Happy family, wife Maya, is the contented IIM lady involved in social work ,working for guess who? Neeta Ambani.  
Young Child ,Aryan, who never finds a mention,except for his name.
Banker and author Aditya Kapoor is a superbly charming guy who is VAIN, Selfie conscious and all that. 
He has the bestest friend a man can have ,Sanjay ,who always has his back.
And who is a voracious reader.
Chance encounter with a young lady Shreya, who is arrogant and rude but converts to his bestest fan overnight when she reads his books.
So ,she joins his bank ,Hindi movie style and then hooks her talons into his helpless (sic) skin.
And Aditya falls hook ,line and sinker.
And then there is seduction ,of the style of the 70's Hindi movies. When two flowers were shown coming together because the censor board did not permit it.
We have a reference to eroticism and Aditya's inability to express a sexual encounter. And EL James is even there. 
So where's the sex? 
Oh yes, we're Indian, we just do sex in erotic bestsellers.
And then the author weaves a sordid tale where he justifies attraction and betrayal .
Then Aditya's wife falls ill. And he realises his mistake and tries to get away from the leech.
But she has other things on her mind.
She needs to ensure blackmailing him to get her book published.
And the book gets published. Before time .
And then becomes a bestseller because of all the sordid interest created by the gutter press.
And the Aditya Kapoor redeems himself by offering the truth to the whole world and ends up painting Shreya with muck.
Intentional?
She was bad, but the entire million odd words had nothing good about Aditya Kapoor. He finally realises that Cheating on his spouse is like throwing away a diamond and picking up fool's gold. So he was greedy. I knew it.
So well, I don't want this post to be a spoiler, because the end is the best part of the book. 
Aditya Kapoor acknowledges that cheating is not a mistake,it's a choice.
But the blatant violation his marriage vows and continuation of the affair was what put me off. That and repeated references to authors like Amish , Chetan Bhagat and Ravi Subramanium himself was another cheesy bit.
The friend was not really a friend,if she went along with that neurotic ,obsessive,possessive tendencies that Shreya possesses. 
The end reinstates that what goes around,comes around. 
And that by vitiating someone's reputation and family life , it's not going to spell something good for you either.
But as a woman, I need to know...
Why 
did Aditya walk away and Shreya take the brunt of the ill will?

You'll need to read this to know the way out.

My verdict.

I'm all about Love ,sex and dhoka.  

And blood and murders and complicated relationships. 

And loneliness.

And bad childhood memories.

And good books.

If I had to buy this book to read it.... I wouldn't have been really happy.




I'll give this book 2 stars out of 5.


I am reviewing  'The Bestseller She Wrote' by Ravi Subramanian as a part of the biggest Book Review Program for Indian Bloggers. Participate now to get free books!