Pasto has been a regular spot of ours since forever! or more specifically, since around 2008. I've actually been here more for drinks than food, but over the years, I have learned that they excel in pasta! Alvie and I had lunch here recently and had the best pasta they have to offer.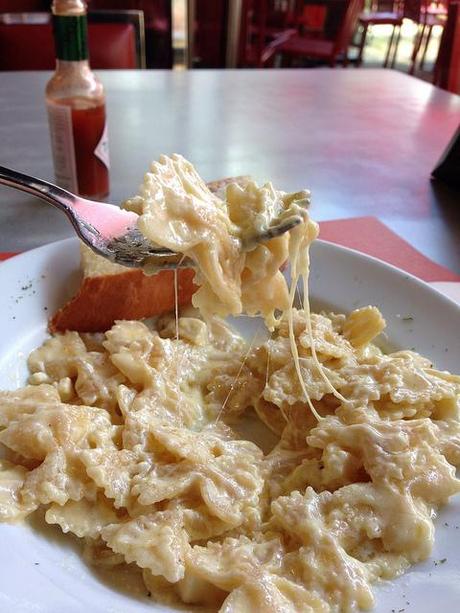 Just look at that.
The picture above looks great, but we wouldn't want to jump the gun now, would we? Let's start with my
former
favorite pasta at Pasto.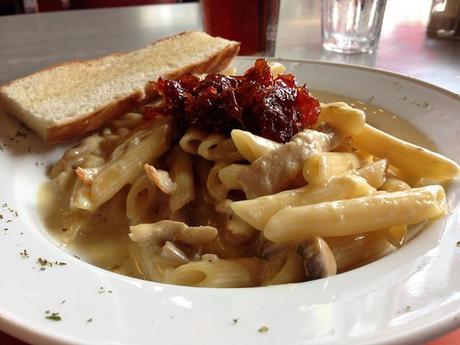 Pollo Cremoso, P255.00
penne with chicken, sun-dried tomatoes and roasted mushrooms in a garlic-cream sauce.
When it comes to pasta, I'm more of a white sauce guy, and I find this dish to be executed spectacularly.The penne has good texture. The cream has a subtle taste, but this pasta's flavor is amplified with very tasty, zesty and sweet sun-dried tomatoes, which are the best part of the meal. For an added kick, I add Pasto's chili flakes which are so spicy, they put Yellow Cab's to shame.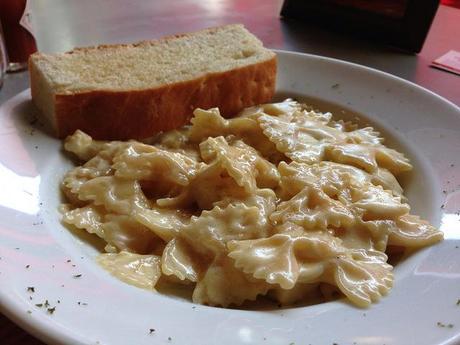 Quattro Formaggi, P255.00
farfalle with four cheeses - mozzarella, feta, ricotta, and parmesan.
The more cheeses, the better! This is definitely my favorite pasta from Pasto, and easily one of my favorite pasta dishes ever!
Farfalle
takes its name from the Italian word for butterfly, due to the similar shape. Butterflies never looked so delicious! The pasta is smothered with rich, gooey cheese. It usually also has a light garlic taste but we missed it because that wasn't the case during our last visit. Nevertheless, it was still a great dish.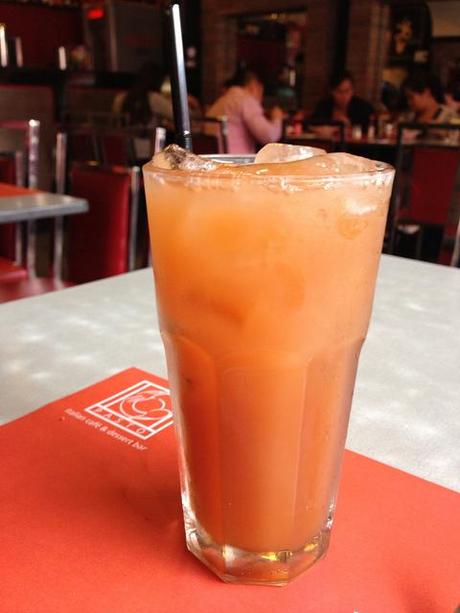 Te Freddo, P115.00
refillable iced tea: lemon, raspberry or peach.
"I knew it was you, Freddo!!!". This refillable iced tea is well worth the hefty price tag. This ain't your ordinary Nestea, so they have great flavors. The best part about it? You can refill with any of the three flavors. I usually get this when hanging out at Pasto, especially if you want to sip on something cool and sweet while having a good time with friends.
Menu:
Starters, Soups, Pasta, Entrees
Pizza, Salad, Panini, Drinks, Dessert
Verdict:
Pollo Cremoso: Great!
Quattro Formaggi: Great!
Te Freddo: Great!
Aside from the great food, Pasto has been a regular option for a night of drinks because it isn't very expensive, and the
al fresco
 area is nice and quiet, perfect for having great, meaningless conversations. :) I actually celebrated my birthday here twice already. If you're ever around, try out our favorite pasta!
Love Pasto? Hate it? Let me know by commenting below, or just
tweet
me!

Other Restaurants in The Fort Strip:
Good Earth Roasts (GER)
Kasbah: A Moroccan Lunch
Racks: My Favourite Ribs
Sunshine Kitchen: Second Dawn
Tapeo: Spanish Surprise at the Fort Strip
The Cheese Steak Shop: Philly Cheese Steaks in the Phillyppines
Other Restaurants in The Fort:
Gyu-Kaku: The Time is Ripe to Grill Some Tripe
IHOP: The Latest Pancake Craze
Jollibee: Ultimate Burger Steak and Flip Float
Red Garlic Bistro: Trotting the Globe, Clove by Clove
S&R: My Favourite Pizza
Saint's Alp: Taiwanese Chicken Goodness
Sbarro: Rolling in the Deep Dish
SM Aura Premier: Pepper Lunch Express under the Sky Park
Stacy's: The Sweet Kind of Retro
Stella Wood Fired Bistro: Nothing Less Than Stellar
Toast Box: Going Goreng
Tokyo Tokyo: Burgers and Chopsticks
The Kebab Factory: The TKF Trilogy
Wrong Ramen: The Weirder, The Better
PASTO
Ground Level, Fort Pointe Bldg.,
Bonifacio Global City, Taguig City
(02) 884-1592
Operating Hours:
Sun - Thu: 11:00 am - 11:00 pm
Fri - Sat: 11:00 am - 2:00 am
View Larger Map