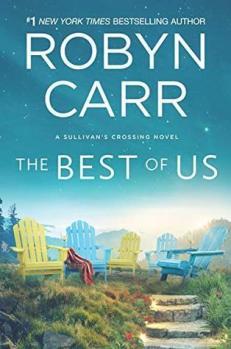 The Best of Us by Robyn Carr
Published by Mira Books on January 8, 2019
Genres: Literature & Fiction, Women's Fiction
Pages: 336
Format: ARC, eBook
Goodreads
Buy on Amazon




In Sullivan's Crossing, #1
New York Times
bestselling author Robyn Carr has created a place where good people, powerful emotions, great humor and a healthy dose of common sense are the key ingredients to a happy life. Sullivan's Crossing brings out the best in people. It's a place you'll want to visit again and again.

Dr. Leigh Culver loves practicing medicine in Timberlake, Colorado. It is a much-needed change of pace from her stressful life in Chicago. The only drawback is she misses her aunt Helen, the woman who raised her. But it's time that Leigh has her independence, and she hopes the beauty of the Colorado wilderness will entice her aunt to visit often.Helen Culver is an independent woman who lovingly raised her sister's orphaned child. Now, with Leigh grown, it's time for her to live life for herself. The retired teacher has become a successful mystery writer who loves to travel and intends to never experience winter again.When Helen visits Leigh, she is surprised to find her niece still needs her, especially when it comes to sorting out her love life. But the biggest surprise comes when Leigh takes Helen out to Sullivan's Crossing and Helen finds herself falling for the place and one special person. Helen and Leigh will each have to decide if they can open themselves up to love neither expected to find and seize the opportunity to live their best lives.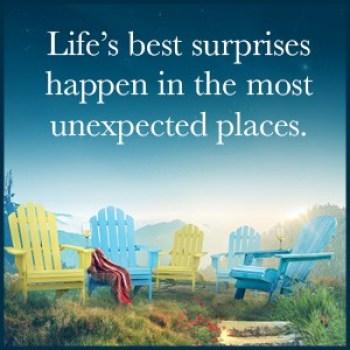 Not too long ago, I had the opportunity to read my first book by Robyn Carr called The Family Gathering (see review HERE).  The funny thing was that this book was actually the third book in her Sullivan's Crossing series, but I didn't even notice until after I had finished the book.  I won't lie though, as soon as I posted my review on book three, The Family Gathering, I dashed back to read book 1 and book 2 so I would be all set and caught up when book 4 — today's book — The Best of Us.
As is true with the previous books in this series, The Best of Us can serve as a standalone even though it was book four in a series. The Best of Us brings us the stories of Dr. Leigh Culver and local pub owner, Rob Shandon, as well as Leigh's aunt (who raised her), Helen Culver and Sully Sullivan, of Sullivan's Crossing. 
In the last book we met Leigh, when she moved to Timberlake, and enjoyed her new practice and a slower pace of life after the years she spent in Chicago.  Leigh has never been married and Rob's a widower with two teenage sons. (Side note: Rob is the brother to Sid, whom readers met in a previous book when she fell for Dakota Jones.)  It doesn't take long before Leigh and Rob fall for each other; they both have previous experiences that make them cautious as they move forward in their relationship.
Then there's Helen and Sully's story – what a hoot! It's great that they are a little older but still have a great love story of their own. Sully is a character in all the books, of course.  Helen is an independent woman who raised her sister's orphaned child, Leigh, with love.  Now that Leigh is grown, it's time for Helen to live her own life.  She's a former retired teacher turned successful mystery writer who loves to travel and doesn't intend to live through another winter season again ever. 
The Best of Us is a story of family being there for each other, while sorting through all the challenges of life, and being able to come out the other side intact. The story is a charming story with well-developed characters and I loved it cover to cover.  There were predictable moments in the story, but I enjoyed them all.   
It's a shame there are no more books in this series, but you can bet I'll be moving forward out of this series and reading her next book due out in April of this year!
---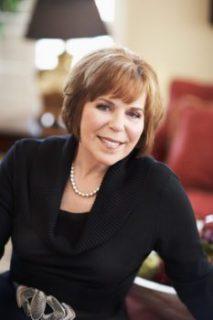 Robyn Carr was a young mother of two in the mid-1970s when she started writing fiction, an Air Force wife, educated as a nurse, whose husband's frequent assignment changes made it difficult for her to work in her profession. Little did the aspiring novelist know then, as she wrote with babies on her lap, that she would become one of the world's most popular authors of romance and women's fiction, that 11 of her novels would earn the #1 berth on the New York Times bestselling books list.
Robyn and her now-retired husband enjoy traveling, often taking research trips together. Their children are grown—her son is an Army surgeon; her daughter, a police detective/hostage negotiator. Robyn says that, in addition to reading her novels and making snide remarks about how she's used family scenarios to her advantage, they have made her a happy grandmother.
---
Thank you to NetGalley for providing a digital copy of this book for review. All opinions expressed in this review are entirely my own.

~ ~ ~ ~ ~ ~ ~ ~ ~ ~ ~ ~ ~ ~ ~ ~ ~ ~

It would be great if you would stay connected with me!! You can follow me on Twitter @DebiL1611, like me on Facebook at 2014 and Beyond, circle me on Google+, follow me on Tumblr, Instagram and Bloglovin', subscribe on YouTube, or connect with me on LinkedIn and Pinterest.

Please make sure to visit my homepage and subscribe to my blog for more great posts on running, fitness and lifestyle topics as well as food, product, music and book reviews, and more!