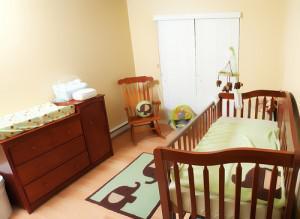 You recycle your paper, plastics, glass, and electronics. You have adjusted the settings on your home appliances to maximize energy and water usage. You even have a solar panel garage door, which charges during the day and uses only renewable energy to operate. However, what about your little ones? Are you using green, eco-friendly products to care for them?
Raising a green tot isn't nearly as hard as it used to be. All you need to do is get some products that will put you and your little one on the path to eco-friendliness. Here are some wonderful sustainable goods to get things rolling.
Starter Set
Whether it's hosing down the high chair or sanitizing your toddler's toys, there is a lot of cleaning involved with small children. Check out the Dapple Cleanup Kit, an all-in-one package that includes dish and baby bottle cleaning liquid, surface and toy cleaning spray, surface and toy cleaning wipes, and a handy travel pack, all for about $22. Made with natural ingredients and dye-free oil, Dapple cleaners are free of harmful chemicals. Disinfecting has never been so easy and worry free.
BPA-Free Baby Bottles
These bottles are baby friendly and brightly colored, and they are made with recycled polypropylene, which contains no phthalates, BVA or BPA. The especially appealing aspect of these bottles is the advanced ventilation system that reduces spit–up, gas, and colic. The Thinkbaby Polypropylene Starter Kit sells for about $20 and includes two five-ounce bottles, two nine-ounce bottles, two nipple options, and travel caps designed to eliminate spillage when traveling.
Baby Skincare
The Healthy Baby Bundle includes a seven-ounce baby wash, seven-ounce baby lotion, and three-ounce cream, all of which are free of dairy, soy, gluten ,and nuts, assuring no allergic reaction worries. This is part of the Healthy Baby Collection and each item contains dozens of essential minerals and vitamins for your baby's delicate skin.
Baby Blender
Meet the Baby Bullet, the perfect tool for moms who want to make their own baby food. This BPA-free item is designed to allow parents to blend and save homemade baby foods in minutes. The Bullet saves all those valuable nutrients from your produce and eliminates the preservatives that are left behind by store models. It comes with two different blades, storage cups, batch trays, and a cookbook and instruction manual. 
Pretty Plates
This is not your mother's dinnerware. These colorful, eco-friendly, and BPA-free kids' bowls and plates are available from $14 at Smiling Planet. They are virtually unbreakable and dishwasher safe. Created from 100% recycled polypropylene plastic, Pretty Plates tout their commitment to earth-friendliness through whimsical design that sends a message of diversity, peace, and a love for our earth.
Toys
Created with a vision of creating environmentally responsible baby toys, the Apple Park Picnic Pals cost about $33 and are made from the best eco-friendly materials imaginable, such as organic cotton, recycled plastic pellets, and sustainable stuffing.
Join in the discussion in the comments below and/or share the piece.
Photo credit: 



 Some rights reserved by Justin Liew