It was brilliant. I loved it. You loved it… with all your blog comments it went down a treat. And then David and Rachel got married. And the wedding day is EVEN BETTER! (of course it is… but as creative and inspiring and fun goes, it's just incredible).
Rachel wrote the loveliest wedding report to share with us. So I'll hand over to excellent wedding photographer Lucy West for the wedding pictures (part one) and to gorgeous bride Rachel to tell you all about it.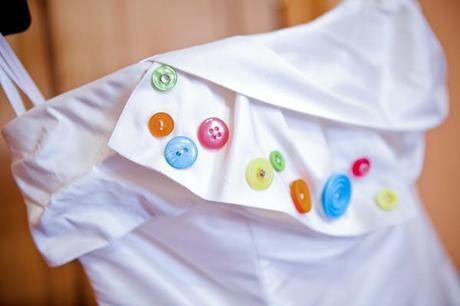 "If there was one thing we wanted our wedding to be it would be fun, and I think we certainly achieved that! A lack of funds teamed with an overwhelming urge to be creative made our wedding quite unique. Our main themes were newspaper, buttons, graffiti paint and all things colourful!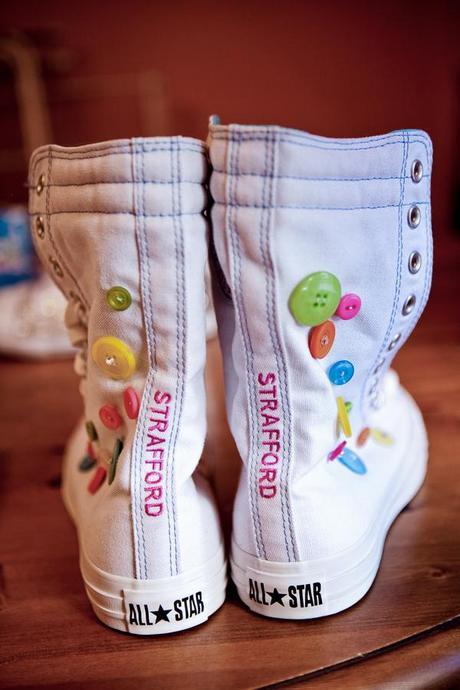 "These are my custom trainers from
converse.com
…
(how cool! I want some! -Claire)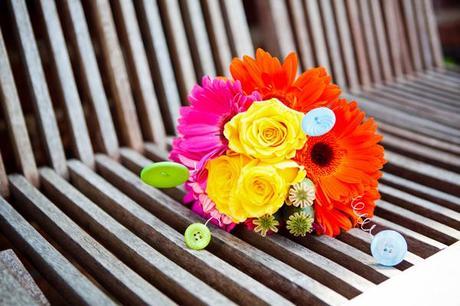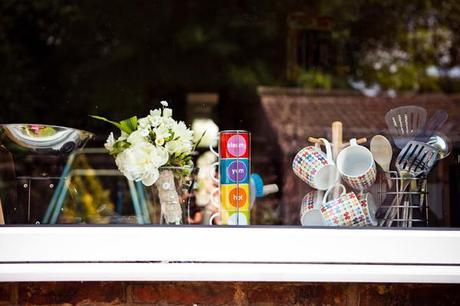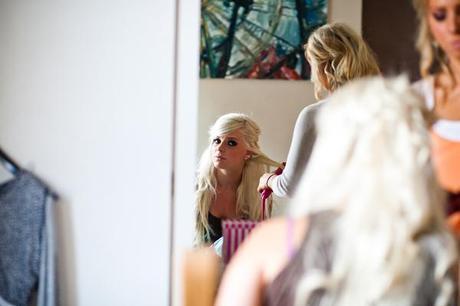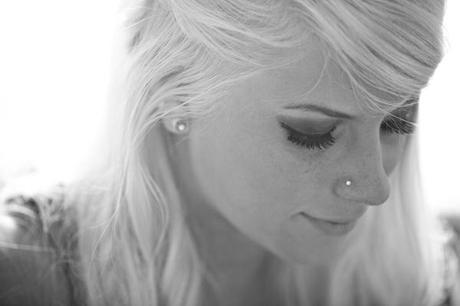 I absolutely adore this beautiful portrait of Rachel. She's stunning – and while the wedding day is all about the love and the fun and creativity, this picture takes my breath away every time.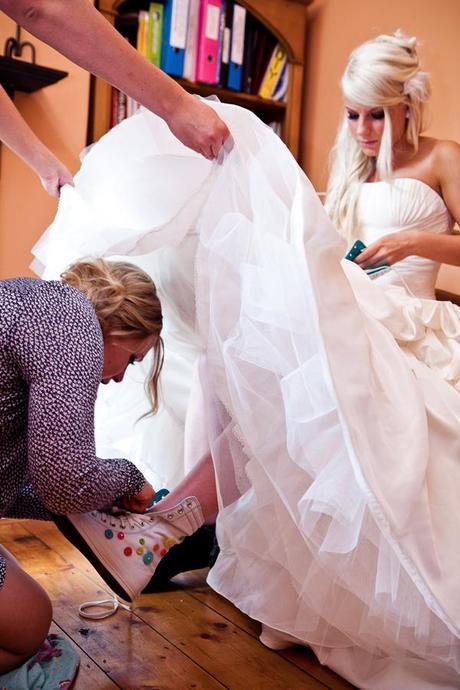 "My wedding dress is Lucilla by Ronald Joyce from Dream Dress Bridal, Romiley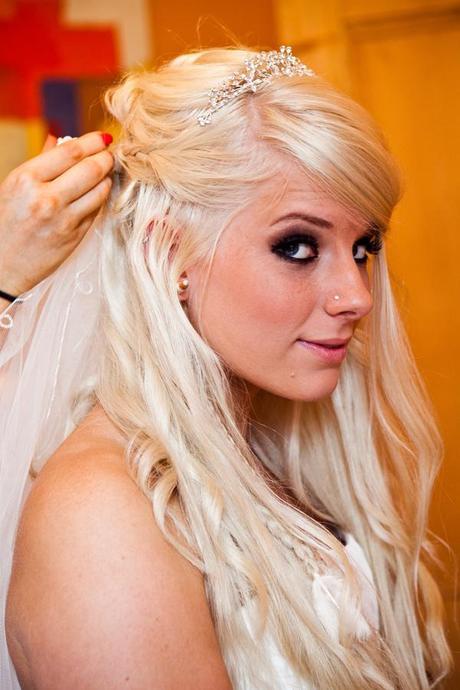 "I wore a Warren York Tiara from Dream Dress Bridal and a button bracelet, which is from
bobbybutton.co.uk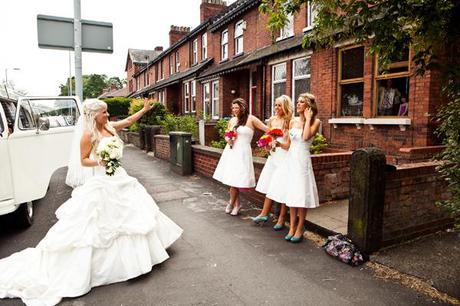 The fun begins… as Rachel and bridesmaids have a little fun in the campervan with some great pics by Lucy West, the little girl in the window loves every second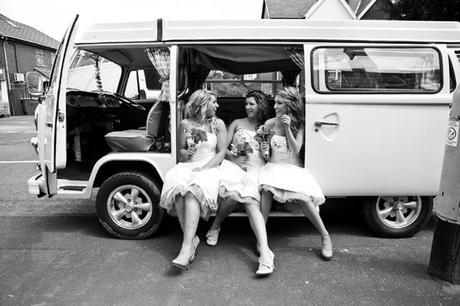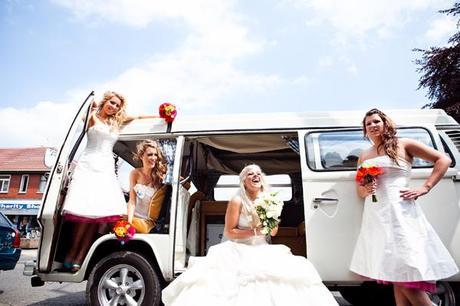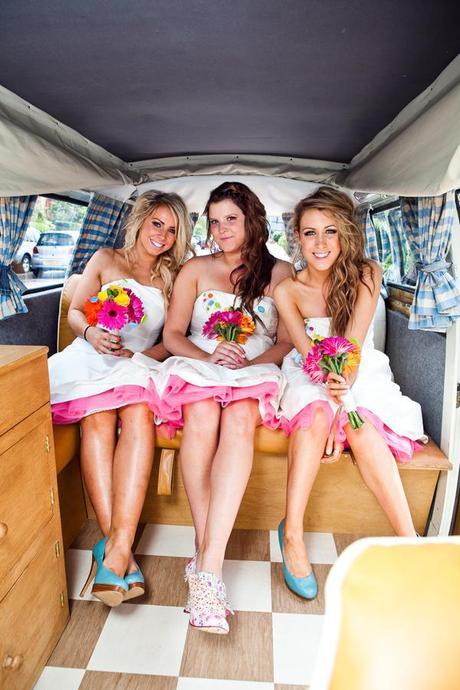 Three stunning bridesmaids! I love the colourful dresses, the bouquets, the shoes – oh the shoes! And the customised dresses with the colourful buttons… fab. Just fab.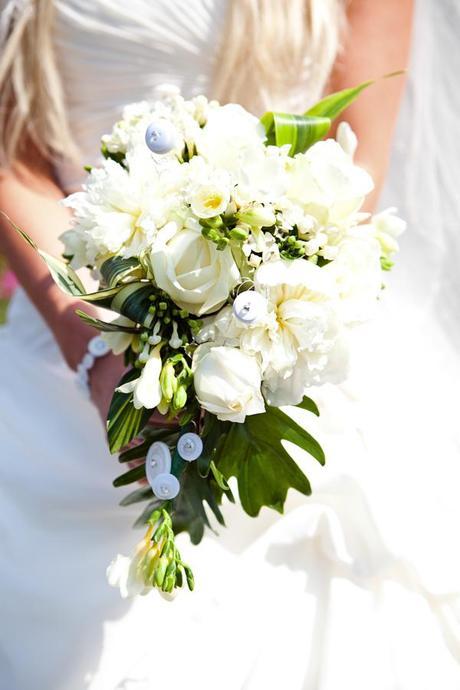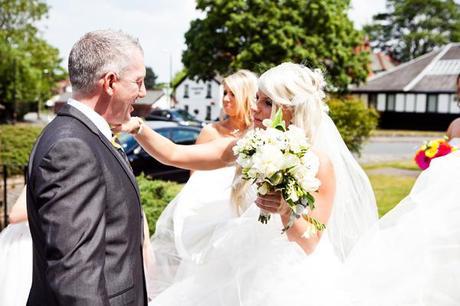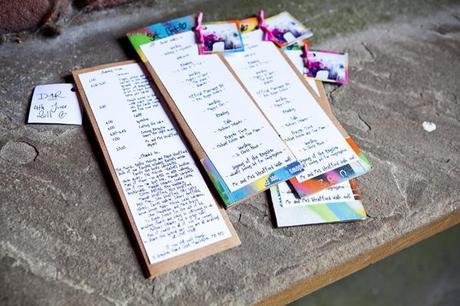 The bridesmaids make their entrance, and don't they look gorgeous. Wedding photographer Lucy West told me
"it was such a wonderful day and because I know David and Rachel well, everything was pretty emotional. The WHOLE church was clapping and cheering as she walked in, so I was wiping my eyes as she reached the top of the aisle… amazing!!"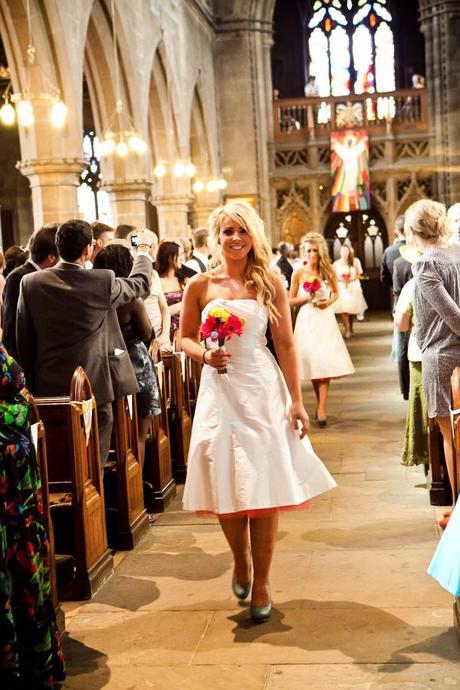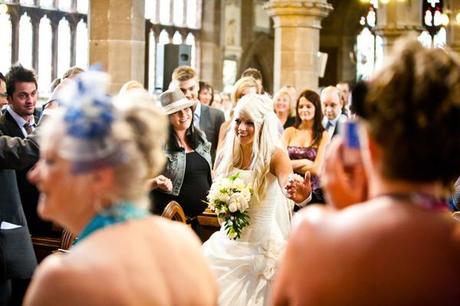 "I think the best moment for me was definitely when I turned the corner of the aisle whilst walking down to "Sweet Disposition" by Temper Trap, as the music came to a crescendo the whole congregation cheered as I appeared to walk down the aisle! It was amazing to have all our friends and family in one place, and to see David (crying) waiting for me at the bottom of the aisle.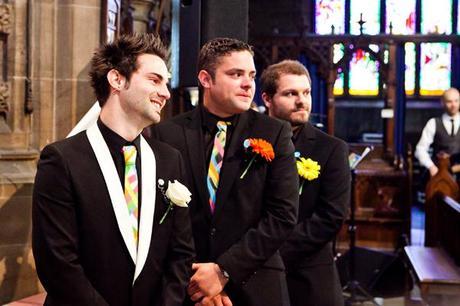 "David's suit and shirt are from Topman. His tie was customised by ourselves. Like me David wore custom trainers from
converse.com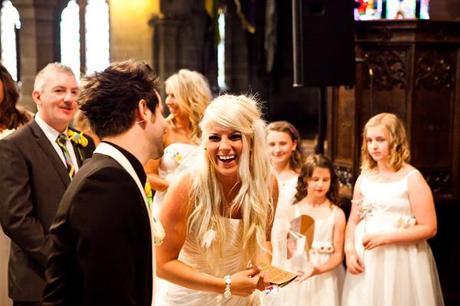 The pictures say a thousand words – Rachel and David are clearly loving every second of the ceremony and the church service means the world to them.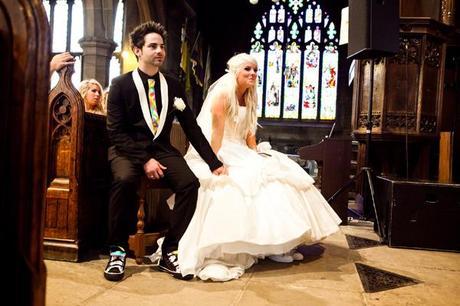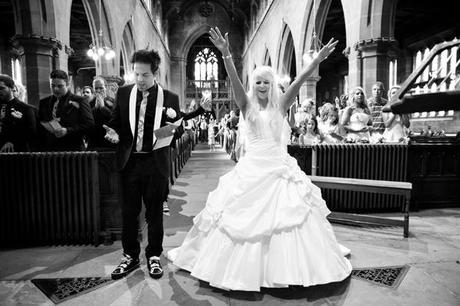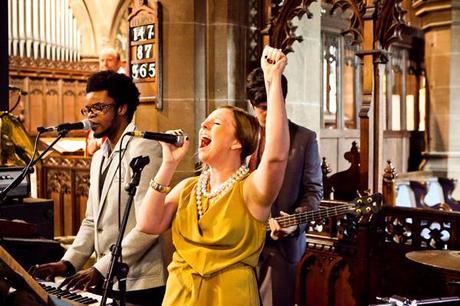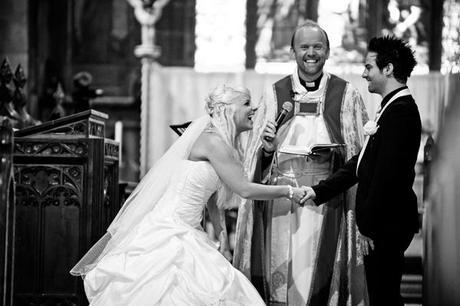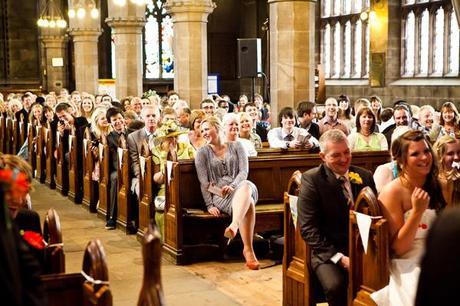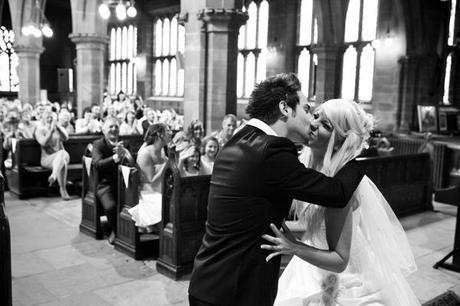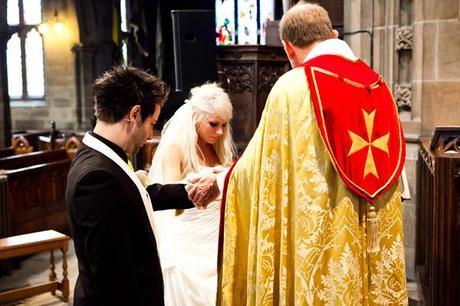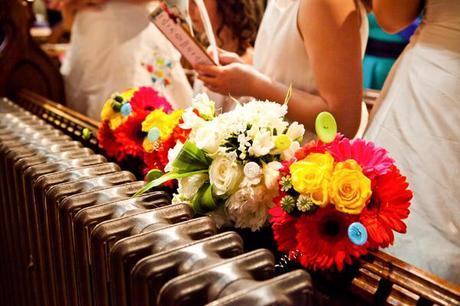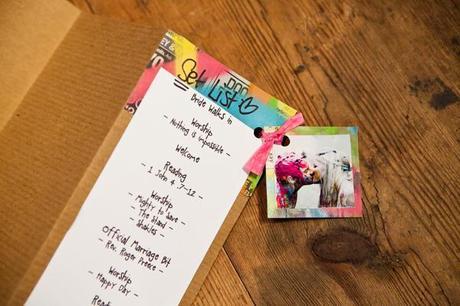 I LOVE that there's a 'Set List' for this church wedding! I love the party atmosphere, I love the grin on the vicar's face, I love how everyone – David and Rachel especially just throw themselves into the celebration and really enjoy it.
I also love the painty picture tied to the set list from David and Rachel's engagement shoot!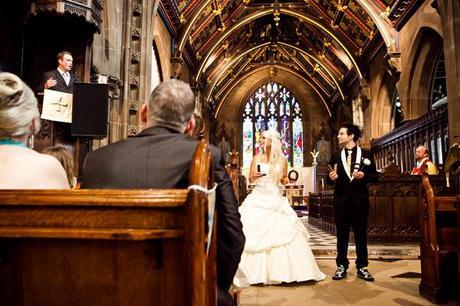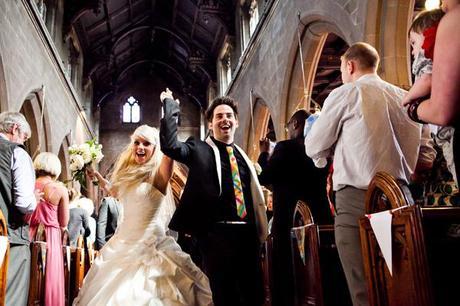 And they're married! A wonderful moment – lots and lots and lots of fun had, a ceremony no one will ever forget and now it's time for an ice cream…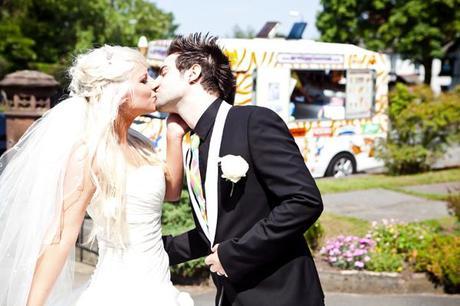 … but I'm saving that for tomorrow.
While you wait, tell your friends about English Wedding blog. Tell them we have the bestest bride and groom on the blog today and tomorrow, with outstanding wedding photography by Lucy West – and they will LOVE it!
You know me… I save the best bits for last! If you thought this was good, tomorrow will knock your socks off. Both of them. They'll quite possibly land at the end of your neighbour's garden – that's how good it gets.
See you in the morning!
Claire xxx