Another weekend, another awards show! I don't always watch the SAGs because it isn't as hyped as the Globes or the Oscars. However, I do like them because they feature ensemble casts in addition to the individual awards. 
The red carpet for this show had a few changes from the Globes. While there was more white (snooze), most of which was not good at all, there were also a huge number of patterns. Are the SAGs just the awardshows where stylists thing we'll put them in all sorts of weird, brocade-esque dresses? Gak. So. many. awful. gowns. But, there were also a few highlights to be found!
The Best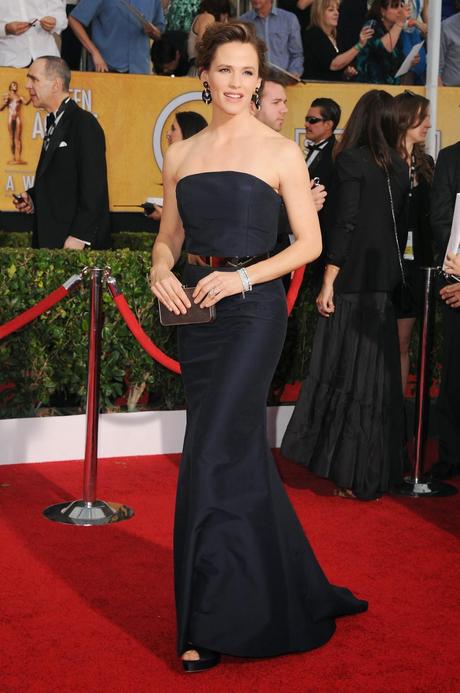 Jennifer Garner always looks great on the red carpet. She's got very classic style, and this dress is no different. It doesn't have a lot of "wow" factor, but she looks great in it and it is flattering.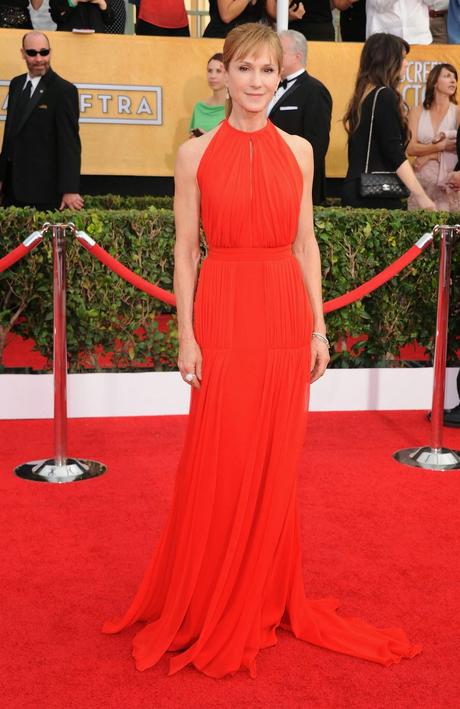 There has Holly Hunter been? She's looking mighty skinny, but this dress is awesome. Handsdown one of my favorites. I love the high neck, the ruched material, and the color. We all know I adore color. She paired it with simply makeup, accessories, and hair, letting the dress stand on it's own. Well done.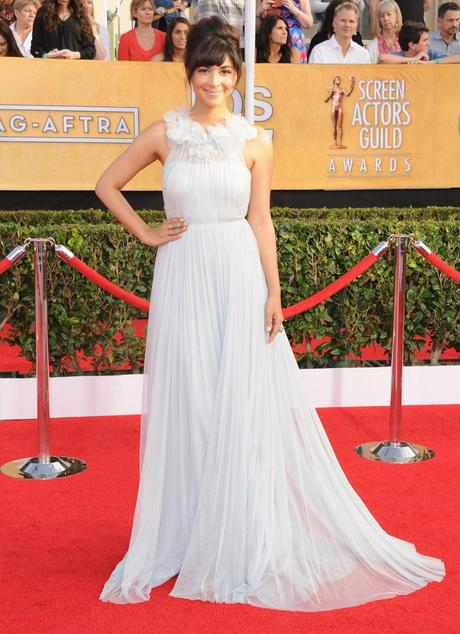 One of the few examples, in my opinion, of white done right at this show. It's similar in style to Holly Hunter's gown (apparently I'm a fan of the high neck and ruching these days?), and while I could do without the flowery things around the neckline, i really like this. It is simple and looks light and flowy.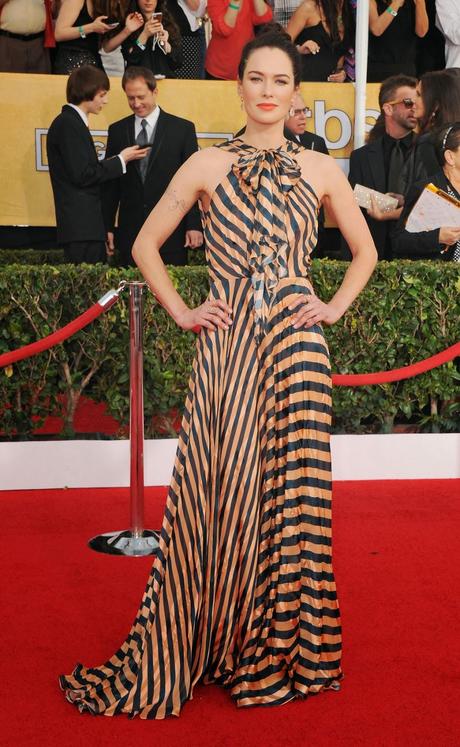 I'm eh on this print (so. many. stripes), but I love this dress otherwise (again with that neckline!). She looks great in it and it pairs so well with the punchy orange lip. So glad someone opted for a bright lip!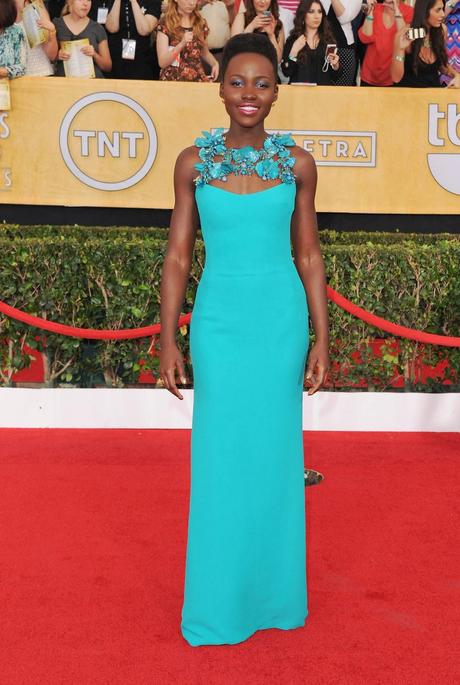 Ah Lupita. Rocking it again. This girl is seriously my new favorite. She rocks every event she goes to. This dress is a gorgeous color, and I like the neckline paired with her short hair.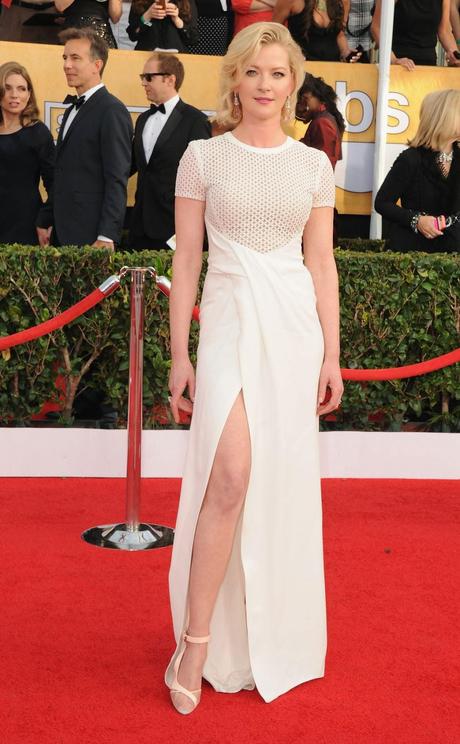 Another white dress down right. The material on the top is a bit weird, but I think I like it. And I love the shape of the dress, the draping in the front, and the slit. Those shoes though...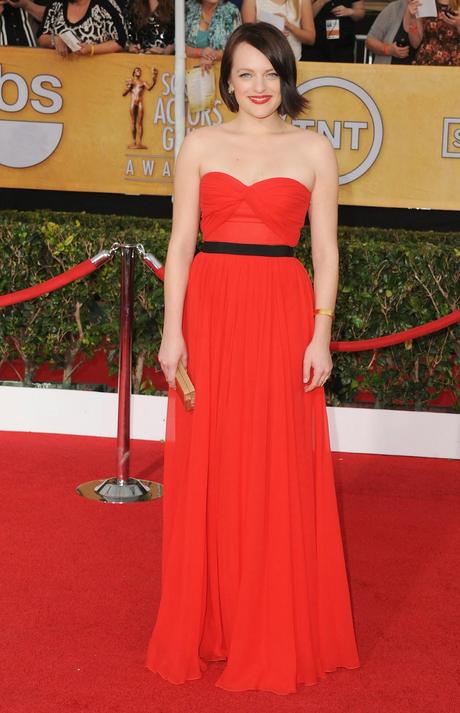 Another gorgeous red dress. I love this so much. And she paired it with a matching lip! Elisabeth, we might be soulmates. It looks great on her, though she's hunching a little bit. Much better than her Globes dress.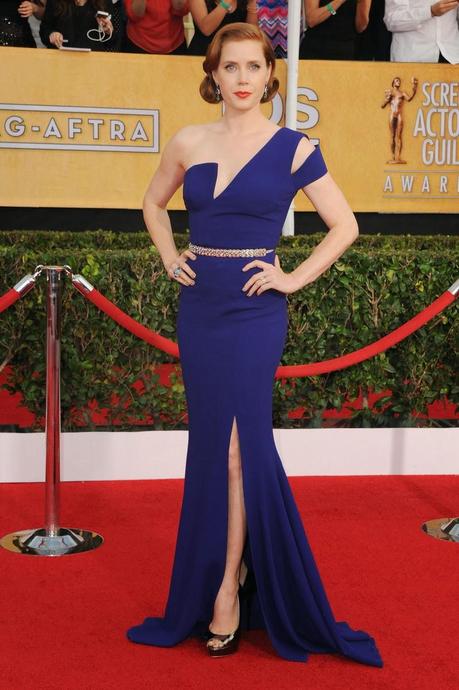 Amy Adams hits it out of the park with this one. This dress is gorgeous. I love the weird neckline, I love her hair and makeup. All gorgeous. I don't think I like her shoes but eh, the dress makes up for them!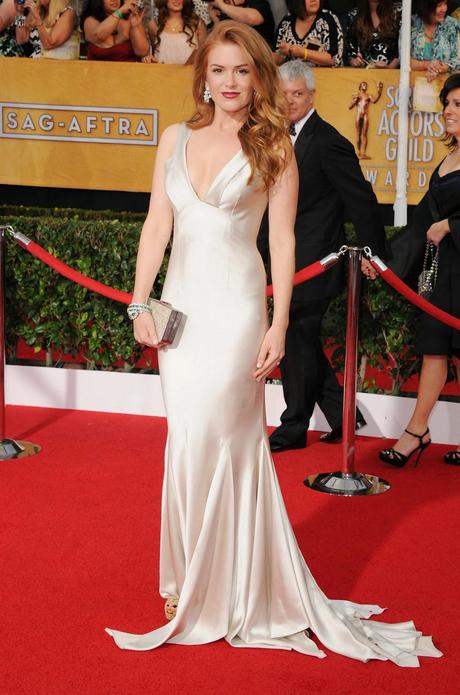 Some might say this dress looks more like a negligee. But I. am. in. love. Isla looks like a 40s starlet here, from the gorgeous hair to the gorgeous makeup, to this gorgeous dress paired with wonderful accessories. I want it all (if only I had the skintone to pull such a color off...) So beautiful.
The Worst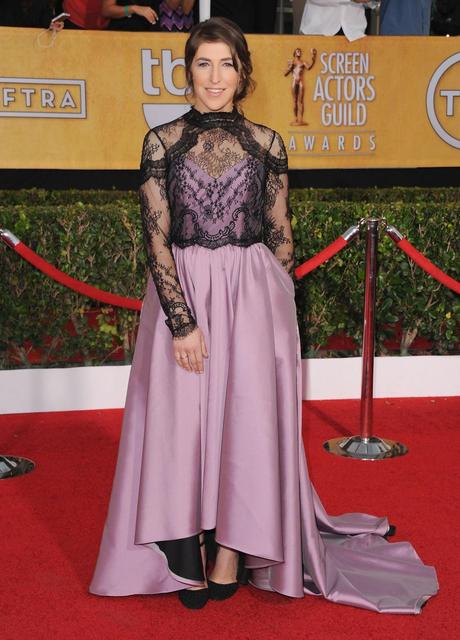 I really don't like Mayim Bialik. At all. She has awful fashion sense, as evidenced by this dress. It's just. NO. And her makeup is really matchy-matchy.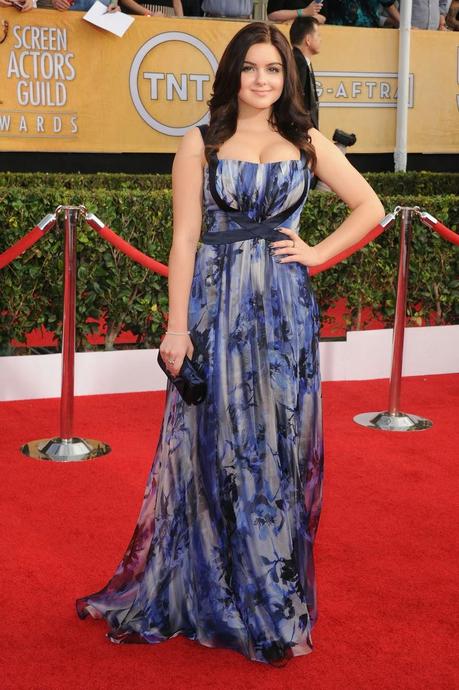 So much pattern. This looks like a sarong I had once. No. Stop it. Her boobs also look mighty squished up in there.
Here comes the snoozefest of boring, pale dresses. Ladies, would it kill any of you to wear something bright?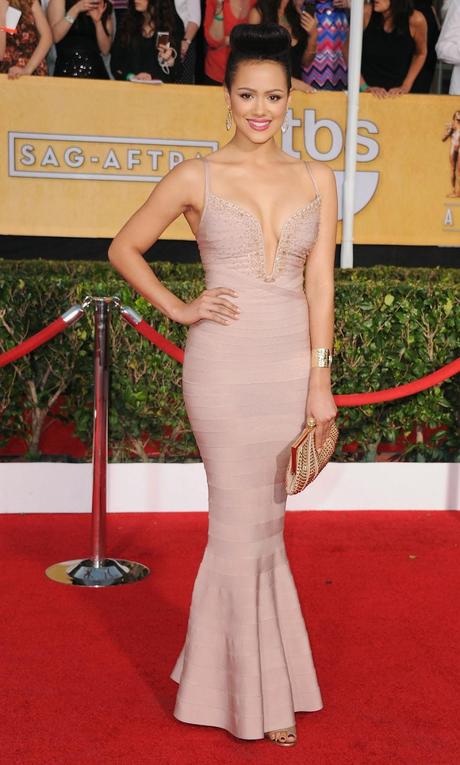 Too tight (but gorgeous makeup).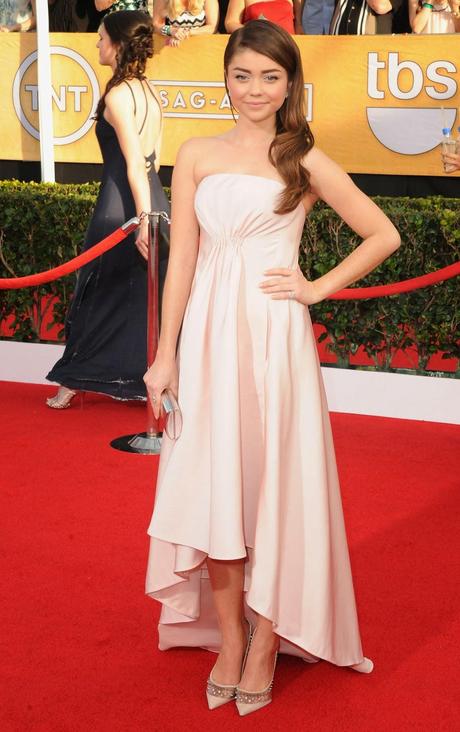 Sarah, you're so cute. Why are you wearing something so colorless and senior prom-y?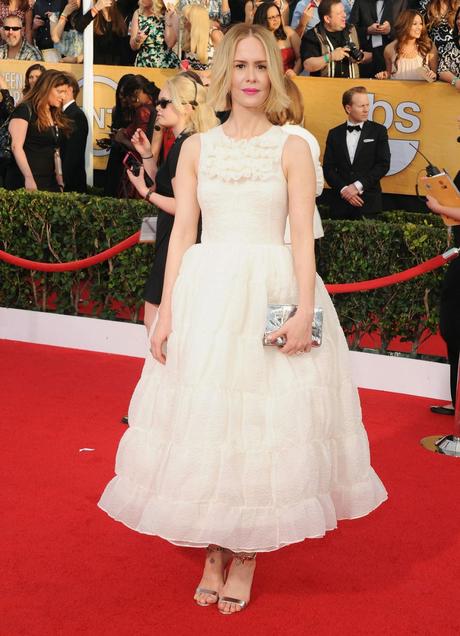 There's just so much wrong with this that I can't even begin. The hair, the makeup, the dress. Stop.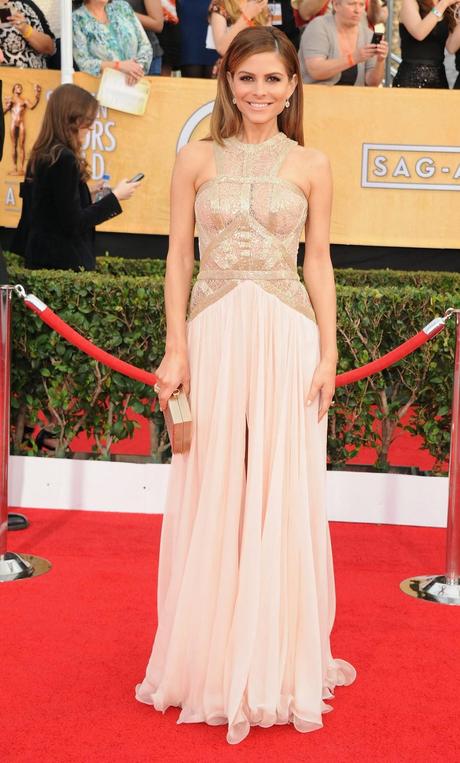 At least this dress has some visual stimulation but it's not attractive. Sorry, Maria. That top makes you look naked and lumpy.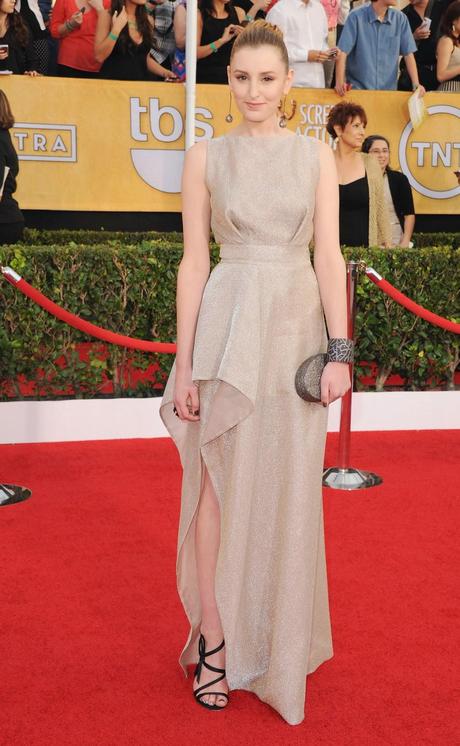 Lady Edit (Laura Carmichael) is milquetoast on Downton (sorry, she's my least favorite everrr) and her style in dresses is milquetoast in real life. I do like the shorter side of this, however. Just. IN COLOR.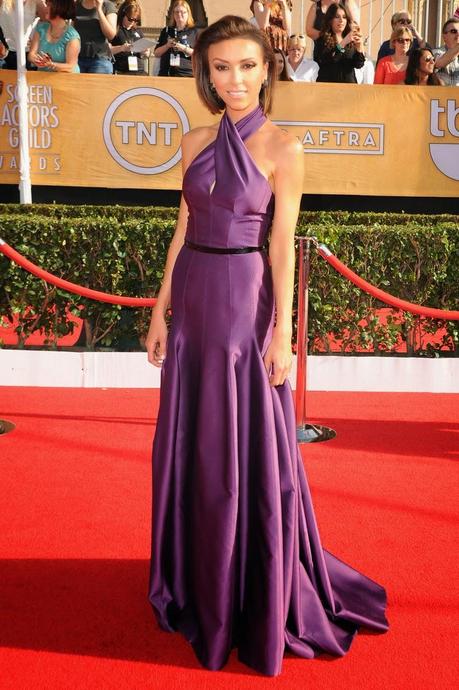 Color! Yay! Pretty dress, no. This looks like a bad prom dress (this is a recurring theme from this red carpet, you'll notice).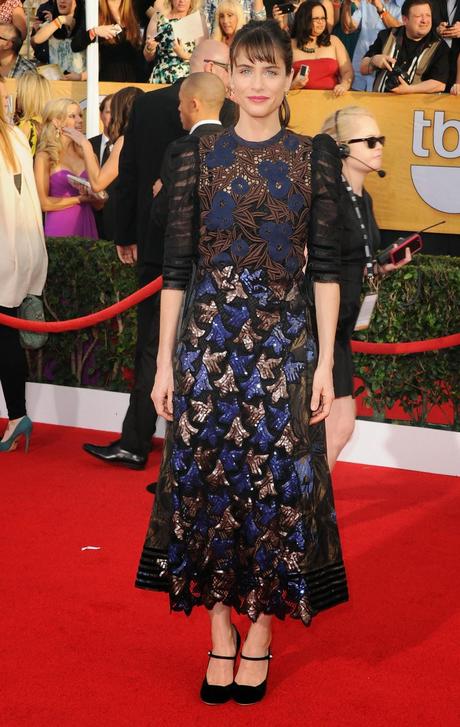 Yikes. This is so matronly. And the prints don't match (not that I have a problem with that when it looks good).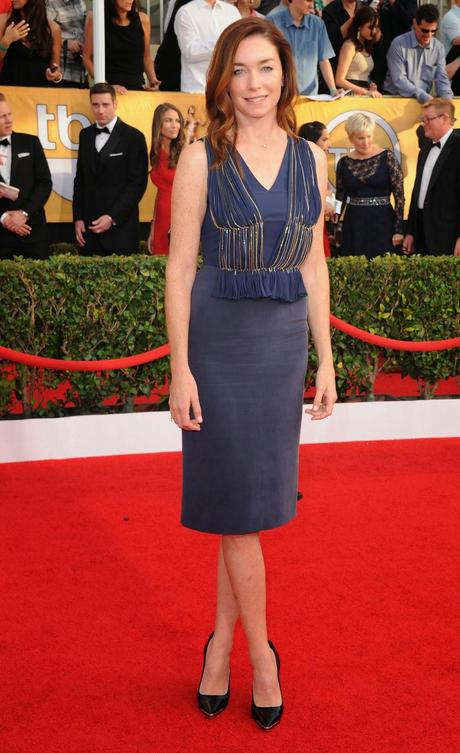 I don't know who Julianne Nicholson is, but I want to ask her what she was thinking wearing a) a cocktail dress and b) fringe hanging from her boobs. Why?

Does anyone else see the Great Gatsby poster in this dress? I like the overall shape but that pattern is hurting my eyes. And there are feathers (I think they're feather, it hurts to look too closely).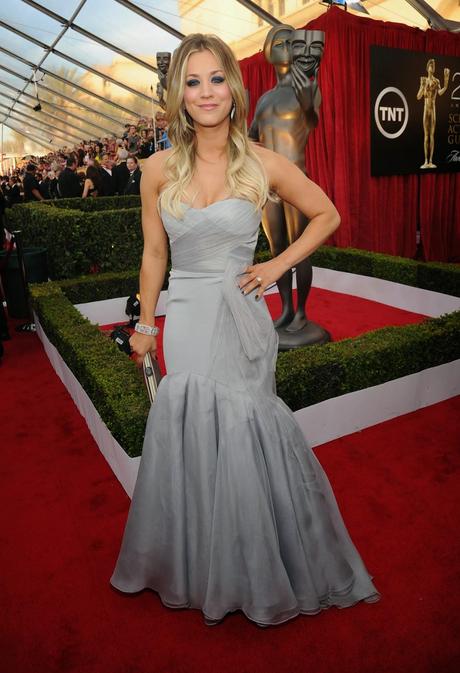 This dress is worlds better than her Globes dress, but still. Snooze. Why gray? Also, can someone please sit her makeup artist down and inform her that her style of eyemakeup needs to go? Too much. Too dark.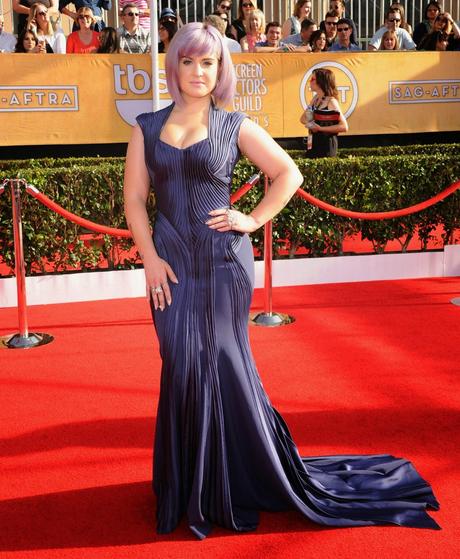 No. NOO. At least her haircut is cute, even if I still don't get the grayish-purple color she's got going on. This dress just looks uncomfortable. And does all seeming have to arrow it's way to that part of a woman's body? Is it necessary?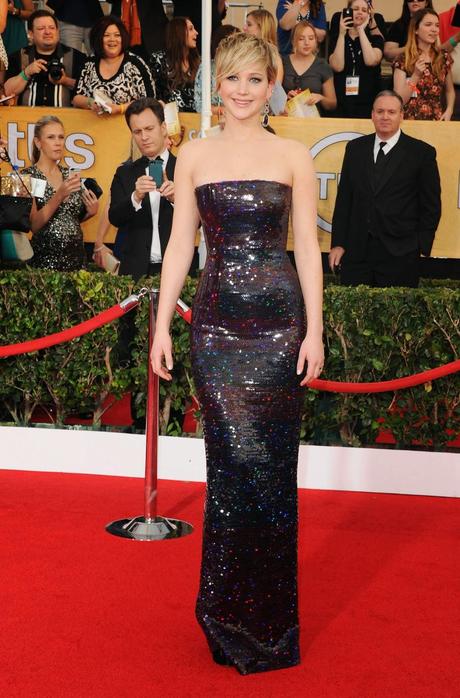 This dress is worlds better than her Globes dress. But I don't like the glitter. And maybe I'm the most awful type of person out there, but it gives her a pooch. Still, she should stick with this silhouette.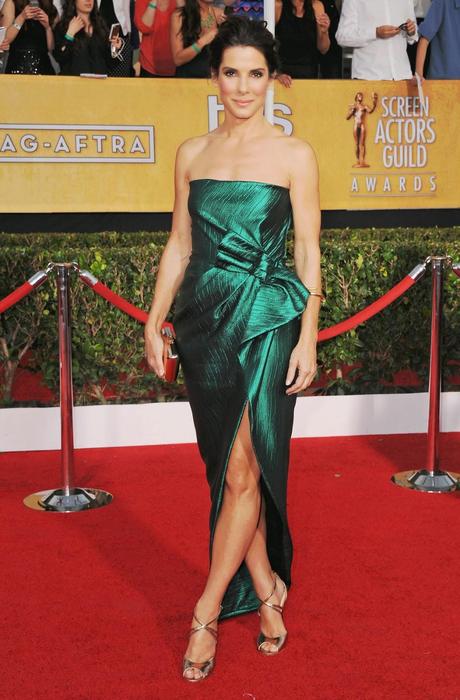 Sandra's usually so good on the red carpet, but this season..not so much. This looks like something she'd have worn in Miss Congeniality. And why is there a giant, shining bow?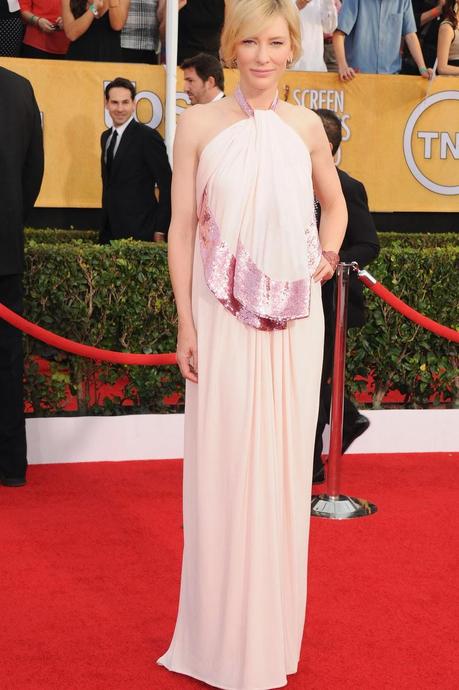 Cate looks great in this, even if I don't like it at all. But then, she pretty much looks great in anything, so no surprise.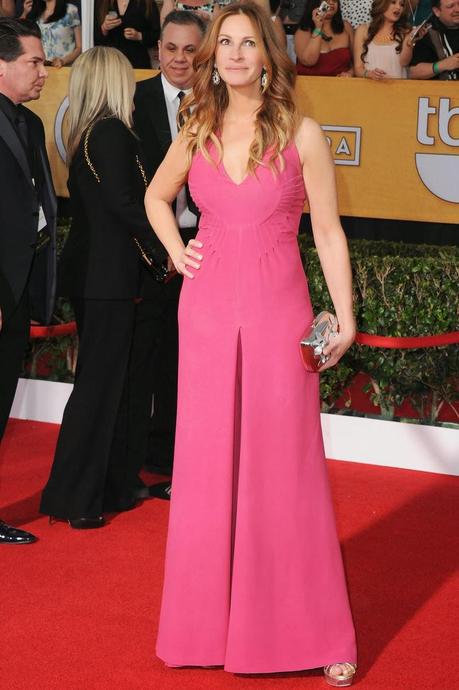 Noo. This is so ill-fitting. And it makes the girls look enormous. Also, is it pants? A dress? That pleat is really misleading.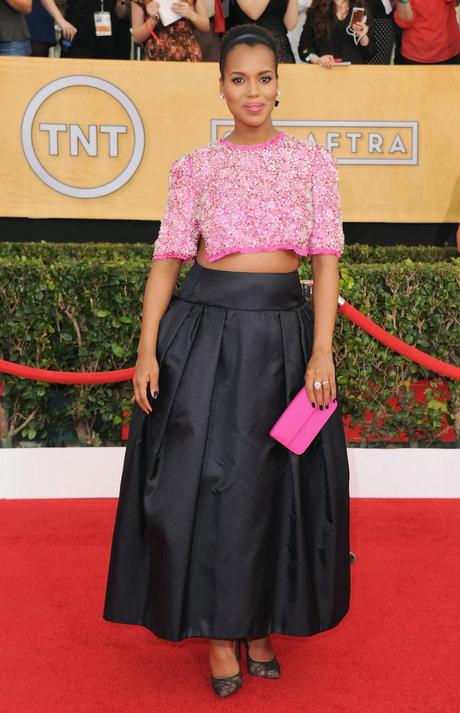 So ugly. Kerry. C'mon. I do love her hair and makeup so much more here than at the Globes, but seriously. That skirt looks so big and heavy (I know it's covering up her bump, but still). And the top is just eh.
Why was there so much taffeta?


all pictures {via}