If you're new to English Wedding, you may want to subscribe to my RSS feed. Thanks for visiting!
count=" href="http://english-wedding.com/2011/07/the-best-20-vintage-wedding-invites-on-the-web/" false="false">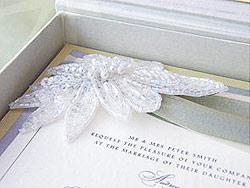 It really makes me smile to see how creative you can all be
– from your blog comments, emails and when I see which
English Wedding
features are most popular… it's clear you love creative wedding inspiration – so today I have a treat for you! (and me!)
As a wedding calligrapher I have a bit of a thing for paper and type – nothing pleases me more than a nice font on warm paper with a bit of a twist to it. And the trend for vintage weddings has inspired a generation of wedding stationers and brides to create some really beautiful vintage wedding invites.
These are my favourite 20 vintage wedding invites
(in no particular order!)
1. Vintage wedding invitations by PrettyWild
Come Fly With Me!… beautiful vintage inspired wedding invitations by PrettyWild set the scene for this feature – aren't these just the most beautiful idea and perfect match for a delicate, girly vintage wedding theme?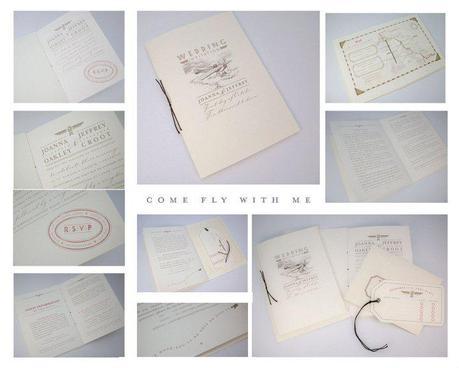 Vintage wedding invitation by PrettyWild UK wedding stationery
2. Glamorous New York vintage invitations
Vintage wedding invitations with a fabulously glamorous and sexy finish – these vintage lace letterpress invites are stunning: they were created for a bride and inspired by the lace on her vintage gown. (more on the Lela New York Wedding Blog)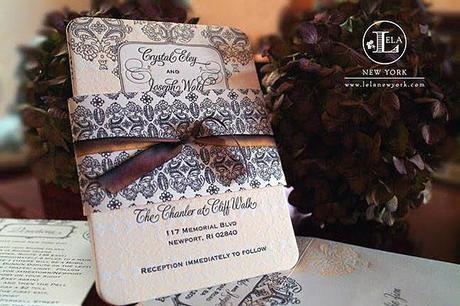 Lace letterpress vintage wedding invitation by Lela New York
3. Sophisticated and pretty blue vintage invitations
These chandeliers and swirly corner designs really stand out from the crowd, and with envelopes in pastel blue they're ever so pretty. From Ruffled wedding blog.
vintage wedding invitations via Ruffled blog
4. Luxurious floral vintage wedding invitations
If you're having a vintage wedding you can chose stationery that's as pretty as pretty can be – and that's exactly what I see in these exquisite vintage wedding invitations from Ally Hay which I found on Before The Big Day wedding blog.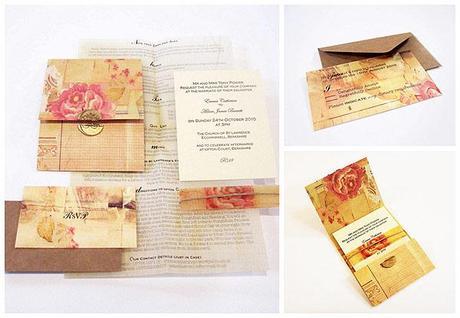 vintage wedding invitation by Ally Hay via Before the Big Day
5. Ally Hay's striking vintage wedding invitations
More from Ally Hay – these are striking, different and beautifully fitting for a vintage wedding….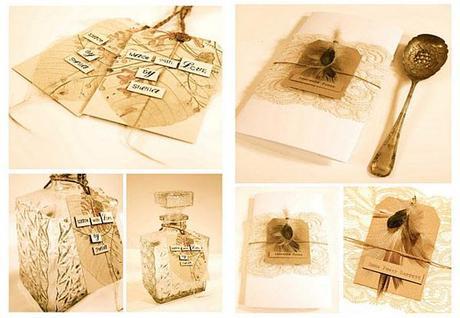 vintage wedding invitation by Ally Hay via Before the Big Day
6. Calligraphy invitations – vintage modern
I love these calligraphy invitations I saw on Oh So Beautiful Paper – letterpressed from handwritten originals, the calligraphy itself gives a vintage feel but the modern lettering adds a gorgeous twist to a vintage wedding invitation design. Love it!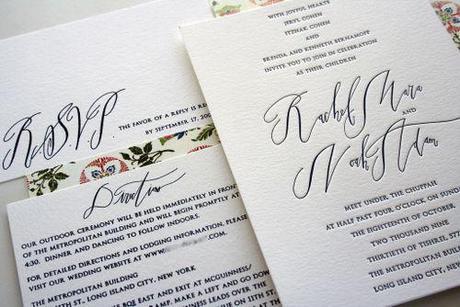 vintage calligraphy wedding invite via oh so beautiful paper blog
7. Fabulously creative illustrated vintage invites
These invitations were designed by a very talented bride for a vintage garden wedding theme – I love the fairytale feel, the shapes of the invitations and the illustration of the bride and groom! I found these on Green Wedding Shoes blog.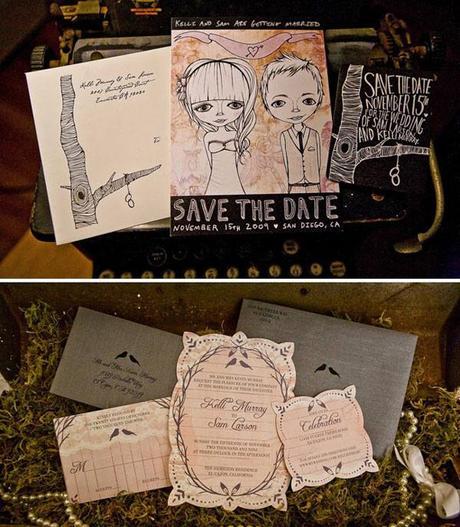 Illustrated vintage garden wedding invitation via Green Wedding Shoes blog
8. Unique vintage wedding invitations with a twist
I found this unique vintage wedding invitation by Blue Tulip on Stiled blog – it's from a great collection of printed wedding stationery on Etsy.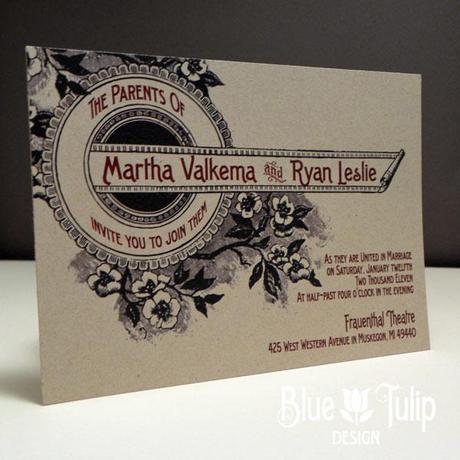 vintage floral marquis wedding invitation by Blue Tulip Design
9. Utterly elegant vintage wedding invitations
Vintage invitations can be elaborate or oh so elegant, and these vintage invites from Project Wedding are the absolute height of elegance and sophistication. A softly swirling monogram, a simple satin ribbon… for high society vintage brides!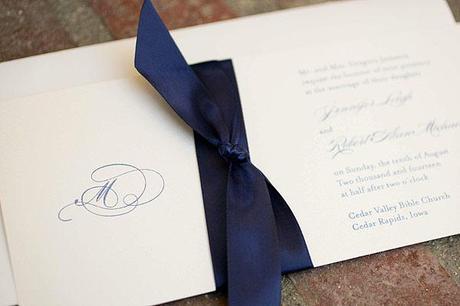 Glamorous vintage wedding invitation from Project Wedding blog
10. Vintage wedding stationery with calligraphy by Laura Hooper
I'm a huge fan of Laura Hooper's calligraphy and these vintage wedding invitations from Laura's collection are so beautiful!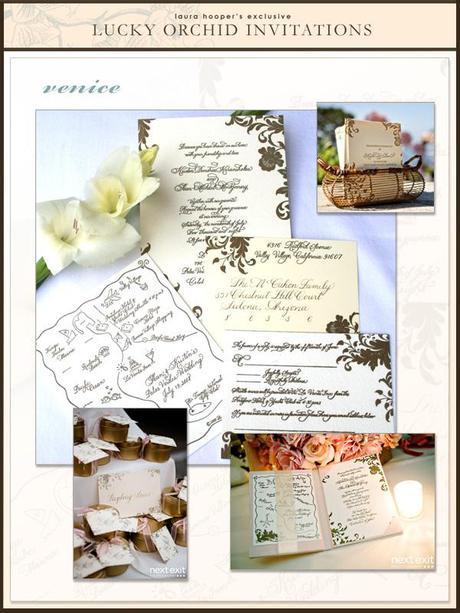 vintage calligraphy invitations by Laura Hooper calligraphy
11. Striking vintage wedding invites with red
These vintage inspired wedding invitations use splashes of red to give a playful look to the design – the soft backgrounds and vintage fonts keep the design very charming and olde-worldy! These vintage invitations are from Oh So Beautiful Paper.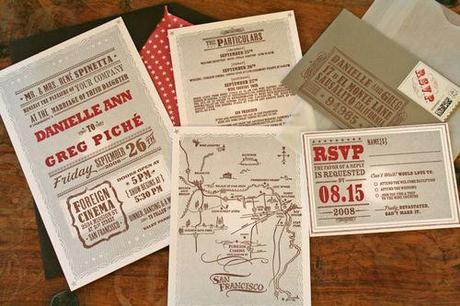 Vintage wedding invitations with red detail from Oh So Beautiful Paper
12. Blue vintage wedding invitations
I love the colours in this rustic blue vintage invitation design – this was recommended by a bride to be on the Wedding Bee blog forum.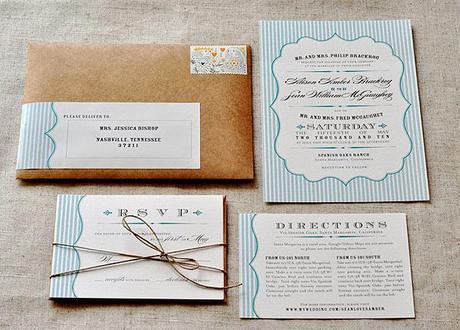 Rustic blue vintage wedding invitataions via Wedding Bee blog
13. Couture vintage wedding invitations from Scotland
I've always loved invitations from Wanderlust Cards in Scotland – Audrey's creations are spectacular and these beautifully adorned vintage couture wedding invitations are out of this world.

Vintage couture wedding invitations from Wanderlust Cards in Scotland
14. Cherry Gorgeous vintage rose wedding invitations
Go big and bold in vibrant blues with this pretty wedding invitation from Cherry Gorgeous. The blue rose and pastel polka dots combine to make a striking and unusual vintage wedding invite design.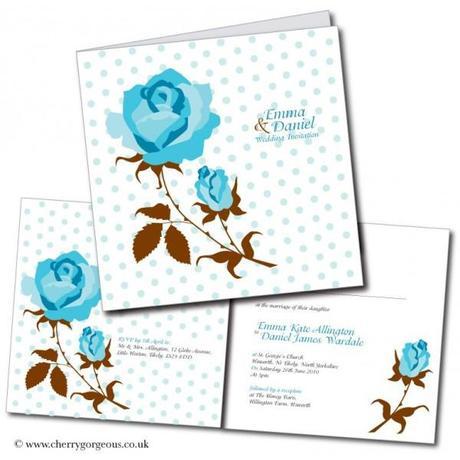 Vintage blue rose wedding invitations by Cherry Gorgeous
15. Illustrated and fun vintage wedding stationery
This vintage wedding invitation from Momental Designs is pretty and full of fun – I love the little rhyme on the front! (The blog post is full of gorgeous wedding invitation designs – pop over and read the whole thing, if you like this you'll love it!)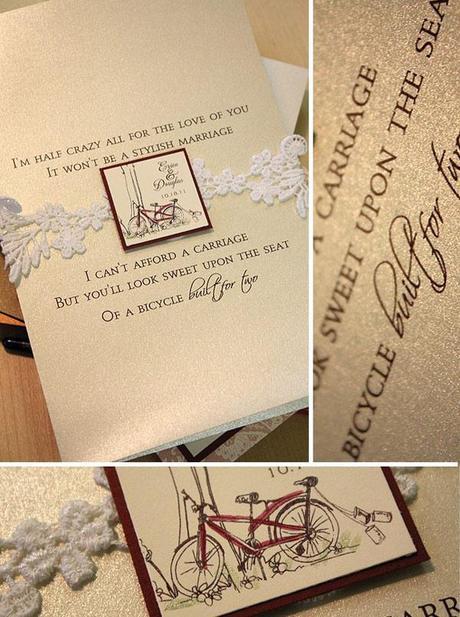 Vintage inspired wedding invite from Momental Designs
16. Letterpress invitations for vintage brides from Cardlab
I love Cardlab's letterpress stationery, and these classic and elegant invitations fit a sophisticated vintage wedding theme. I can personally recommend Cardlab, having written calligraphy on their invitations many times – it's beautiful quality and they're a great team to work with.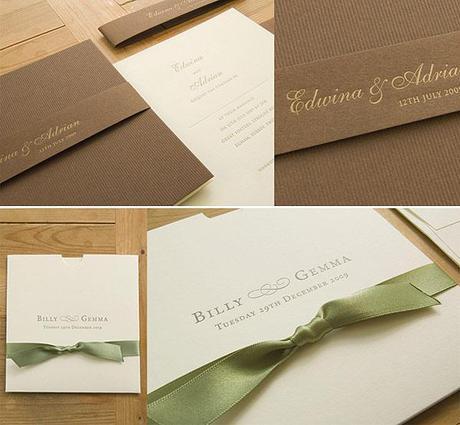 Vintage letterpress wedding invitations from Cardlab in the UK
17. Letterpress vintage invitations by Emma-Jo
I've just discovered Emma Jo, who creates beautiful letterpress wedding invitations in the UK. This vintage wedding stationery collection has swirly and carnival fonts, beautiful letterpress printing and gorgeous colour combinations – worth checking out!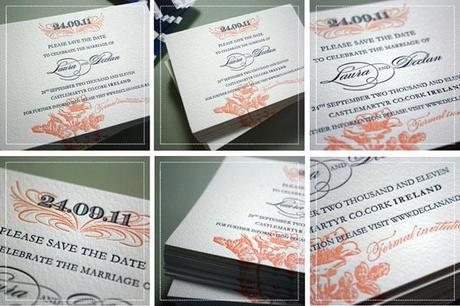 Bespoke vintage wedding stationery in the UK by Emma-Jo
18. Vintage invitations – Made With Love!
Clare from Made With Love has created the most colourful vintage wedding invitations I've seen – they're like a summer garden all tied up with lace. I love these! (found on the Wedding Invitation Shop blog)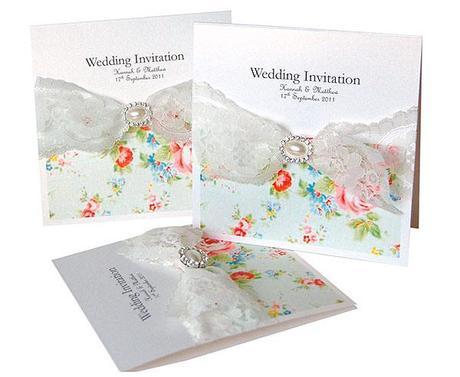 colourful vintage wedding invitation by Made With Love stationery
19. A quirkier vintage – invitations by Hello! Lucky
For the alternative brides and grooms out there, these quirky vintage wedding invitations by Hello! Lucky could be right up your street!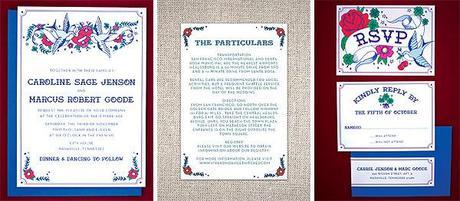 alternative vintage wedding tattoo invitation by Hello! Lucky
20. Navy blue vintage invitation by Sarah Drake
This wedding invitation suite from Style Me Pretty blog is by Sarah Drake, and inspired by wedding inspiration board on the blog. I love the rich colours, and the dark styling is very sophisticated. Gorgeous!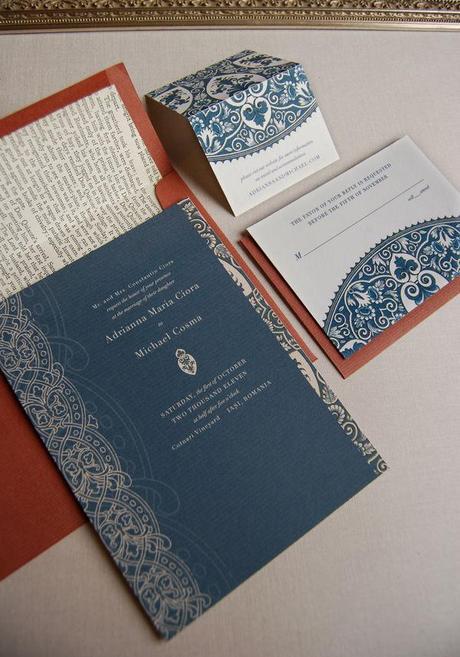 Vintage navy blue wedding invitation suite by Sarah Drake on Style Me Pretty
If you're thinking of making vintage wedding invitations, have a look at the English Wedding guide to making vintage invites.
Found a gorgeous vintage wedding invitation on the web? Share it in the comments below – links are allowed