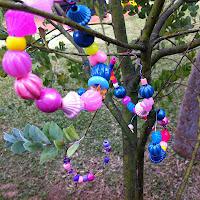 It's no secret that crafters often get in a groove... and there can be nothing sweeter than finding that rhythm that comes with the joyful repetition of doing something you like, something that works, over and over.  Think knitting, baking, quilling... so many crafts rely on repetition, and it's a good thing.  Mostly.  There are times however when routines can lead to ruts and that groovy groove turns into a quagmire.  'Am I still here?  Why is this taking so long?  How many more of these tricky treacherous thingamajigs have i got to do before I can call this craft project complete?!?#@?"
We've all had those moments, or at least I'm going to tell myself we have so I don't feel bad.  Sometimes they come from tackling a project a bit bigger than our current skill set, trying to do too much with too little time, or simply having a bad day.  It always comes from a bad attitude.  What to do?  Set it aside for a moment (how ever long you define 'moment' to be is up to you - in the case of my
baby quilt craft fail
it's been 5 years and I'm still waiting for the moment to pass), and try again.  Alternatively; have a paradigm shift and literally look at your craft in a different way - like children do - all the time, bless their uninhibited genius minds.
Mimi's preschool encourages them to make bracelets whenever they want, as beading is such a cool way to develop hand eye coordination in a passive way, that probably allows the teachers a moment (yes I use the word loosely and deliberately) of peace.  Thing is, Mimi loves to make them.  Last count we had, oh, a dozen of them.  They're not the sort you can string together with a ribbon, as I recently did and
wear them as one
, they're apparently too 'precious' to unstring and refashion into a necklace (just yet) and they are rather pretty on their shiny metal bands... so...
the girls came up with a novel idea: a bead tree.
Being winter here, the trees are not as flush with flowers and fresh leaves as they might normally be, so they used the bracelets as pretty ornaments, hanging them like Christmas decorations from the tree in corner of the yard they refer to as their  'fairy garden' - perfect!
So next time you're in a crafty rut, think like a child, or ask one, if there's a different way you could be doing things... come to think of it, I might ask the girls if they can think of a better way to get Daddy's shirts flat for work... see ya. x