In simple words, The Balm's Frat Boy, is matte pretty pink powder, which can be used as a blush and an eye shadow. The Frat Boy is a perfect pinkish apricot shade for that natural flush on cheeks. When you can't keep the boys away, blame it on the blush.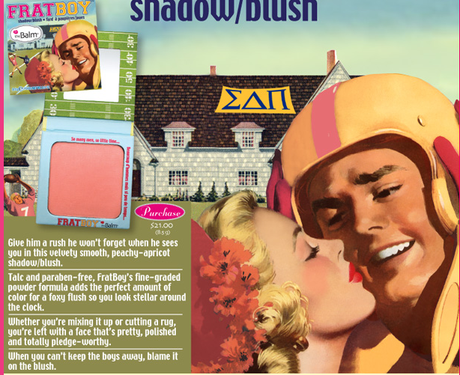 Source
A warm peachy pinky blush that is similar in tone to Mac Melba, (that's what a lot other bloggers say, not me) very well pigmented.
Price - $ 21
Quantity - 8.5 grams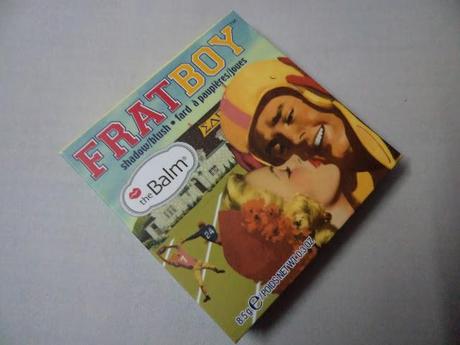 The Frat Boy comes in cardboard packaging with an inbuilt mirror. The packaging is really cute, though personally I prefer my makeup packaging to be black and a little blingy. That gives a really classy look.
So, when I opened the pan for the first time, It was love at first sight. The color is absolutely gorgeous. The Blush is matte without any shimmer or sheen. The shade will work best for Light to Medium skin tones, though it might just show up as a glowy blush for dusky beauties.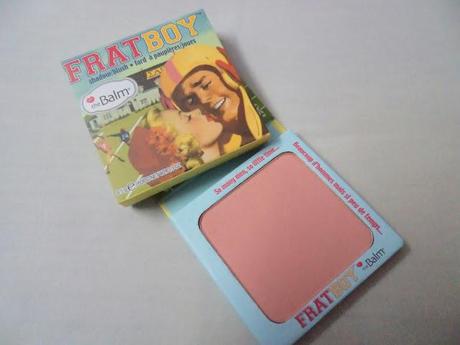 The Packaging is so cute. It comes with an in-built mirror. (Hidden under the cardboard cover, my bad)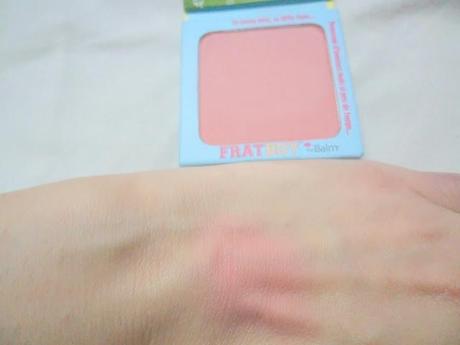 Swatched in all its glory
A lovely color for both summers and winters. it works even on my pale complexion. I am fair skinned with warm undertones and my complexion leans towards pale. I have to choose my blushes very carefully, because very few shades work for me. Most of the times, even if a blush looks great on me indoors, it appears too stark in the sunlight, appearing as if I went overboard. But not this one, it looks perfect, both indoors and outdoors. It is very well pigmented and i just have to gently touch my brush on the pan and apply. Any more, and it will give clown cheeks. It stays for a good 5-6 hours on my dry skin, even when I apply this after a heavy moisturiser.
The only downside is that it can purchased online at
Sephora
or the Balm. 
Disclaimer - Product sent by brand for consideration, but my review remains honest.