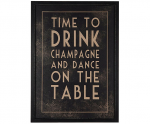 Sure the wedding planning is exciting and fun and stressful and tedious and awesome and all of that great stuff… but the part about the wedding planning that I have always fantasized about has been my Bachelorette party!  And NOOOO… Male strippers are not  appealing to me, never have been!   As far as male strippers go, I can't think of anything I find more repulsive, that is, anything short of Magic Mike, real actors Channing Tatum and Matt McConaughey included (or a select other personal faves like Lance Gross, Idris Elba…but I digress…).
I love girl time, feeling pretty, being fabulous, and bonding over similar experiences and even learning from our differences. There is nothing like sharing time with your girls, the laughter, the tears, and of course the dressing up! Over time, as relationships, and taste have evolved, so have the specifics of my vision.
Girls I thought would be there, won't be, places I thought I'd go, I've already been but the desire for the experience remains. This weekend my maid of honor asked me about my vision for my bachelorette party. The guest list, the scene, the activities?? Having only attended two bachelorette parties, I don't have much variety of which to draw from.  Obviously, I want a fun and memorable evening for everyone involved.  I've already done Vegas and Miami, add to that my destination wedding, asking my girls to get on a plane seems excessive and inconsiderate.
With my groom taking off to New Orleans for a fun-filled guys weekend, the pressure is on to create an equally boast worthy event. My general vision has always been some form of dinner, dancing, and a slumber party after, the next day filled with festive cocktails, romantic comedies (my personal fave) in the background, and lots of girl talk. Anyone that knows me knows these are some of my favorite pastimes at my most basic level. Where or how that will take place is the million dollar question.
The plan is a NY weekend with a mix  of little bit of what I have mentioned and hopefully some new, clever and charming activities.  So I'm open to hearing about your best ideas and/or bachelorette party experiences?  Any suggestions on definite dos and of course, the don'ts,  share those too!  I can't wait to hear what you guys have to say!
xo- Kass