I couldn't decide what I wanted to bake for Thanksgiving and then a friend posted a picture of a slice of this cake on Facebook and I wanted it immediately! With a completely unbiased opinion I tell you… I totally killed it in baking this cake!  It was delicious.  I think I will to make it when I am in Louisiana for Christmas!
Recipe adapted from Eddie's House of Love.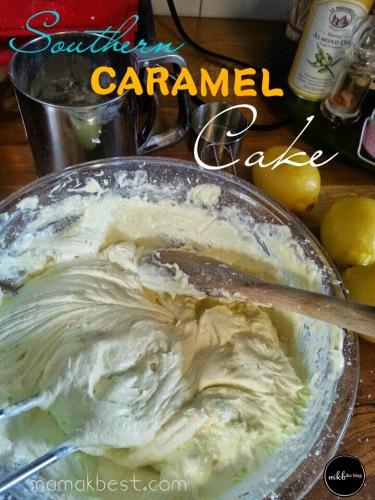 Ingredients:
1 cup butter (2 sticks)
2 cups sugar
4 eggs
3 cups flour, self-rising
1 cup buttermilk*
2 teaspoons vanilla
* I couldn't find buttermilk so I made my own.  
Make Your Own Buttermilk:
You can use lemon juice or white vinegar
1 tablespoon of lemon juice + 1 cup of milk 
Let sit for 5 minutes 
Directions:
Preheat oven to 350 degrees.
Beat butter until light and fluffy and then add sugar and beat for about 5 more minutes. Add eggs, 1 at a time, and mix well after each. Add flour and buttermilk, alternately, beginning and ending with flour and mix well after each. Add vanilla and beat well.
I made a 2 layer cake and 3 dozen mini cupcakes. Each layer was 16 ounces and each successful cupcake was 5 ounces, let's just say 6 ounces made a mess.  I mention this because the recipe makes a big cake!   I baked the layers for 25 minutes and the mini cupcakes for 15 minutes. 
Allow to cool completely. Prepare Southern Caramel Icing as cakes are cooling then frost the cake.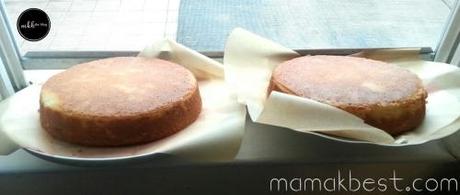 They looked perfect!
---
Southern Caramel Frosting
Ingredients:
2 cups sugar
1 cup buttermilk
½ cup Crisco
½ cup butter
1 teaspoon baking soda
1 teaspoon vanilla
Directions:
Mix all ingredients in a 3-4 quart cast iron dutch oven.
Swirl pan to keep ingredients moving in the pan. Cook to softball stage 235º – 245º on a candy thermometer or when tested in a cup of cold water. Remove from heat and beat with a wooden spoon until creamy and ready to spread.
Cold Water Test: Take a some of the caramel and drop it into a bowl or cup of cold water. Give it a few seconds to cool. Retrieve the caramel and try to make a little ball with it. If the caramel is gooey, the sugar concentration is still too low so continue boiling the caramel.  
---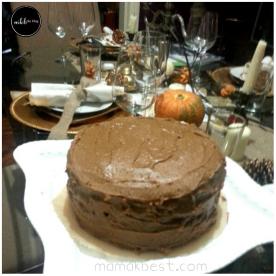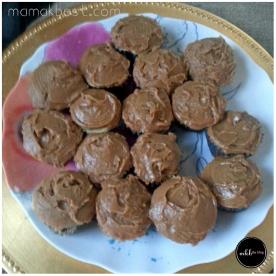 A cake for one Thanksgiving and mini cupcakes for another! (My pics leave a lot to desire but the cake…well it was perfection!)  Thanks Shwanna for sharing the original Caramel Cake recipe!  
xoxo – Kellie