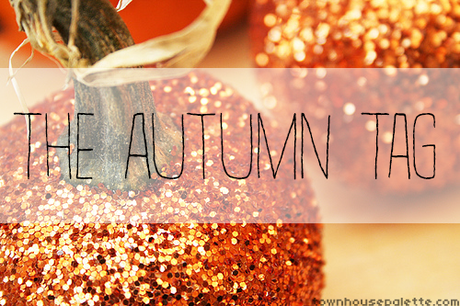 Hello 

♡ I thought I would change things up and do a tag. I was lucky enough to be tagged by Katie from

Curvaceous Beauty

on the Autumn Tag. I don't know whats worst school or...wait 

that's

 the only reason. On the 

bright-side

, I am getting my temps soon. Knowing how nuts I go in Mario Kart, the 

government

 will have to put a new light on the traffic lights's bar to tell everyone I am 

coming

 by. This will save everyone to duck for cover as I wipe out the trees in my town causing some sort of famine for animals. 


Favorite thing about AutumnI love thanksgiving and all the great food. Though family always ruin the Turkey by cooking it from like 8 am to 10 pm. I always love the warm lattes, cozy pajamas, and the movies. 
Favorite DrinkI really love coffee and just some creamer like Bailey's Irish Creme. I kind of like the new Pumkin Latte from McDonalds, but it was too hot for me in the car and I could not taste anything. Then I let it cool and added some sugar and it tasted way better.
Favorite Scent/CandleFor sprays and scents I love warm harvest apple and warm vanilla sugar. I don't know what happened, but warm harvest apple was probably my favorite fall scent, but they don't sell the scent at all. I guess bath and body does not want my money because I was going to buy the whole set...Not only is that, but they also reformulated warm vanilla sugar and it is not the same exact scent (what I read online). For fall transition in winter, I love moonlight path because it is very cool romantic scent, but has some warmth.
Best LipstickI have a discontinued lipstick by Maybelline called Plum Wine which I accidentally took from my friend Sana -sorry Sana*__* Which is a plum color, but it is quite subtle for my age and appearance. I also have a gloss stain, also by Maybelline, called Ruby indulgence which I love to use to make a K-pop inspired lip gradient. It is a plum or a deep berry color. It definitely is a stain.
Best Go-To Moisturizer
I really don't know anything light because I am getting quite oily!!!
Favorite Go-To Color on the Eyes
I like anything gold, black, and plum. Smudged and gorgeous. I have a hard time working with dark color, especially smokey eyes. Something I need to work on.
Favorite Music
I have been obsessing over 'Replay' by Zendaya. I was never a big fan of the show, but I 100% support her music career. In French class we are listening to a song called 'Papaoutai' by Stromae, which is fantastically catchy. For Korean, I am going crazy for 'Flashback, Because of You, Shampoo, and Heaven' by After School. I have been going After School crazy, I really love 'In the Night Sky and Wonder Boy' of their sub-units red and blue. I am AFTER SCHOOL OBSESSED!! For Japanese, I always am listening to endings and openings for FMA and FMAB, also for SAO (I still have not finished the show).
Favorite Treat
It is easy to say Pokemon X &Y are coming out in four weeks, so yeah I am waiting. I am also getting a new cell phone in October. So many things to love:)
Favorite Place to be
In my room drinking coffee and on the computer, or playing Pokemon X!!!
The wonderful bloggers that deserved to be tagged:
Nhi from Tangerine Babi (LINK)
Ashley from Blush Bug (LINK)
Heidi from Laces and Little Hearts (LINK)
Sabrina from Sabrina Tajudin (LINK)
Zoe from Sweet Electric (LINK)
what are your fall essentials?


Twitter | Tumblr | Facebook | Instagram | We Heart It