The Hess Collection – Wine and Art Under One Roof
 
By Lou Marmon
 
April 2018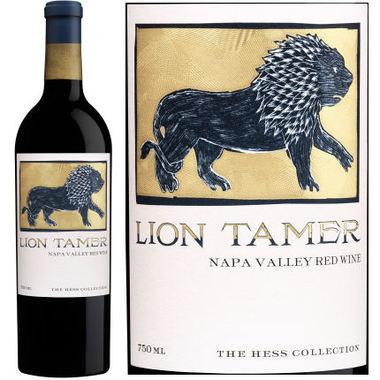 There are few wineries that so intimately demonstrate the notion of winemaking as art than the
Hess Collection
. Located on Mount Veeder, the largest and highest of Napa's five mountain AVAs, the
Hess Collection
began with the purchase of acreage by the Swiss-born Donald Hess who had made his fortune by expanding his family's beer and hotel business into a best-selling mineral water. While looking for a way to compete with Perrier in the American market, Hess traveled to the US in the 1970s to find a source of suitable mineral water. While he never found an appropriate spring, Hess did chance upon some Napa wines and was impressed by their potential.  
Hess began with the purchase of 900 acres on Mount Veeder of which only 20 acres actually contained vineyards. Initially content to just sell grapes, Hess began to make his own wine in 1989 after arranging a long-term lease of the nearby old Christian Brothers winery. Since the building was much larger than needed for his wine-making, he moved a portion of his modern art collection into the space and created a visitor's center.  The Hess facility on Mount Veeder now houses one of the world's finest modern art collections.  
Over the years Hess expanded his wine holdings to properties in Northern California and Argentina and they sold their South Africa property last year. They also have a second wine-making facility in Napa's American Canyon. In 2011 Donald Hess stepped down from the winery's day to day activities and his son-in-law, Tim Persson became CEO. Persson and Hess' daughter Sabrina began with a critical reappraisal of their wines and then decided to further integrate their wine and art programs with other experiences, including music and food pairings, to create an upscale experience at the Hess Collection.  
But Hess isn't all about lifestyle. They are deeply philanthropic including a longstanding commitment to educating low-income students as well as to other charities including art programs for children. Their Mount Veeder facility closed for 2 weeks during last October's wildfires that took 43 lives and burned over 245,000 acres in Northern California. They gave all their employees that had to evacuate hotel stipends and also donated $25,000 to the Napa Valley Community Foundation's Disaster Relief Fund.  
The long-term impact of those fall fires on their Veeder Crest and Summit vineyards remains unknown. Late ripening Malbec and Cabernet were still on vine in October. Chief Winemaker Dave Guffy noted that the "levels of smoke taint we are seeing this year is far lower than what we saw in 2008," but smoke taint is still a problem and "we have taken rigorous approached to declass wines that don't make our quality benchmarks."  
Guffy continued, "Many are asking us if the fires will impact yields this year and while we don't think so, frankly there is still a lot we don't know and we are sitting tight until spring to see what growth and how healthy the shoots and buds look. From there we can make a better judgment. In most cases, the vines are not affected and I personally don't think we are going to see a material impact in the v18 harvest."  
The Hess Collection produces a number of very well-made offerings across the price spectrum that justifies their reputation as one of Napa's finest wineries. These include some intriguing single varietal bottlings in their winery exclusive "Small Block" series (Pinot Gris, Gruner Veltliner, Petite Sirah and others) as well as more widely available wines such as:  
Hess Collection Mount Veeder Cabernet Sauvignon 2013 ($65)
. Containing 18% Malbec, it displays the classic Mount Veeder high elevation Cabernet characteristics including intense floral and raspberry aromas leading into concentrated and complex dark berry, cassis, cherry and blueberry flavors with hints of herbs, vanilla and oak within a frame of firm tannins extending to a long, satisfying finish.  
Hess Collection Napa Valley Lion Tamer 2015 ($45)
. Hess calls their Malbec the "lion tamer" since it mellows other grape's tannins. This version contains 50% Malbec with 23% Zinfandel and smaller percentages of 5 other varietals. A bit more rustic than their Mount Veeder, it opens with lavender and dark fruit aromas with black cherry, blueberry and red fruit flavors on an earthy background accented with floral, spice and chocolate notes.  
Hess Collection Allomi Napa Valley Cabernet Sauvignon 2015 ($32)
. A softer variation of their Cabernet containing 6% Petite Sirah and 2% Petite Verdot sourced from the eastern side of Napa, this full-bodied beauty is lush with red and black fruit, vanilla, oak and a mild spiciness.  
Hess Collection Napa Valley Lioness Chardonnay 2015 ($65).
This is their first vintage of their Chardonnay that is named to honor of the "women of the Hess Family who now lead the pride."  Lemon, cedar and a mild nuttiness expand into ripe peach, tropical fruit and honey accented flavors that intermingle nicely with citrus acidity and pleasant oakiness into the creamy finish.  
Hess Collection Napa Valley Estate Chardonnay ($22).
  From multiple clones grown at their Su'skol vineyard in southern Napa, this is a very nicely balanced wine with fragrant citrus and peach flavors intermixed with fig, baking spice and a slight hint of oak at the end.  
Hess Select North Coast Sauvignon Blanc 2016 ($11).
Slightly grassy upon opening, it quickly transitions to tropical fruit and lemon aromas and mouth-filling flavors with a touch of minerals in the bright finish.  
Hess Select Treo Winemaker's Blend 2014 ($19).
A blend of Petitie Sirah, Syrah, Zinfandel, Merlot and Malbec. This is a very easy drinking, fruit forward, smooth and enjoyable daily drinker with jammy cherry, raspberry, blueberry and dark fruit flavors with a slight bit of spice.