A look at some recent releases from Argentina
By Lou Marmon
January 15, 2018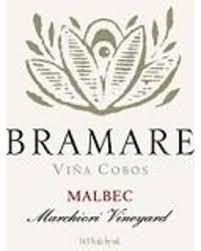 The first Argentinian vineyards were planted in the mid 1500s by Spanish conquistadors. Winemaking became increasingly popular in Argentina over the ensuing centuries but the quality didn't keep up with the quantity.  The 1990s saw a dramatic improvement in their wines and now Argentina is now among the world's leading wine exporting countries.
The principle grape remains Malbec, a French varietal that arrived in the 1800s. But other grapes, including Cabernet Sauvignon, Bonarda, Tempranillo, Petit Verdo, Tannat, Chardonnay and Torrontés are becoming more plentiful. Mendoza remains the country's primary wine producing region, with the rest mostly coming from Neuquén, Río Negro, Catamarca, La Rioja and San Juan.
Bodega Ruca Malen "Aimé" value priced selections embody the less serious side of Argentinian winemaking. Very fruit forward, these wines were created to be enjoyed incorporated into cocktails, as sangria, poured over ice or simply sipped solo. The 2016 Aimé Malbec has chocolate accented, mildly spicy red fruit flavors while the 2016 Aimé Red Blend has dark fruit earthy pepper notes.  The 2016 Aimé Sweet Moscato is surprisingly stylish with citrus, honey and apple notes on a nicely balanced sweet background.
Owned by the renowned American winemaker, Paul Hobbs, Viña Cobos has been producing some of Mendoza's most highly-regarded wines. The full-bodied, silky smooth 2016 Viña Cobos Bramare Marchiori Estate Chardonnay has rich pear, green apple and pineapple flavors, ideal citrus acidity and a lengthy, mineral accented oaky finish.  The superb 2016 Viña Cobos Bramare Marchiori Estate Malbec opens with vanilla and floral aromas that extend into complex red fruit and spicy meaty flavors with hints of pepper, chocolate and leather.
The Bodega Sottano "Judas" was originally reserved for the winery owner's. But one of the brothers released some to the public and now it has become their premier offering. The 2014 version begins with scents of dark chocolate, tobacco and spice. It has very jammy but not overly dense dark plum, blackberry and cherry flavors with white pepper, fine oak and minerals, terrific balance and length.  Also worth trying is the Sottano Reserva de Familia Cabernet Sauvignon 2015 that begins with scents of red fruit and mint proceeding into nicely integrated raspberry, coffee and vanilla flavors with an oak accented long finish.
The intricate flavors of the Luigi Bosca Gala 1 Malbec/Petit Verdot/Tannat 2014 include licorice, dark cherry and black olives with touches of minerals, dried plums, black pepper that would match well with the typical Argentinian grilled fare.  The Proemio Reserve Petit Verdot 2015 is more floral with spicy blackberry, blueberry and dried herb flavors while the medium-bodied Malbec/Cabernet Franc blend Norton Lote Negro 2015 has predominately red and black berry, spice and mint flavors with firm tannins that will need a bit more bottle time to reach maturity.  Located in Patagonia, Bodega Del Fin del Mundo has engaged the prominent wine consultant, Michel Rolland, to help create their Gran Reserva Del Fin del Mundo 2013, a blend of Malbec, Cabernet Sauvignon, Merlot and Cabernet Franc. It starts with strawberry and black fruit aromas that continue into ripe but sophisticated red berry, vanilla, mocha flavors mixed with smoke and spice.