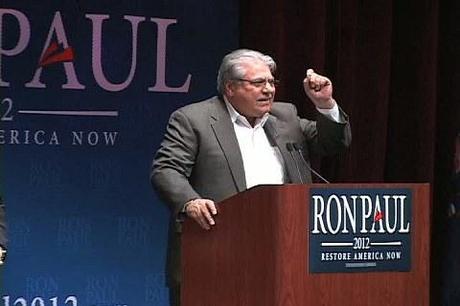 Osama Siblani, publisher of The Arab-American News, addresses Paul's supporters at a rally organized by the University of Michigan's Arab Student Union in Dearborn, March 7, 2012.
Photo: M. Rabiee / VOA.
The biggest Arab-American newspaper in the country, The Arab American News, has endorsed Republican presidential candidate Ron Paul. Its publisher, Osama Siblani, made the announcement at a rally held at the University of Michigan on Wednesday.
Mr. Siblani said Dr. Paul "is the only candidate that brings us together while others are dividing us apart". He, as well as other Arab-American leaders, believes that both the Republicans and the Democrats have consistently failed to address their group's preoccupations. "The only person in the presidential race that has really reached out to the Arab-American community is Ron Paul," he told the university's Arab Student Union. He also added that, because Ron Paul was running for president, we had seen "a lot of excitement in the community, relatively speaking, for this campaign".
The publication had already endorsed Dr. Paul as its choice in the state's primary contest at the end of last month. At the time, the paper explained that the Texas congressman was the only candidate who had a chance of coming up with an acceptable solution for the Middle East. "Paul has also been the only major Republican candidate to resist the type of anti-Arab, anti-Muslim, anti-immigrant demonization, fear-mongering and pandering to ultra-conservative voters in his party that has become pervasive in the post-9/11 climate," the paper stated.
Dr. Paul, who favors a smaller federal government and non-interventionism, often refers to the Founding Fathers and the Constitution while out campaigning. "What we need is a new foreign policy based on non-intervention, minding our own business, obeying the Constitution and taking the advice of the Founders. It's much better to talk to people than initiate war against them," Dr. Paul said.
Although they do not feel that the Texas congressman can win the nomination, through their endorsement Arab American leaders hope to give a strong message to the Republicans and the Democrats.
"We need to vote for Dr. Paul and also we need to give him money," Mr. Siblani urged Arab American groups. "Let's do it!"