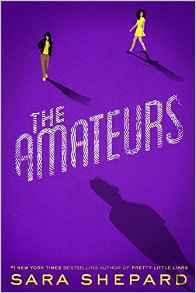 The Amateurs by Sara Shepard
Published by Disney-Hyperion on November 1st 2016
Genres: Death & Dying, Love & Romance, Mysteries & Detective Stories, Social Themes, Young Adult
Pages: 320
Format: Paperback
Goodreads


As soon as Seneca Frazier sees the post on the Case Not Closed website about Helena Kelly, she's hooked. Helena's high-profile disappearance five years earlier is the one that originally got Seneca addicted to true crime. It's the reason she's a member of the site in the first place. So when Maddy Wright, her best friend from the CNC site, invites Seneca to spend spring break in Connecticut looking into the cold case, she immediately packs her bag. But the moment she steps off the train in trendy, glamorous Dexby, things begin to go wrong. Maddy is nothing like she expected, and Helena's sister, Aerin Kelly, seems completely hostile and totally uninterested in helping with their murder investigation. But when Brett, another super user from the site, joins Seneca and Maddy in Dexby, Aerin starts to come around. The police must have missed something, and someone in Dexby definitely has information they've been keeping quiet. As Seneca, Brett, Maddy, and Aerin begin to unravel dark secrets and shocking betrayals about the people closest to them, they seem to be on the murderer's trail at last. But somewhere nearby the killer is watching . . . ready to do whatever it takes to make sure the truth stays buried.First in a new series by the #1 New York Times best-selling author of the Pretty Little Liars series, Sara Shepard, The Amateurs is packed with the twists and turns, steamy romance, and stunning revelations that her fans have been waiting for.
I never read "Pretty Little Liars" but I knew it was a popular series, so when I saw this book, The Amateurs, available for review, I signed up so I could get in on the ground floor of a possible series! I have to say that when I received the book, it sat on the shelf for quite some time because I had other books in line to read.  I now realize that I was really missing out on a good read, because once I picked this one up I whizzed right through it in two days and was all bummed out that it was finished. I'm really hoping this becomes a series too!
The story is about Aerin, who was only eleven years old when her older sister, Helena Kelly, disappeared without a trace. They were outside playing one minute, and Helena sent Aerin in to get something in the house.  When she returned outside, Helena was gone. While her bones were discovered several years later in a park close to the home, no one ever knew what actually happened to Helena.  
Flash forward five years and there's a group of kids who meet online through a sleuthing website of cold cases called Case Note Closed. One of them is Helena;s sister, Aerin, who puts out her sister's unsolved cold case. Each of the kids discover new things about themselves and the realize that they've also been touched by tragedy.
One evening, a girl named Seneca finds Aerin's post asking for help to solve the disappearance and murder of her sister. Seneca connects with Maddy, another girl on the site, and they both decide to go to Aerin's hometown to try and solve the case. They get together with Madison and Brett and begin their attempts to solve this cold case even though the police were unable.
The book is a great book with an awesome story and it's a fast read. It's one of those books you really don't want to put down until you get to the end. There were are a few twists and turns in the book that keep you guessing too!! I would definitely recommend this book heartedly recommend this book to anyone who is a fan of Sara Shepard or anyone who likes a good, quick mystery. It's great for reluctant middle-and-high-school age readers because it's an easy read and pulls you in from the get go.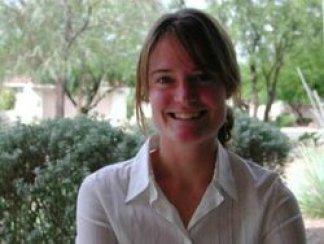 And who IS Sara Shepard? Here's what she says: "I'm from outside Philadelphia, lived in New York for a long time, Arizona for less time, and now I'm in Pittsburgh, PA. 
I've always been a writer. I made up stories about my sister's blanket, BeeBee, when I was four. From there I wrote about squareheaded creatures, an environmental saga about little yellow men who live in vegetable gardens, teenage dramas well before I was a teenager, a book series about a Japanese girl who finds out her ancestors are samurai (and she must be one, too), a bunch of arty short stories, and some books that maybe you've heard of. The PRETTY LITTLE LIARS series is based on my experiences there…kind of. Sort of a hyperbolic version of them. Plus some random stuff thrown in.
I've also written THE LYING GAME, which is about a dead twin and an alive twin, THE HEIRESSES, which is about a rich family's curse, and THE PERFECTIONISTS, which is about five somewhat strangers who get everything they wanted…but that comes at a price. I wrote THE VISIBLES, which is about jackalopes and mental illness, and EVERYTHING WE EVER WANTED, which features a guy who discovers his ex lives on a commune. Coming up next is THE AMATEURS, a three-part series about amateur detectives (with a lot of soapy love stuff thrown in– and a lot of scary, dark moments too).
Hit me up on twitter, Instagram, or Snapchat if you want to chat! Hello! For lots of updates, follow me on Twitter at www.twitter.com/sarabooks on Instagram at saracshepard and on Snapchat at sarabooks. I try very hard to get back to everyone, so send me a message!"
I received a complimentary paperback copy of this book from the publisher in exchange for my honest review. 
~ ~ ~ ~ ~ ~ ~ ~ ~ ~ ~ ~ ~ ~ ~ ~ ~ ~

It would be great if you would stay connected with me!! You can follow me on Twitter @DebiL1611, like me on Facebook at 2014 and Beyond, circle me on Google+, follow me on Tumblr, Instagram and Bloglovin', subscribe on YouTube, or connect with me on LinkedIn and Pinterest.

Please make sure to visit my homepage and subscribe to my blog for more great posts on running, fitness and lifestyle topics as well as food, product, music and book reviews, and more!