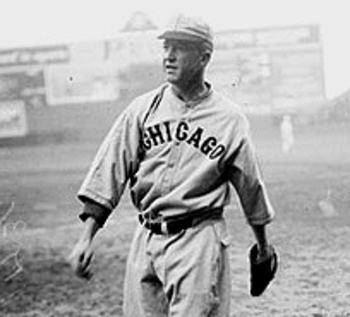 One of the most revered Chicago Cubs of the early 20th century, pitcher Grover Cleveland Alexander was the first Cub to be inducted into the Baseball Hall of Fame. Known as "Old Pete", Alexander also had the distinction of having a movie made about him, with the lead role played by future U.S. president, Ronald Reagan.
After a brilliant start to his career, Alexander would fight for America in World War I, volunteering and serving with the 322nd Field Artillery. He suffered from a number of maladies during the rest of his career, the result of his exposure to heavy fighting overseas. His career with the Cubs was preceded by his partial loss of hearing, the onset of epileptic seizures, and combat stress reaction (shell shock). Alexander was also known to have suffered from alcoholism before and after his military service.
Alexander pitched brilliantly his first two seasons with the Cubs, winning 43 games while posting an earned run average of 1.84.
Throughout most of his career, Alexander pitched to contact, frequently among the league leaders for home runs allowed. He did have good control, however, and posted a respectable 2.29 strikeouts-to-walks ratio while with the Cubs.
One of the most impressive statistics for Alexander was his 90 career shutouts. While pitching for the Cubs, he hurled 24 shutouts, along with 159 complete games in almost eight full seasons.
Alexander only pitched in three games for the Cubs' 1918 pennant-winning team, and during the rest of his time with the Cubs, the team enjoyed little success despite Alexander's .607 winning percentage and 2.84 ERA.
"Grover Cleveland Alexander wasn't drunk out there on the mound, the way people thought. He was an epileptic. Old Pete would fall down with a seizure between innings, then go back and pitch another shutout." -Ty Cobb
While Ronald Reagan's portrayal of Alexander in the 1952 movie, The Winning Team, is how baseball fans most remember Alexander,  his story and legend still seems to be a bit of a mystery. The movie did not even make mention of epilepsy, and made Alexander look like a shaky drunk who soldiered on the rest of his post-war career, despite his personal shortcomings.
Whatever the personal struggles were that Alexander fought through during his career, there's no denying that he was one of the best pitchers to ever play in a Cubs uniform.
-James Kries