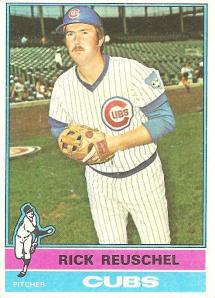 One of the most consistently productive pitchers for the Chicago Cubs in the modern era, Rick Reuschel belied his somewhat portly appearance by regularly being one of the Cubs' best all-around players during the 1970′s.
Reuschel used his sinker to great effect, giving up an average of only 14 home runs per season, a number more impressive combined with Reuschel's average output of 186 innings pitched over 19 seasons.
While Reuschel played with the Cubs during two separate stints, he was most effective in Chicago during the beginning of his career. Reuschel came up with the Cubs in 1972, pitching for nine seasons before being dealt to the New York Yankees midway through the 1981 season.
During his run with the Cubs, Reuschel quietly put up some impressive numbers while playing on some poor Cub teams. From 1972-1980, Reuschel posted an ERA of 3.43, while averaging 35 starts and 232 innings per season. He threw 63 complete games in those nine seasons, along with 17 shutouts. With a 1.30 WHIP during his first Cubs stint, Reuschel gave up an average of nine hits per nine innings, but had decent control with a 2.5 BB/9. Reuschel kept hitters guessing with his changing speeds, and his effective sinker which kept the ball in the park, which was especially important during those windy summer days at Wrigley Field.
Another facet of Reuschel's game which helped make him one of the most underrated pitchers of his era was his fielding skills. Reuschel won two Gold Glove awards in his career, both after his time with the Cubs. He was in the top five for pitcher fielding assists five times while with the Cubs. Reuschel's glove saved the Cubs countless disasters up the middle during the 70′s, when the team was routinely ranked near the bottom of the National League for team fielding.
Reuschel could also handle the bat well for a pitcher, and was an effective base-runner. He was actually called upon to pinch-hit as well as pinch-run on numerous occasions.
Reuschel knocked out 2 home runs, 4 triples, and 22 doubles from 1972-80, with a batting average of .180. While he wasn't exactly Don Drysdale or Don Newcombe at the plate, Reuschel could definitely hold his own with a bat in his hand.
After pitching with the AL pennant-winning Yankees in 1981, Reuschel had shoulder surgery in 1982, and then returned to the Cubs in 1983. He was ineffective in only 18 starts with the Cubs over the next two seasons. Reuschel resurrected his career, however, pitching effectively for seven more seasons with the Pittsburgh Pirates and San Francisco Giants. He won 75 more games with an ERA of 3.17 in the final phase of his career, while also throwing nine shutouts and 34 complete games. Reuschel finally retired at age 42, pitching in 19 seasons.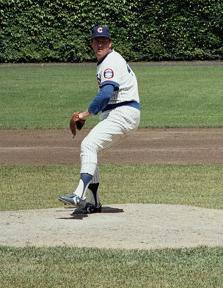 While Reuschel will never knock down the doors of the Baseball Hall of Fame with his 214 career wins anytime soon, baseball's modern-day metrics tell a different tale of Reuschel's impact on the game, and he may get some HOF consideration as more writers embrace modern-day baseball metrics. Among pitchers not in the Hall of Fame,
Reuschel has the highest Wins Above Replacement (WAR)
. Basically, Reuschel's value stemmed from him keeping the ball in the park while overcoming some poor defenses behind him, and when compared to other pitchers who played during his era, Reuschel had a rather big impact on the mound for his team, especially during his time in Chicago.
Perhaps Reuschel's best season came in 1977 when he finished third in Cy Young award voting. He posted a 20-10 record with a stellar 2.79 ERA. He had a miniscule 0.6 HR/9 over 252 innings on the mound with the Cubs that season.
Rick Reuschel may have looked like Gary from your employer's accounts payable department, but he was an effective pitcher at the major league level for nearly two decades, and ranks among the best Cubs pitchers of all time.
-James Kries