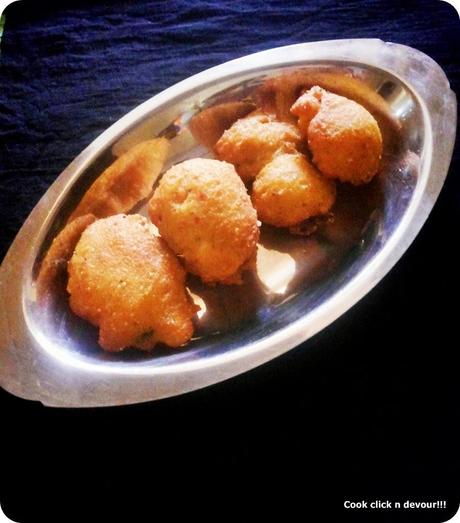 Most of the times when I hear the name of a recipe or even very known ones,I keep wondering what's with the name.I mean especially for many authentic Tamil recipes I really don't get why the particular recipe is named that particular way.For instance take this recipe I am blogging today-thavala vadai-The word thavalai in Tamil means either frog or a big vessel used to store water (at least I know).But this deep fried snack has nothing to do with both these words yet named thavala vadai,but who cares as long as we get to cook and eat a tasty dish right. Thavala vadai is one classic recipe of Tamil cuisine.It is made with rice and three types of lentils and rice.This is actually a very healthy except for deep frying.An absolutely tasty one too.The highlight of this vadai is its incredible texture which is achieved with good use of sour curd.The outside is very crispy while the inside of this vadai is so soft will small air pockets all over(koodu).The teeny tiny pieces of coconut makes eat this vadai a delightful experience.Try this out and you will know what I mean :)
Thavala vadai recipe
Star ingredients: Rice and lentils
Time:40 minutes
Yield:20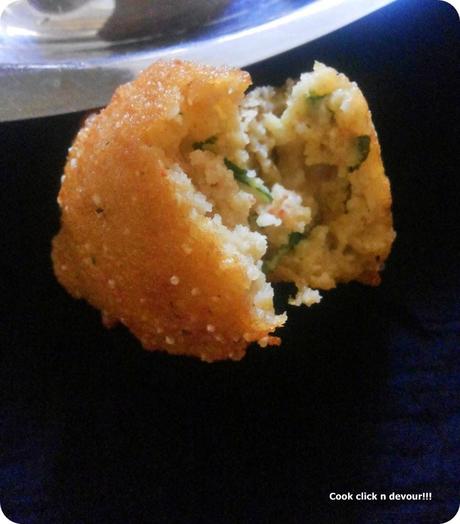 Ingredients:
11/4 cup par boiled rice
1/3 cup urad dal
1/3 cup toor dal
1/3 cup channa dal
3 tablespoons sour curd
2 tablespoons coconut pieces
Finely chopped cilantro
10-12 curry leaves
Salt
Oil for deep frying
Temper:
4 dried red chilies
1/2 teaspoon asafoetida
1 /2 teaspoon urad dal
1/2 teaspoon mustard
5-6 curry leaves torn
Method:
1.Soak rice and lentils together for 1-2 hours.
2.Drain the water and grind coarsely along with salt.
3.Mix sour curd,cilantro leaves,curry leaves,coconut pieces and mix well.Add sour curd mix well.
4.Heat 3 tablespoons of oil and do a tempering from dried chilies through curry leaves.Add it to the batter along with the oil.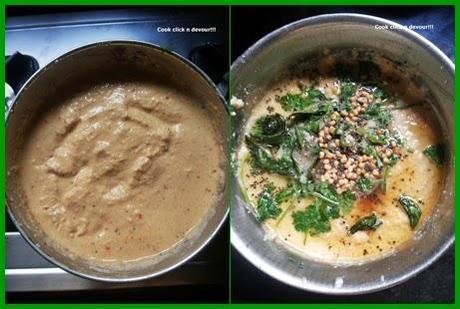 5.Heat oil for deep frying,take a ladle full of batter and pour in the hot oil.Deep fry from both sides till
golden.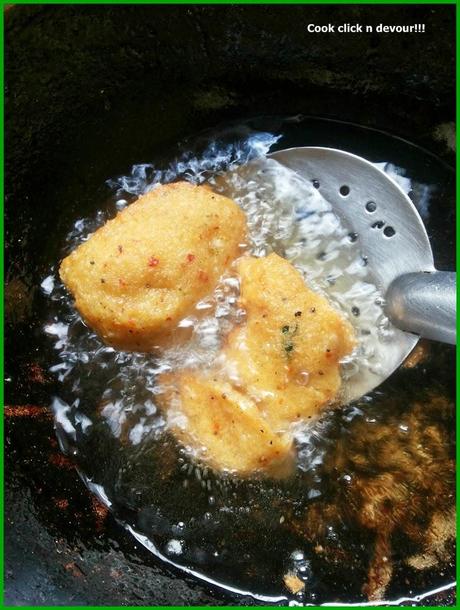 6.Drain excess oil and serve hot.
Notes:
1.It is important to use sour curd to attain the perfect texture.
2.The batter should not be very stiff.It should be of pourable consistency