Thattai is a deep fried crunchy flaky snack item-a specialty of  south India.It is called Nippatu in Karnataka and we call it thattai in Tamil as it is flat in shape.When I was going through my festive recipe collections,I felt snacks recipes are much lesser compared to sweets.Yes I do agree I have a big sweet tooth and always prefer to eat sweets :). Just to add some more savory recipes to my collections I made this thattai just an hour back.I have made thattai once some 3 years ago.That time I prepared the dough,made the discs and I put them in hot oil only see them dissolve and disappear :P.I had added loads of butter and messed up the total recipe my mom had given :P.Today when I decided to try I was first scared whether I will be able to make.But somehow I gathered courage and made using the same recipe.This time I was cautious while adding butter and water and I was really happy with the thattai.They were just enough flaky,crisp and very tasty.Only thing I felt wrong was I could have shaped them even more thin.Next time will make thinner discs.Here is my recipe,please let me know your thoughts.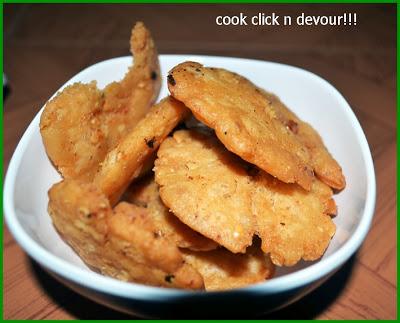 Thattai(Nipattu) recipe
Star ingredient:Rice flour
Time:45 minutes
Yield:20 normal sized discs
Ingredients:
1 cup rice flour
1 tablespoon urad dal
1 table spoon roasted gram
15 curry leaves(torn into very tiny pieces)
1 tablespoon crushed peanuts
2 teaspoons white sesame seeds
2 teaspoons chilli powder
1/2 teaspoon asafoetida
Salt
2 tablespoons molten butter(hot)
Oil to deep fry
Method:
1.Dry roast urad dal in a kadai till slightly red.Take care not burn and roast in a low flame.Remove when it just starts to change in color.
2.Grind the urad and roasted gram to a very fine powder.There should not be any husk or pieces.If not sure you can sift after grinding.
3.In a mixing bowl add the ground flour,rice flour,curry leaves,peanuts,sesame seeds,chilli powder,asafoetida and salt.Mix well.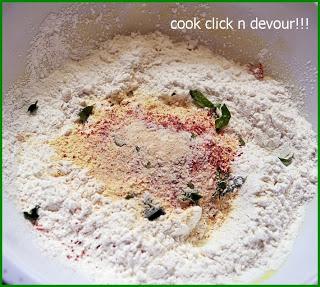 4.Add the hot molten butter and mix with a spoon.Make sure to incorporate the butter well.Now start adding water very little by little(I just sprinkle water as and when needed) and form a dough that is soft and pliable.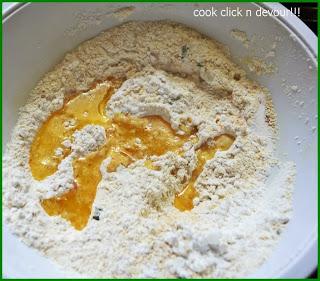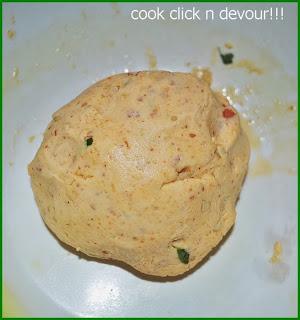 5.Pinch ping pong sized balls from the dough and flatten it with your fingers.You can even do this by using the bottom of a tumbler or dabara(cup used for coffee) depending upon how big you need to make.I prefer making with hands.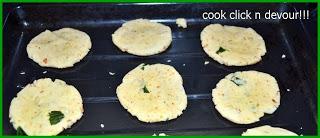 6.Let the flattened discs dry for 10-15 minutes.
7.Heat oil for deep frying.Slide the prepared discs slowly in batches(depending on the size of your frying pan),fry from both sides till golden brown on a medium flame.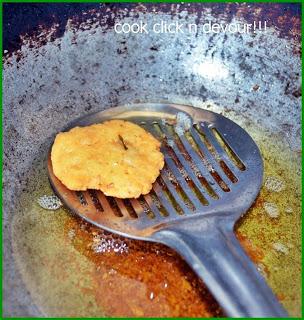 8.Allow to cool completely before storing.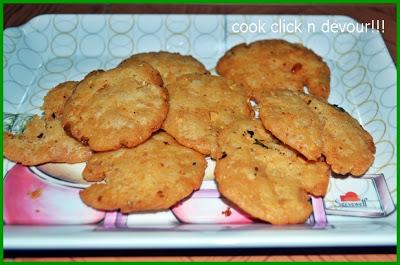 Notes:
1.You can add channa dal instead of peanuts.If using channa dal,soak 1 teaspoon channa dal in water for 30 minutes,dry completely and then use instead of peanuts.
2.If the quantity of butter gets more the discs will dissolve when dropped in oil.
3.Keep the dough closed if making a large quantity.
4.It is important to dry the discs at least for 10 minutes to remove moisture,else the discs may burst when dropped in oil.