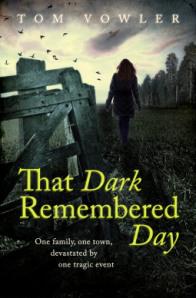 What's it all about?:
Can you ever know what those closest to you are really capable of?
A son returns to the small town where he grew up, where his mother still lives and where a terrible event in his childhood changed the lives of almost every person living there. As the story unfolds through the eyes of the son, the mother and finally, the father, the reader experiences the taut build up to one day's tragic unravelling, and the shock waves that echoed through a once happy family and close-knit community. Will they ever be able to exorcise the damage of that day or do some wounds run too deep?
What did I think?:
First of all, many thanks to the teams at BookBridgr and Headline for giving me the opportunity to read this exciting new talent in thriller writing. That Dark and Remembered Day is Tom Vowler's second novel and I enjoyed it so much that I instantly purchased his debut, What Lies Within. The story centres around a family – Richard, Mary and their two children, Stephen and Jenny and is told in three parts with three distinct voices, those of Stephen, Mary and finally the father Richard, focusing on two time frames. In the present day section, we are introduced to Stephen who is currently on forced leave from work after physically attacking a colleague in a fit of temper. The reader then finds out that he might be ever so slightly repressed emotionally after undergoing a traumatic experience in childhood which is only now relieving itself and causing Stephen to act out his hidden anger. However, an opportunity appears for Stephen to face his childhood demons when a friend of his mothers phones him out of concern as his mother has been acting a little odd. The fact that she still lives in the town after the incident is pretty unbelievable for Stephen, but he decides to go back, visit his mother, and perhaps put a few ghosts to rest.
The second part of this story is written from the point of view of Mary, Stephen's mother, back in the summer of 1982, yet Stephen's present day voice also appears to update the reader on the progress of his mother and the reaction to his return. Mary's husband Richard is a soldier and as a result is often away from home a lot. This time, he has been posted to the Falkland Islands in the middle of the war against Argentina. This is a subject quite close to my own heart as my own father was in the Falkland Islands in the mid-eighties. Mary is left with the unenviable job of looking after two young children on her own while anxiously hoping that there will not be any bad news about her husband being fully aware of the dangers of the job he is involved in. Eventually, Richard's duty to the army ends and he returns home for the final time. But something is different. He has always been slightly on the awkward side with the children, preferring the company of his beloved dog, Shane but this time he appears to be acting completely out of character. Richard spends most of the day in bed or out on walks with the dog and rarely interacts with the children – it is almost as if he is away with the army again! His worried wife takes him to the doctor who prescribes some medication, but even that does not seem to help and the situation looks pretty hopeless for the entire family.
The final part of the story is narrated by Richard. What I found most interesting about this part of the story is that we got into the mind of a troubled man who was clearly regretting his decision to become a soldier in the first place. We learn about the horrors that he had to face whilst in the Falklands where the military detail is so precise it is obvious the author has done his research, and get a window into his mentality when he returns. I thought all three voices in this novel were fantastic but my favorite had to be Richard. The author writes about his frame of mind so systematically but with a real emotion behind it so it felt very authentic and was incredibly gripping to read. The whole build up to what exactly That Dark Remembered Day was is completely gripping and I had to force myself to put the book down at night before going to sleep. Of course afterwards, I couldn't stop thinking about the characters that the author has created, how the plot was going to develop, and what in the world was going to happen but the ending was worth every minute. Of course I'm not going to tell you what it was, you'll have to read it and find out! That Dark Remembered Day is a poignant and thrilling adventure into cruelty, mental health and the importance of family that will stay with me for a while to come.
For another perspective on That Dark Remembered Day please see Cleo's fabulous post HERE
The blog tour for That Dark Remembered Day stops at bibliobeth on Monday 23rd June! Why not pop back and learn a little more about the author, Tom Vowler in my Q & A session with him?
Would I recommend it?:
But of course!
Star rating (out of 5):