Thanksgiving is hard for vegans. It may be easy for us to appreciate what we have, though some years are easier than others, but the traditional meal is a challenge.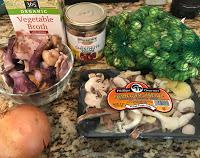 Turkey, sweet potatoes with marshmallows, biscuits, pecan pie. The relentless but customary cheese platters or melted brie before the meal begins. This is not our holiday.  
Having said that, even in the hard times, it is important to be grateful and to spend time with family and friends.  But what do we eat while we do?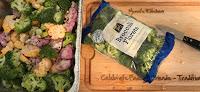 I want to celebrate this year with the family with whom I will be surrounded, but I don't want to overindulge.
I decided to make something festive and seasonal, but without the guilt.  Not sure that resonates for the holiday season but it's where I'm at today.  Here is what I came up with.  If I haven't cooked yet, I hope you (and your guests) enjoy - there is PLENTY to share!
Preheat your oven to 400.

In one pan put:
1 12 oz. bag broccoli florets
1 orange cauliflower florets
1 purple cauliflower florets
1 medium yellow onion, chopped
Drizzle of Avocado oil
Kosher salt and black pepper to taste
1/3 c vegetable stock
1/2 c maple syrup
In the other pan put:
2 bags mini brussel sprouts
8 oz. exotic mushroom blend, chopped
1 small jar roasted chestnuts, chopped
2 tbsp crushed dried rosemary
1/3 c vegetable stock
Drizzle of Avocado oil
2/3 c maple syrup
Kosher salt to taste
Bake each dish at 400 for 30 minutes or until tender.
Once cooked al dente, combine the ingredients, season to taste and cook until it caramelizes or at least crisps up, and serve.
Regardless of what you eat, I hope it is a happy and healthy holiday for you all.