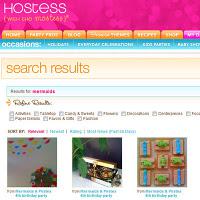 It's no secret that I love to receive comments, thumbs-ups, likes, or any other form of feedback.  I was thrilled to open my computer this morning to find the comment;
"Hi, I found you via Hostess with the Mostess with your Mermaid and Pirate party! I am planning a mermaid party for my daughter next Summer so your hints and tips will be invaluable!
 x"
It makes my day all the better; how nice to think that my dangerously OTT approach to classy craft might benefit people... it's the reason I do this; but it's so nice to know it's working!
It makes it especially better whilst Happy-Husband is still stranded in Hong Kong waiting for a flight after a large international carrier decided to ground its entire fleet.  Earlier this morning I was writing to my other cyber-friend, and co-creator of the Super Hero party printable package, Despina of Greece.  The world seems such a small place when you're connected by the internet, and then the planes stop flying, and distance stretches out again; too far, too far...
Mimi's real birthday was while Daddy was away.  We made her party last week so Daddy could be there, and as we suspected she would be swamped with presents, we told her that she would get our 3 presents (one from Mum, Dad, and sister) when he got back.  Needless to say, she's missing Daddy a whole lot by now; all the cuddles, books, and  those withheld presents she's been missing out on!
Makes me wonder; what is the right number of presents?  We believe less is best (for storage reasons and because so many others have so little it seems wrong to give our children too much).  Each birthday we give one present each, and the Fun Fairy drops a few extra little things off; it's all about quantity rather than quality for toddlers!  Writing of toddlers... it's mid-morning here in Australia and my two toddlers have gone suspiciously quiet... better go!  Take care - and keep writing to me!!