Thursday, we meet again, my love.  I'm busy packing up some stuff tonight and attempting (and failing) to do a bit of cleaning.  I'm in good spirits this week and excited to dive right into Thankful Thursday!
I'm thankful for Easter and that I am close enough to where I grew up to drive there.  I'm leaving after work tomorrow to drive back to Iowa to visit friends and family for the Easter weekend.  I'm hoping there will be plenty of Easter candy.  
I'm thankful for my birthday.  Some people I know *cough* Farmer *cough* do not get excited about birthdays.  This is the opposite of me.  I love my birthday.  And I always will.  It's a day when everyone wishes you well and you can eat cake with extra frosting.  I hope I am still singing this tune when I am 50.
I'm thankful for Chobani.  So I talked about this last week, but look.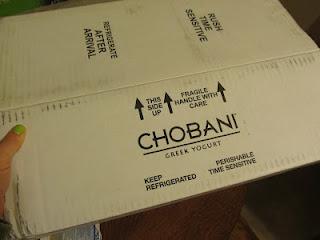 This massive box was on my door step when I returned home yesterday.  And it was filled with Greek yogurt goodness.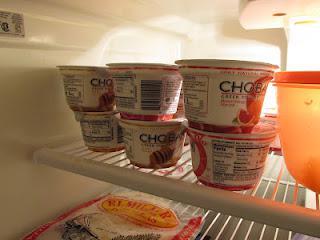 I tried the blood orange flavor for the first time today.  I've heard many good things about this flavor but was a little hesitant when my coworker mentioned her boyfriend, a fellow Greek yogurt lover, did not like this flavor.  I dug in anyway.  And the verdict.  I enjoyed it and the citrus flavor of the orange definitely came through.  I also need to be in the mood for the fruit flavors whereas I could eat the plain, honey, and vanilla versions anytime.  My coworker tried out this flavor too and she sort of liked it, but pineapple and pomegranate will remain her favorite.  I can't blame her because both those flavors are awesome too.  And FYI, she tried the strawberry banana flavor today and really enjoyed that.  I don't like banana flavor (although I love bananas), but if you do you should try it out.  I am developing a full blown addiction to Chobani and I'm not even upset.  #chobaniac
I'm thankful for good friendships that last.  This last weekend I visited my friend in Milwaukee.  We went to high school together back in the day and although we've never been the best at keeping in touch our bond is still great.  We've been friends through many good times and many not-so-good times--hello, high school was sometimes rough, but we've made it through.  I'll admit I don't really keep up with any of my other high school friends except to chat with them when I run into at the bar so this friendship is obviously something special.  It's nice to have a friend that understands where you are coming from.
I'm thankful for happiness.  Sometimes I may struggle to find it, but it always comes back to me.
I'm thankful for people representin' my hometown.  Yesterday on Ellen, a girl from the big ole town of Cascade played Ellen's Wheel of Beauty.   That's pretty crazy, right?
My favorite part might be when Ellen asks "You have one stop light kinda thing?"  And, actually yes, Cascade does have only one stop light.


What tv show would you want to be on?


When I was younger I always wanted to play Plinko on the Price is Right, but it is just not the same without Bob Barker.