Week 19 - Build 2 Week 1
Monday, June 4 - Rest
Tuesday, June 5 -
7.2 mi run
w/ Holly
     Time: 6:21pm, Duration: 1:11:06, Avg Pace: 9:52, Loc: Hastings Lake FP, ME Run 3x8min Z3 with 2 min recoveries (paces: 8:31, 8:24, 8:29), Felt: okay
Wednesday, June 6 -
25 mi indoor ride
     Time: 7:41pm, Duration: 1:36:39, Avg Speed: 15.5, Loc: indoor trainer, ME ride with 25min WU, 5x6min in Z4 "hill" with 3min recoveries, Felt: okay, had a really long day at work
Thursday, June 7 -
2650yd swim
+ 
16 mi indoor bike
     Time: 6:09pm, Duration: 52:31, Pace: 1:59, Loc: Lake Andrea, Pleasant Prairie OPEN WATER!, Felt: good, felt fine swimming without a wetsuit and water was comfortable 
     Time: 8:58pm, Duration: 1:04:23, Avg Speed: 14.9, Loc: indoor trainer, easy ride, Felt: tired, ready for bed
Friday, June 8 -
6.5 mi run
w/ Holly
     Time: 6:41pm, Duration: 1:07:42, Avg Pace: 10:26, Loc: to Sun Lake FP, easy run, Felt: glad once I was out there but legs were tired
Saturday, June 9 - Rest mini-race taper
Sunday, June 10 -
Ironman 70.3 Wisconsin
Time: 8:22am, Duration: 6:14:26, Loc: Madison, WI, Felt: really strong on the run (full report to come)
Totals - 11 sessions, 126.2 miles, 12:11:03
2 swims, 4866 yards, 1:37
3 bikes, 96.3 miles, 6:02
3 runs, 26.7 miles, 4:19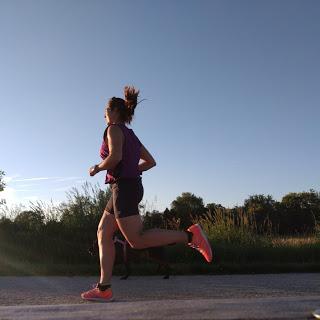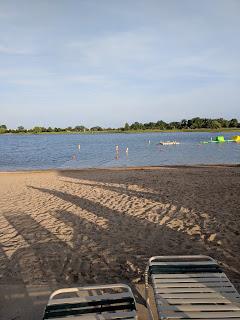 Week 20 - Build 2 Week 2
Monday, June 11 - Rest
Tuesday, June 12 - Rest
Wednesday, June 13 -
7.4 mi run
w/ Holly
     Time: 7:19pm, Duration: 1:14:58, Pace: 10:07, Loc: Grant Woods FP, ME run with 4x8:00 in Z3 (paces: 8:45, 8:33, 8:29, 9:03) with 2 min recoveries, Felt: legs still fatigued yet from Saturday
Thursday, June 14 - Rest
Friday, June 15 -
20 mi indoor bike
    Time: 7:19am, Duration: 1:19:29, Avg Speed: 15.1, Loc: Indoor trainer, Me ride with 4x7min at Z4 "hill" with 3:30 recoveries, Felt: legs are finally coming around
Saturday, June 16 -
22.6 mi ride
with Matt, Ben and Kyleen
     Time: 7:25am, Duration: 1:32:06, Speed: 14.7, Loc: Door County, Felt: disappointed with the weather that made us cut our ride short, also freezing
Sunday, June 17 -
41.5 mi bike
     Time: 6:19am, Duration: 2:32:15, Speed: 16.4, Loc: Door County, WI, Felt: good,very humid already
Totals - 4 activities, 91.58 miles, 6:38:47
3 bikes, 84.2 miles, 5:24
1 run, 7.4 miles, 1:15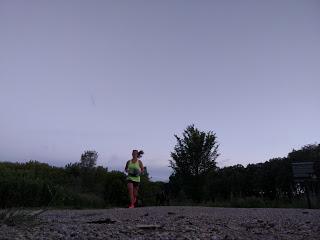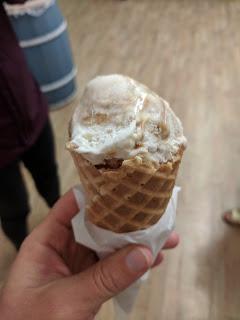 Week 21 - Build 2 Week 3 
Monday, June 18 - RestTuesday, June 19 -
25 mi bike
     Time: 9:15pm, Duration: 1:43:52, Speed: 14.5, Loc: indoor trainer, ME ride with 5x8 min in Z4 "hill" with 4 min recoveries, Felt: intervals felt very tough
Wednesday, June 20 -
7.5 mi run
w/ Holly
     Time: 7:19pm, Duration: 1:12:28, Pace: 9:39, Loc: to Sun Lake FP, ME run with 6 sets of 30s strides, 4x8 min in Z3 (paces - 8:35, 8:22, 8:50, 8:38), Felt: good! intervals felt comfortable
Thursday, June 21 -
18 mi bike
     Time: 8:12pm, Duration: 1:15:52, Speed: 14.2, Loc: indoor trainer, Felt: easy ride, fine glad for recovery day
Friday, June 22 -
2800yd swim
Time: 4:15pm, Duration: 51:56, Pace: 1:44, Loc: LHFC pool, (500 WU, 4x300 hard intervals @ 5:20, 100 kick, 1000 moderate), Felt: intervals finally feeling faster
Saturday, June 23 -
100 mi bike
with Matt +
2.15 mi transition run
with Holly
    Time: 8:51am, Duration : 6:33:32, Speed: 15.3, Loc: Cascade to Caves and back, then to Timberline, Epworth, Fillmore and back, Felt: good! glad to get in 100!
     Time: 4:45pm, Duration: 20:04, Pace: 9:20, Loc: around Cascade, Felt: nice, light rain felt really good, legs felt surprisingly good
Sunday, June 24 - Rest
Totals - 6 activities, 154.57 miles, 11:57:43
1 swim, 2800 yds, 0:52
3 bikes, 143.3 miles, 9:33
2 runs, 9.6 miles, 1:33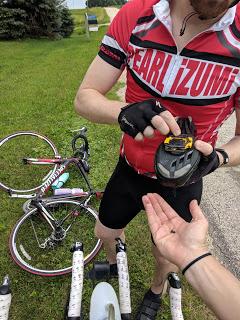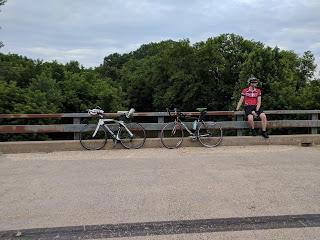 Week 22 - Build 2 Week 4
Monday, June 25 -
7.5 mi run
with Holly (and Matt biking)
     Time: 7:34pm, Duration: 1:10:50, Pace: 9:27, Loc: Sun Lake FP, ME run with 30sec strides and 4x8min in Z3 with 2min recoveries (paces - 8:20, 8:25, 8:28, 8:17), Felt: last interval was so tough, glad to get this one done
Tuesday, June 26 - 
16 mi bike
     Time: 9:15pm, Duration: 1:06:57, Speed: 14.3, Loc: indoor trainer, easy ride, Felt: legs felt rough from Monday's run, decided to skip the hard bike and do an easy recovery ride
Wednesday, June 27 -  
6.1 mi run
w/ Holly (and Matt biking)
     Time: 8:09pm, Duration: 1:00:23, Pace: 9:53, Loc: Sun Lake FP, easy run, Felt: good, glad for and easy day
Thursday, June 28 - 
28 mi bike
     Time: 6:57pm, Duration: 1:37:37, Speed: 17.3, Loc: OUTSIDE! house to past Trevor, Felt: harder ride, but felt great! got the legs burning a little bit! loved riding outside
Friday, June 29 -
3000yd swim
Time: 4:10pm, Duration: 59:32, Pace: 1:42, Loc: LHFC pool, (500 WU, 100 kick, 6x300 hardi intervals on 5:20, 100 kick, 2x200 pull, 100WD), Felt: feeling faster
Saturday, June 30 -
100 mi bike
    Time: 8:35am, Duration: 6:31:50, Speed: 15.3, Loc: Cascade to Caves and back, then to Epworth, Farley and back, Felt: like a million degrees, but managed okay, Matt had to bag out due to heat exhaustion 
Sunday, July 1 -
6.5 mi run
     Time: 8:13pm, Duration: 1:06:51, Pace: 10:17, Loc: to Sun Lake FP, easy run, Felt: waited all day to run to avoid the heat and it was still so hot, legs felt tired but ran okay
Totals - 7 activities, 165.9 miles, 13:34
1 swim, 3000 yds, 1:00
3 bikes, 144.1 miles, 9:16
3 runs, 20.1 miles, 3:18
Total for this cycle
26 swims, 48916 yds, 17:00
50 rides, 1402.9 mi, 93:38
53 runs, 330.2 mi, 54:41
7 strength, 6:15
 Notes
I know this training was over a month ago but I want to record it for my own records, so here you go. 
Pretty much got kicked out of the lake during my open water swim.  It took a super long time to get in through the gate - they took everyone's name address, phone number and email one person at a time.  It was so frustrating!  
Since we recently moved and packed up so much of our stuff, I could not find my wetsuit.  I ended up doing my open water swim and the half Ironman without it.  I swim fine without it but it definitely helps me go faster!  Good news is we finally found it!
The Door County century ride we had planned for Saturday June 16 was a bust.  The forecast called for some light rains in the morning and then it was supposed to blow over and be a nice day.  Instead what happened was the storm cell just sat over the Door County Peninsula and rained and rained.  It was pouring which made biking really hard - we could barely even see, and then we were soaking wet and freezing. We cried uncle and Ben's mom ended up coming to pick us up.  Which is good because later I heard that it hailed and also like blew away an aid station. I'm not that hardcore.
After a relatively cool start to summer training the heat sure picked up late June.  It wasn't great, but I am glad I did get some heat training in.  During the last 100 miler on the bike, it was about 95 degrees and Matt had to call it quits due to the heat.  He was pretty disappointed but he had not been out much in the heat yet and it takes time to acclimate!