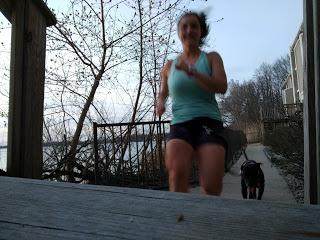 Week 13 - Base 3 Week 4
Monday, April 30 -
6.5mi run
with Holly
     Time: 6:47pm, Duration: 1:02:51, Avg Pace: 9:35, Loc: to Sun Lake FP, ME run with 4x5min @ Zone 4-5 pace with 2:30 recoveries (about 8:30 pace), Felt: hot! weather finally warmed up
Tuesday, May 1 -
29mi indoor bike
     Time: 7:01pm, Duration: 1:50:11, Avg Speed: 15.8, Loc: indoor trainer, ME ride with 6x5min in Zone 4 "hill" with 2:30 recoveries, Felt: good!
Wednesday, May 2 -
6.2mi run
with Matt and Holly for 4 mi +
2600yd swim
     Time: 6:31pm, Duration: 1:01:52 Avg Pace: 9:56, Loc: neighborhood, easy run, Felt: legs felt heavy, stuck around the neighborhood so we could get home quick if it rained but it never did! was v. humid though
     Time: 8:43pm, Duration: 57:07, Avg Pace: 1:52, Loc: LHFC pool, [6x50 easy, 8x50 with ankle pull buoy, 4x50 kick, down the ladder 500,400,300,200,100, 200WD], Felt: good to be back in the water
Thursday, May 3 -
17mi indoor bike
     Time: 8:21pm, Duration: 1:07:30, Avg Speed: 15.1, Loc: indoor trainer, Felt: legs felt heavy and tired, tweaked neck night before sleeping and having some pain
Friday, May 4 - Rest
Saturday, May 5 - Rest
Sunday, May 6 -
70mi bike
 +
3mi transition run
 with Holly
     Time: 12:22pm, Duration: 4:22:54, Avg Speed: 16.0, Loc: to Lake Geneva, Felt: neck super stiff but needed to get out, wind was a bit frustrating on the way home 
     Time: 5:20pm, Duration: 29:19, Avg Pace: 9:44, Loc: to Sun Lake FP, Felt: not too bad!
Totals - 7 sessions, 133.2 miles, 10:50:54
1 swim, 2600yds, 0:57
3 rides, 116.0 mi, 7:20
3 runs, 15.7 mi,  2:33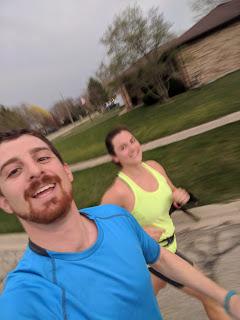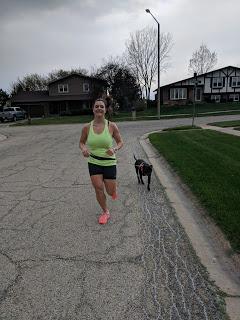 Week 14 - Build 1 Week 1 
Monday, May 7 - Rest
Tuesday, May 8 - 
6.65mi easy run
 with Holly
     Time: 6:16pm, Duration: 1:05:07, Avg Pace: 9:48, Loc: Grant Woods FP, Felt: neck still hurts but actually felt better afterwards
Wednesday, May 9 - 
19mi indoor bike
     Time: 9:12pm, Duration: 1:19:22 Avg Speed: 14.4, Loc: indoor trainer, Felt: still some lingering neck pain but feeling better, intervals were tough 
Thursday, May 10 - Rest
Friday, May 11 - Rest
Saturday, May 12 -
78mi bike
 with Ben +
3.19mi transition run
     Time: 9:51am, Duration: 5:07:38, Avg Speed: 15.2, Loc: IMWI bike loop, Felt: a little bit chilly, the wind was tough in spots, but felt okay during the climbs
     Time: 3:35pm, Duration: 30:02, Avg Pace: 9:26, Loc: Verona trail, Felt: ran too hard but legs felt okay after bike
Sunday, May 13 - 
13mi long run
     Time: 1:36pm, Duration: 2:14:14, Avg Pace: 10:19 Loc: Grant Woods FP, Felt: legs felt so heavy, wanted to quit at mile 4 but just kept going  
Totals - 5 sessions, 119.89 miles, 10:16:20
2 rides, 97.0 mi, 6:27
3 runs, 22.8 mi,  3:49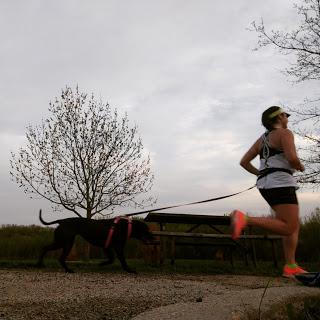 Total for this cycle
18 swims, 28950 yds, 10:28
30 rides, 688.6 mi, 46:38
34 runs, 199.2 mi, 32:55
7 strength, 6:15
Notes:
I slept on my neck weird and was in a ton of pain the first week.  I was icing and taking ibuprofen and really not getting any relief - sitting at my desk and trying to look at my computer did not help. I ended up going to the chiropractor and getting STIM on it and it finally loosened up. 
The fatigue build up is real.  I am TIRED! 
During my 13 mile long run where my legs felt like garbage and I really wanted to throw in the towel at like mile 4, that the run was a metaphor for Ironman and Ironman training - sometimes you feel like crap but you just keep going because the other option is quitting.