*I wrote most of this earlier today and that's a very good thing since I locked myself out of my apartment at about 10:50 pm.  And I had to wait over 30 minutes to get let back in.  Harumph.  And I wanted to go to bed early.  
Well, hello Thursday.  It's about time you showed up around these parts. I'm really excited for tomorrow since I am only working a half day on Friday before heading back to Iowa! Three cheers for vacation time!
This weekend is already filling up with a flurry of activities - long run, long bike ride, and a wedding! Hopefully I will also be eating some kind of birthday cake since I didn't really get the chance to celebrate when I was home with my family for Easter.  I can't decide what kind of cake I want though.  So far I've considered carrot cake, lemon cake, cheesecake, and strawberry jell-o cake.  It's such a conundrum.  How am I supposed to choose just one? #firstworldproblems
Before I start swirling off to cake land and dreaming of all the delicious cakes one could make, let's get back to the task at hand.  It's Thankful Thursday! And now I present you a list of some things I am thankful for birthday style.
I'm thankful for my Toms.  I've been lusting after these babies for some time now after seeing them pop up around the blogosphere.  I've been trying to resist buying them since I'm trying to live life on a budget now, but I figured an early birthday present was a-ok.  So I went and bought these new shoes at the beginning of the month.  Sure, they are a little pricey for casual shoes but the company has a great cause.  So far I'm loving them.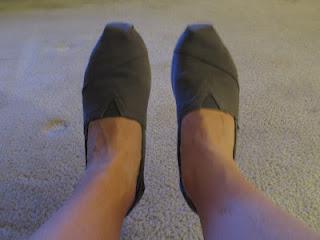 I'm thankful for new bike shoes.  Jeez, another new pair of shoes? Yep.  I seriously made a list of all the triathlon stuff I wanted/needed for training and racing, and believe me, it was not short.  It was also not cheap.  Triathlons are a seriously expensive hobby.  Race entry fees, travel costs, a bike, running shoes, food, swim gear, etc.  That stuff really adds up!  But my bike store was having a tent sale and I just couldn't resist a good sale. My first bike ride with this is this coming weekend.  Hopefully they make me faster!!  And I also hope I don't hurt myself.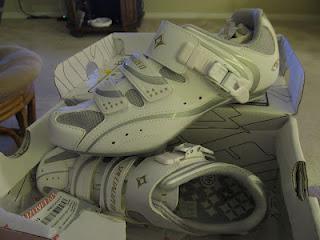 The good news is they match my bike!!! White and gold!
I'm thankful for the mostdeliciousbrowniesever.  So good.  I took these to work for my birthday and my coworkers loved them.  One of them even asked me if I had the devil on speed dial to make such rich desserts.  I kind of feel like I am tooting my own horn, but these brownies are amazing.  Oogey, gooey goodness trapped between two sections of rich brownie.  Nom, nom, nom.  You don't even need to be a good baker when you have recipes like these.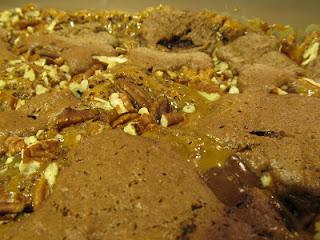 I'll share soon, I promise.
I'm thankful that I can run.  Last Tuesday I had a super awesome run on my birthday but then this Tuesday I totally sucked it up on my run.  It was HARD.  And I was mad that my pace was so crappy and I felt so crappy.  But you know what? I am glad that I can run.  Especially because there are so many who aren't able to.
But, perhaps, most importantly, I'm thankful for my family and friends.  Even if I had to call several people the night of my birthday, it was wonderful to feel so loved on my birthday and talk/text with so many people.
Good night.  I need to get in bed.