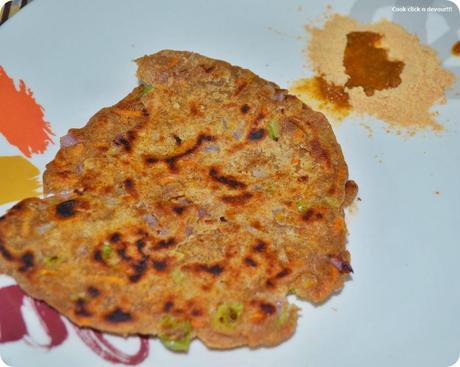 Today here I am blogging about an extremely healthy and tasty flat bread,a Maharashtra specialty.I got to know about thalipeeth only through internet,I have never see it in any restaurant before.But once I read few recipes,I was totally hooked to it.A thalipeeth is a thick chapathi kind of flat bread made of different varieties of flour like whole wheat,rice,ragi etc.Looks like there is a ready made mixed flour(bhajani) for making thalipeeth but I used my own mixture.It is a bit difficult to roll,we need to spread it with hand on a butter/plastic paper and cook on a tava from both sides till well cooked.Traditionally butter is used for cooking but I cooked it with oil.I have added few veggies to make it a complete meal.Though it requires little patience and practice,absolutely worth trying I say :)Pair it with any spicy pickle/chutney powder or raita.here you go with the recipe :)
Thalipeeth recipe
Star ingredients:Different flours and veggies
Time:45 minutes
Yield:10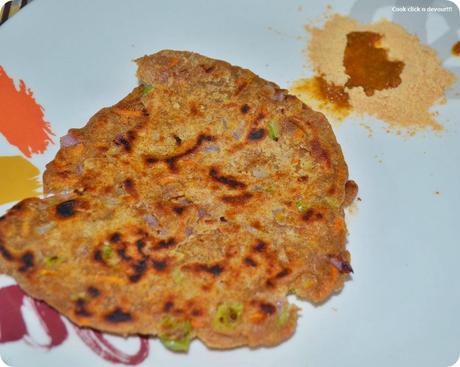 Ingredients:
1 cup whole wheat flour
1/4 cup rce flour
1/4 cup besan flour
1/4 cup ragi flour
1/4 cup jolar flour
1 carrot peeled and grated
1/4 green bell pepper chopped fine
1 onion sliced fine
1/2 teaspoon cumin seeds
2 tablespoons oil
Warm water
Salt
Method:
1.Mix all the flours together.Add salt,oil and veggies.Mix well,slowly add water and knead to a smooth dough.The dough will be quite sticky.


2.Divide the dough into 10 big lemon sized balls
3.Take one ball and place it on a butter paper.Flatten it into a thick roti with your hands.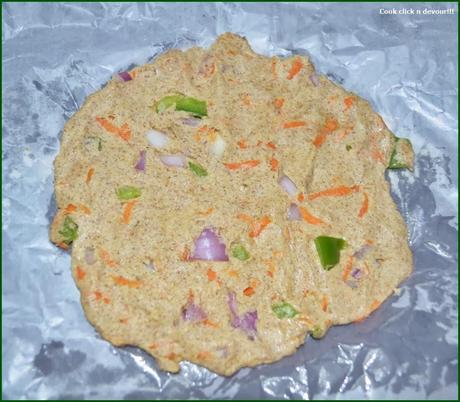 4.Transfer it gently to a non stick tava and cook till golden brown from both sides.You can add more oil and make the edges more crispy.Serve hot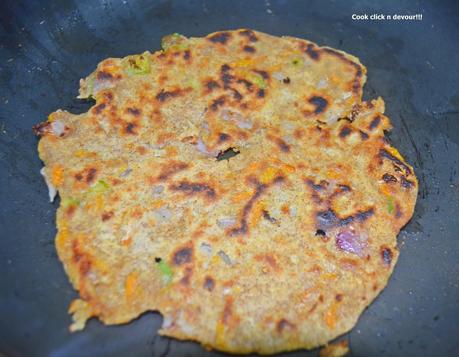 Notes:
1.I have used my own proportions of flours here.
2.Use butter for more rich version.