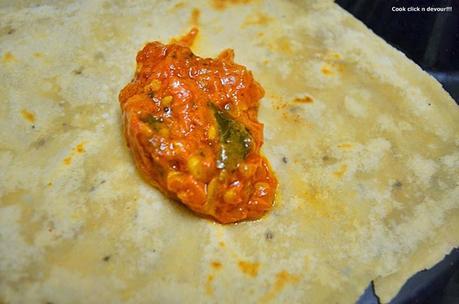 Tomato thokku  is one of the easiest and tastiest pickle you could make.There are many ways out there making this pickle and I have already blogged an instant version of tomato pickle which is one of the most loved recipes here. This version is even simpler,no need to grind any special spice mix,all you need is nice plump tomatoes and your pantry staples.Why I call these versions as easy is there is an elaborate method for making sun dried tomato pickle,with very less oil,long shelf life and absolutely delicious.I am yet to try that recipe.It is no secret that I love tomatoes and I cannot do without them.Of all the pickle varieties I have eaten,this tomato thokku remains to be my favorite,eat it with curd rice,dosai,idly,chapathi,bread or whatever you can imagine,this is THE best :). I would prefer to call this a versatile mix rather than a mere pickle,are you in a hurry and looking for quick fix meal,no worries,just mix this hokku with cooked rice along with sesame oil and a lip smacking variety rice is ready in no time,now is that not wonderful,lets move into the recipe with no more ados :)
Tomato thokku recipe
Star ingredients: Tomatoes
Time:25-30 minutes
Yield: 1 cup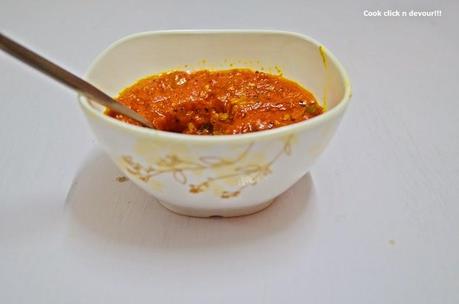 Ingredients:
6 large desi tomatoes
1/4 teaspoon fenugreek seeds
1/4 teaspoon asafoetida
1-1 1/2 teaspoons chilli powder (adjust)
1 teaspoon turmeric powder
10-12 curry leaves
1/2 teaspoon scrapped jaggery
1 teaspoon mustard seeds
1 teaspoon urad dal
Salt
Sesame oil
Method:
1.Wash and chop the tomatoes fine.You can also blend them coarse or to a fine pulp.
2.Heat oil in a kadai and temper with mustard and urad dal and methi seeds.
3.Add asafoetida and curry leaves,saute for 1-2 minutes.
4.Now add the tomatoes,salt,chilli powder and turmeric powder.Saute well for 10 minutes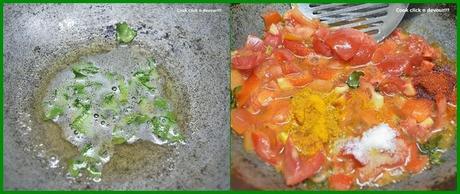 5.Once the tomatoes start to leave out juice,add 2 tablespoons oil and cook in medium flame.
6.Add jaggery and saute well.Cook till the pickle thickens and leaves out oil.



7.Store in a clean jar.Stays good for around 10 days.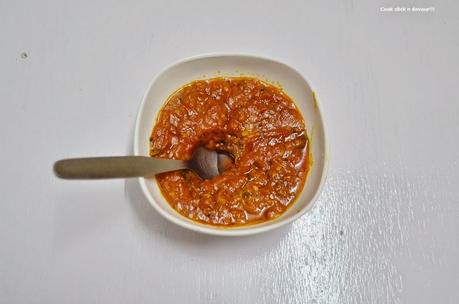 Notes:
1.In my other version of pickle,I have used dry roasted methi powder where as here methi seeds are tempered and this gives an entirely different taste.
2.Add jaggery only if your tomatoes are tangy.Some tomatoes tend to be sweet,then jaggery is not needed.
3.Sesame oil is the best and highly recommended oil for all south Indian pickles.