Thuvaram parupu (Pigeon peas) is the staple of South India along with rice.It is eaten most of the week for lunch in Tamil nadu and Andra.So needless to say there are so many varieties of dishes made with pigeon peas.In Andra they are called as pappu and here in Tamil nadu we call it masiyal (meaning mashed). Today here I am posting a very very simple yet absolutely flavorful recipe for thakali masiyal.This is prepared in most TamBrahm homes and it has an amazing aroma even without using onions.This masiyal and a spicy potato fry along with steamed rice means a heavenly lunch to me:)Try out n let me know :)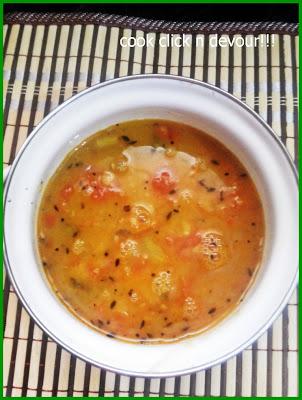 Thakali masiyal
Star ingredients:Tomato&pigeon peas
Time:30 minutes
Serves:3
Ingredients:
1 cup thuvaram parupu (Toor dal,pigeon peas)
2-3 tomatoes chopped
2 green chillies
1/4 inch ginger crushed
10-12 curry leaves
1/2 teaspoon asafoetida
1/2 teaspoon tureric powder
1/2 teaspoon chilli powder
1 teaspoon mustard seeds
1 teaspoon cumin seeds
1/2 teaspoon black pepper powder
Salt
Oil for tempering
Method:
1.Pressure cook pigeon peas until soft.Add about 3/4 cup of water for 1 cup dal and cook upto 4 whistles.(do not add more water)
2.In a kadai heat some oil and temper with mustard seeds,cumin seeds,green chillies,ginger,curry leaves and asafoetida
3.Add the tomato pieces,tumeric powder,chilli powder and saute well for 10 minutes till tomatoes are well cooked.Add little water and cook for 5 minutes.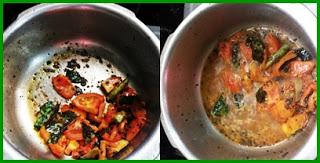 4.Take the cooked toor dal,mash well and add to the tomatoes,add 2 cups of water,salt and mix well.Let it boil for 10-12 minutes till the stew thickens.Add pepper powder,mix well and remove from flame.

5.Serve hot with steamed rice and spicy stir fry.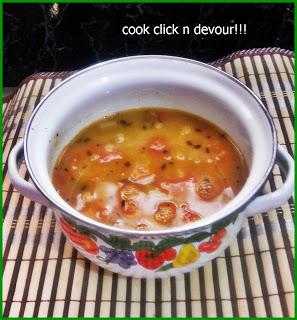 Notes
1.Do not add excess water while cooking toor dal as while cooking the dal itself releases water.3/4 water for 1 cup dal is correct ratio
2.Instead of asafoetida you can add onions while tempering
3.Along with other temperings add channa dal if preferred
4.Do not miss pepper powder as it gives a very nice flavor