Last week Durban was blessed with some much needed rain. While the weather was still hot and humid, it made me crave a good bowl of soup. Thai soup in particular.
Since my family are not fans of Tom Yum Soup, I decided to whip up a chicken and coconut soup. Seeing as I had no recipe, I let my imagination lead me- I knew I wanted a coconut base. With chicken pieces. With loads of lemon grass. And chilli.
What a fun morning of experimenting it turned out to be, and the best part was that the end result was simply delicious.
Serve the soup with a crusty baguette or slices of crusty milk bread and a side of grilled feta with tomatoes and it's a delicious meal on its own, perfect for hot summer days or cold comfort food days.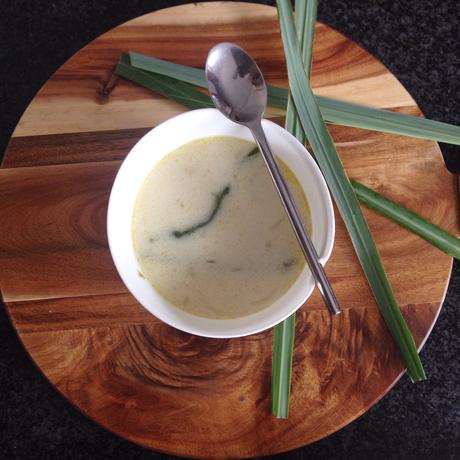 Add in:
Thai Inspired Chicken & Coconut Soup
Then add:
1 medium onion, braise lightly in ghee till opaque.
1/2 cup chicken cubes and braise
2 tsp crush garlic
1 tsp ginger
Salt
2 tsp lemon pepper
Then add:
1/4 tsp fine white pepper powder
2 tsp green chilli. Braise.
1 L water and 3 stalks of lemon grass, 2 whole green chillis, boil for 15 mins.
Mix together 1/2 cup milk, 1 tin coconut cream, 1 packet vegetable soup, add to the above. Boil.
Garnish with fresh chopped coriander before serving.