A simple and quick meal to prep for those days that you're short on time or just in the mood for something light and easy.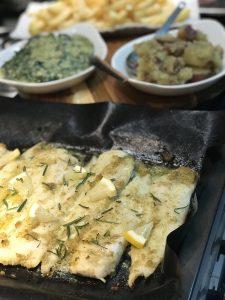 Grilled Fish
1 box hake fillets
2 tbls garlic crushed
Crushed green chilli to taste
Salt to taste
Fresh ground black pepper
1 tsp fish spice of your choice
1 tbls lemon juice
1 tbls olive oil
Preheat grill atleast 10 mins ahead, you want it nice & hot.
Place fish on a pan.
Baste on both sides with the above.
Place fish under grill, approximately 10 mins or till flesh is white.
Remove, top with butter, slices of lemon and some fresh thyme.
Grill a further 2 minutes and serve.
Creamy Spinach
1 small onion
1 packet spinach
Salt and pepper to taste
Green chilli to taste
1 tbls ground garlic
Sauté the onion in butter.
Add the spinach and spice.
Cook till reduced.
Add in fresh cream or white sauce and cook till thickened.
Sweet Potato
Slice sweet potatoes, place in pot with butter, cinnamon and some sugar. Steam till done with a little water.