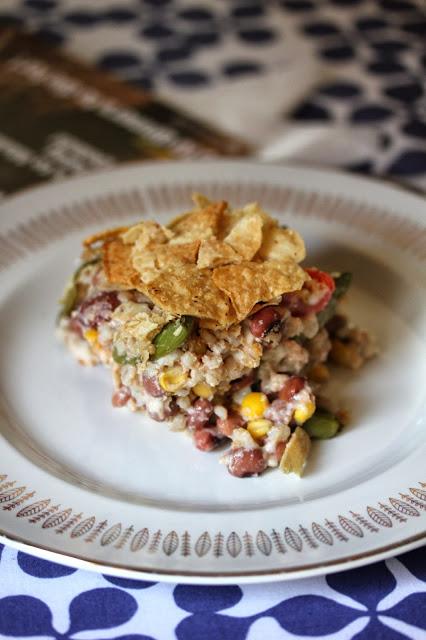 This is our third installment of veganizing Everyday with Rachel Ray magazine. I'm not gonna lie I was supes skeptical of this dish up until the moment I actually tasted it.
It seemed like the oddest, most bland concoction in the world but it's actually really good!! And I think it'll be something we'll turn to often for a quick meal.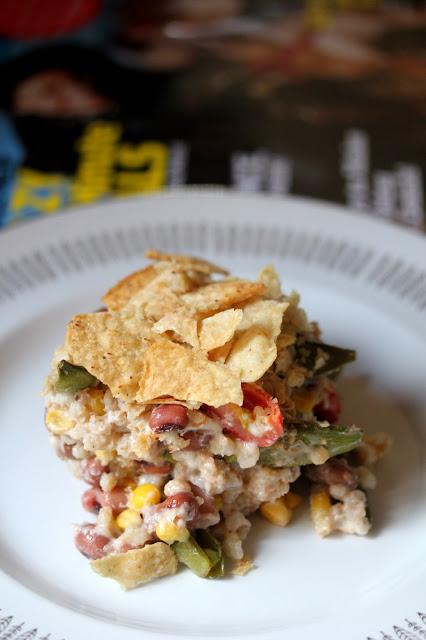 We just adore one pot meals, doesn't everyone? They make things a LOT simpler. And speedier!
This is a pretty hearty dish and that pleases me, haha.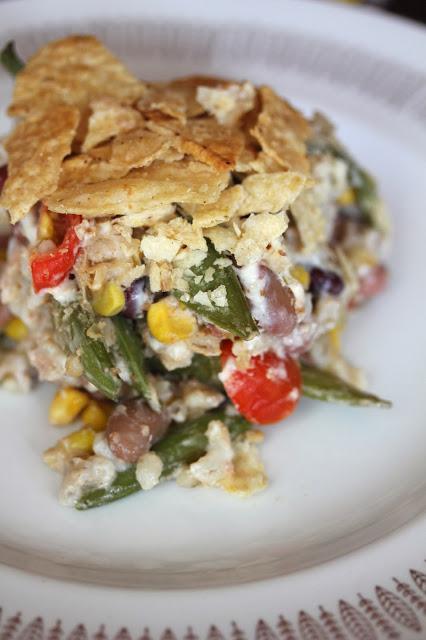 I'm sorry I ever doubted this meal because everything works together really well (we did, however, add a lot more seasoning). The corn and tomatoes add sweetness while the sugar snap peas lend a little crunch to the dish. Crumbled tortillas make any and every dish instantly delish ;)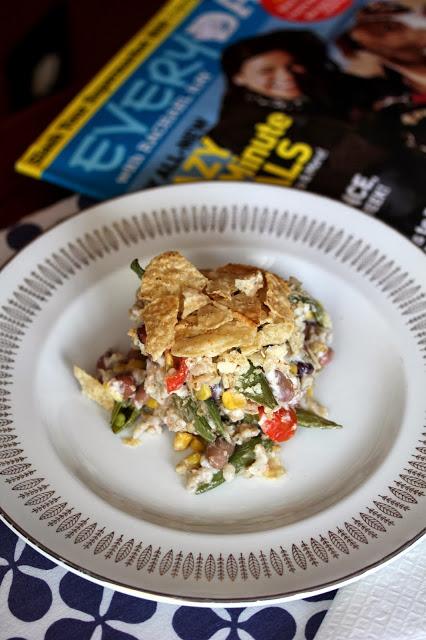 Tex-Mex Barley Bakeadapted from Everyday with Rachel Ray
Ingredients2/3 cup pearled barley4 tbsp vegan margarine, like Earth Balance2 cups sugar snap peas1 bunch scallions, thinly sliced2 cups frozen corn, thawed 1 can black beans, rinsed1 can red kidney beans, rinsed1 tbsp smoked paprika 2 tsp garlic powder1/2 tsp cumin1 tsp peppersalt to taste2 tbsp flour2 1/4 cups preferred non-dairy milk, warmed 3 cups Daiya mozzarella shreds2 cups crushed tortilla chips 
DirectionsIn a small saucepan, bring 3 cups of water to a boil; add barley, lower the heat and simmer for 40 mins. Drain, transfer to bowl and let cool. Reserve saucepan. In a large skillet, melt margarine over med-high heat; add sugar snap peas, scallions, and 1/2 cup water. Boil to evaporate water. Add beans, corn, and tomatoes; stir together and add spices. Cook until fragrant then add to barley. Using the saucepan, melt remaining margarine over med heat. Whisk in flour for 1min; slowly whisk in the warmed milk and bring to a simmer, then cook for 1 min more. Stir in 2 cups cheese, 1 tsp salt and 1/2 tsp pepper. Stir this into the barley mixture; transfer to baking dish.Cover with foil and bake for 18 mins. Sprinkle chips and remaining cheese on top. Bake uncovered until cheese melted and chips toasted - 10 to 15 mins.
Serve and enjoy!!!!