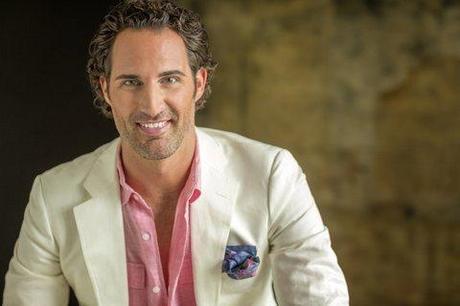 American tenor James Valenti will sing the role of Pinkerton in Met Opera's 'Madama Butterfly' | photo by Dario Acosta
When Operatoonity.com last spoke with American tenor James Valenti, he was learning the tango for The Dream of Valentino, a new production for Minnesota Opera.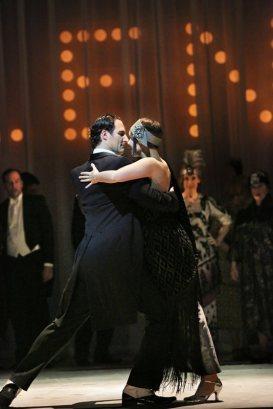 James Valenti as Valentino, courtesy of Minnesota Opera | photo 2014 © Michal Daniel
Now, fresh from portraying the silent film star and marquee idol Rudolph Valentino, James enthusiastically reports that he has mastered the dance that Argentina put on the map. (Let's hope Valentino comes east soon, so that we, too, can witness his ballroom dancing prowess. If like me, curiosity has gotten the better of you, you can watch James tangoing in this YouTube clip.)
In less than two weeks, he opens in the Metropolitan Opera's production of Madama Butterfly, which seemed like an ideal opportunity to catch up with him.
Welcome back to Operatoonity.com, James. You're back in NYC to prepare for singing Lt. Pinkerton for four productions on April 4, 9. 12 & 15.
It's always exciting being close to home. I get to see a lot of my old friends–my high school friends–and of course my family.
How are you preparing for your imminent Met appearance?
I've seen the Minghella production, and I just sang the role for Lyric Opera in Chicago this past fall. In fact I've sung the role many times. Of course, every theater has a different way they operate. Sometimes withe European companies, you don't even get an orchestra rehearsal. I feel as though I have sufficient preparation time prior to that April 4 opening at the Met.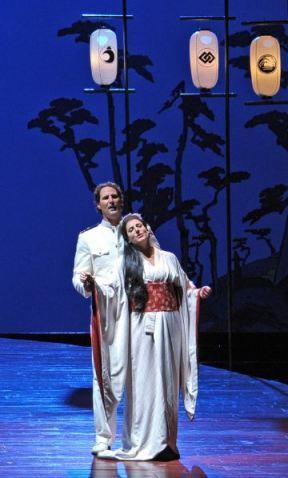 James Valenti in Madama Butterfly, courtesy of Lyric Opera of Chicago | photo by Dan Rest
How are you different from the young artist who sang Pinkerton in 2008, when you won New York City Opera's Debut Artist of the Year award?
I certainly feel differently. I have been working on a new dramatic repertoire, singing more lyric-spinto. My voice now takes on new colors. I got to sing Don Carlo and Valentino–Valentino was a milestone in my career, and I really grew a lot. So I am excited to bring my new technique to the role. I have a new way of singing, and I hope that I have a huge success and get invited back for the next ten years.
You sing a great deal of classic opera. Do you prefer more traditional versions or lean toward experimental interpretations?
Definitely more of a traditionalist. However, Anthony Minghella's production is rather modern, and it works. The little boy character is actually a puppet. Puppeteers wearing black will be onstage manipulating him. This choice was controversial when Minghella first introduced it. But I have to say, it's a stunning interpretation.
Will you have much down time while you're in New York?
Certainly, I'll have enough time to see other performances at the Met when I am not rehearsing or performing. I definitely want to see Werther and Andrea Chénier.
Any other fun things you plan on doing while you're in the Big Apple?
There's so much going on here. Great restaurants. I'll do things in Central Park once it gets a little warmer. I love going to those nice hotel spas. I like to let loose a little, too.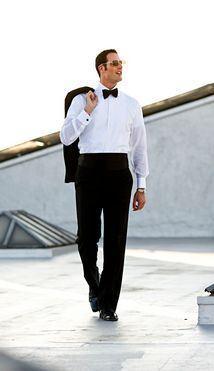 Besides a good tango, how do you kick up your heels?
My high school friends and I  head to Koreatown for a little karaoke. I like singing stuff from the 80s, like "Living on a Prayer" by Bon Jovi and a lot of Journey hits like "Don't Stop Believing." I sing a lot of Billy Joel, too. I love all his music–from his earliest album Cold Spring Harbor.
According to the the performance schedule on your website, you are getting a little break this summer. Any special plans?
I'm taking  a little time off to record my first CD. All Italian and French music that will probably be available around August 1. You'll definitely be hearing more about that project. But this is the beauty of my life. I'm not married. I don't have children. I don't have anything tying me down that keeps me from picking up and going to Europe. I still get to fly by the seat of my pants.
(And, to conclude, an Operatoonity Q&A staple) The Lightning Round
Cheesesteak or Cheesecake? Cheesecake (with ricotta, the Italian way)
Jeans or khakis? Jeans
Sweater or sweatshirt? Sweater
Dogs or cats? Dogs
Spaghetti or lasagne? Lasagne
House of Pizza or House of Cards? House of Cards
 * * *