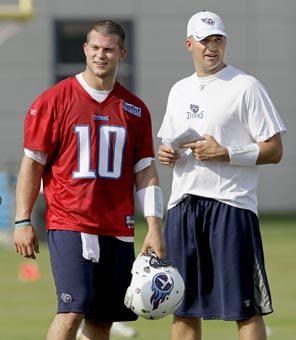 Photo: Mark Humphrey/Associated Press
- Adam Parker


It's a new era for rookie quarterbacks.
Gone are the days when NFL teams drafted quarterbacks in the first round only to have them stand on the sideline holding a clipboard and 'learning by watching' ala Aaron Rodgers.
It's 2012.
Nowadays, if a quarterback is taken in the first round, it's because the team drafting him not only is in dire need of a franchise quarterback, but the young gunslinger selected is almost always expected to come in, take the reigns and command the huddle like a 10-year veteran.
Titans' second-year quarterback Jake Locker was drafted with the eighth overall selection in the 2011 NFL Draft, and Tennessee went against the grain by bringing in veteran Matt Hasselbeck, who not only tutored Locker, but also started all 16 games of Locker's rookie season.
All the while, Locker looked on and learned from the 36-year-old veteran. But this year, he's not holding back. Locker wants the starting job, and he aims to take it.
Since this trend of throwing rookie quarterbacks 'into the fire' began, there have been mixed results. Though the majority of what we hear tends to be positive with the successes of Joe Flacco, Matt Ryan, Matt Stafford and most recently -- Cam Newton, one cannot forget the cautionary tales of the guys who couldn't cut it -- guys like JaMarcus Russell, Matt Leinart and Vince Young.
In many ways, Locker is still a rookie. After all, he didn't have the benefit of a rookie mini camp, nor was he the benefit of the normal amount of offseason workouts at all -- thanks to being drafted in a year when a lockout hung overhead like an unrelenting storm cloud.
But this year's different. With the benefit of a full offseason program ahead for Locker, the former Washington Huskies star will be in an all-out battle with Hasselbeck for the starting job in Tennessee -- a battle Locker intends to win.
I have to say, I like Locker's chances. He's got all the physical tools you want in today's prototypical quarterback -- he's a legit 6'2" 230 lb. quarterback with great athleticism and a cannon attached to his right shoulder. Not only that, he's a great leader and his toughness and resilience are unmatched.
Hasselbeck has been a great teacher, but it's time for the pupil to surpass the master.
Despite the teams countless uninspiring showings in the 2011 season, this Titans offense is loaded with talent, and the front office added to it when they drafted Baylor wide receiver and RGIII's former favorite target in Kendall Wright to go along with Kenny Britt, and tight end Jared Cook, in what should be a much-improved passing game.
They also added future Hall of Fame guard Steve Hutchinson to an offensive line that already includes studs like Michael Roos and David Stewart.
All that should make for a better 2012 campaign for running back Chris 'CJ2K' Johnson.
The Titans' offense seems set for a breakout season. Now all that remains is to decide who will lead them -- Hasselbeck or Locker?
It may not receive the same hype as past quarterback battles have gotten, but nonetheless, it will be interesting to watch it unfold.
Good luck, Jake and, "May the odds be ever in your favor."