The Third Saturday in October is among us and everyone from the South knows what that means, the time for Alabama to dominate Tennessee is near. This year Alabama is looking to get it's 7th win in a row against our arch rival Tennessee. The past 6 years have went a little something like this: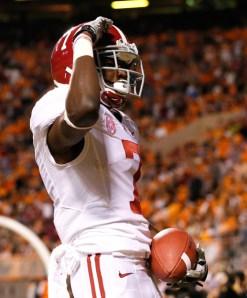 Kenny is out to get 7 in a row!
2007 – Alabama 41   Tennessee 17  
2008 – Alabama 29   Tennessee 9     
2009 – Alabama 12   Tennessee 10  
2010 – Alabama 41   Tennessee 10  
2011 – Alabama 37   Tennessee 6  
2012 – Alabama 44   Tennessee 13  

Before I begin tell you about #TennesseeHateWeek and why Alabama will dominate for a 7th straight year, I must first tell you the history of how the 3rd Saturday in October came to be.
The Rivalry
The rivalry was once known by its date alone, "The Third Saturday in October." It was the first game that could be considered a true rivalry for Alabama. Dating back 112 years, it's one of college football's oldest series. It's spawned great quotes, like this one by the man who was the "Bear" Bryant of Tennessee: "You never know what a football player is made of until he plays against Alabama." – Former Tennessee Coach Bob Neyland. The series has seen stretches where wins went back and forth, stretches that went into long streaks by one and then by the other. Few people realize that Alabama has played Tennessee more than any other team in their history. Nineteen more times than Auburn, 20 more than LSU, and 37 times more than Ole Miss.
The Tide and Volunteers first met on the gridiron in Birmingham way back in 1901, fighting to a 6-6 tie before a controversial call sparked a riot (I wasn't there, but I'm pretty sure Tennessee started it), ending the game and starting a now-century old grudge. Even though there weren't any more riots to speak of in the ensuing decades, the level of bad blood present after that first game wasn't terribly diminished at any of the other meetings.
It was the first "must win" game for Alabama, and it went the same way for Tennessee. The hate for each other fueled the players will to win. You want to know how bad the players back then wanted to win? Check out this quote, "His ear had a real nasty cut, and it was dangling from his head bleeding badly. He grabbed his own ear and tried to yank it from his head. His teammates stopped him, and the managers bandaged him. Man was that guy a tough one. He wanted to tear off his own ear so he could keep playing." Tennessee lineman Bull Bayer talking about his counterpart, Bully Van de Graaff in the 1913 game. This is the hate that has fueled the series over the years.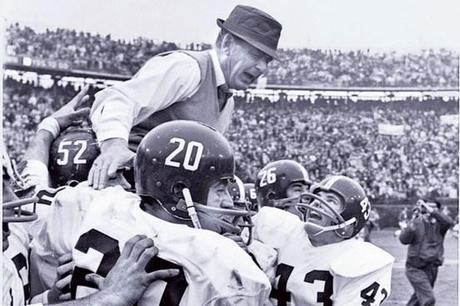 Another in-game incident included Bear Bryant's second outing. He was ejected for allegedly sucker-punching Tennessee running back Phil Dickens, breaking his nose. As it later turned out, the punch came from another Alabama player (Bear was 15 yards away from the incident), yet Bryant never let on that he was not involved in the incident.
Bryant's legend as a player harked back to the 1935 contest against the Volunteers when he played one of the best games of his career despite having a fractured shin bone. Skeptical sportswriters were shown the X-rays when they doubted he'd played on a broken leg and Bryant later said "it was one little bone." There's no way Bryant was coming out against Tennessee.
After the game and a 34-3 beat down of the Vols in 1961, Alabama's longtime trainer Jim Goostree handed out victory cigars to all the players and coaches in the locker room beginning a hallowed Crimson Tide tradition. Both teams continued the tradition for some time, though kept it secret due to NCAA rules concerning extra benefits and tobacco products. Alabama "publicly" restarted the tradition in 2005, though as a result, self-reported an NCAA violation. Every year since 2005, the winning team (Alabama) knowingly violates the NCAA rule and reports the violation in honor of tradition! As Cyrus Kouandijo said with his one word answer to the feeling of smoking that locker room cigar after beating the Vols, "Righteous," Kouandjio said. "The feel of victory, the feel of accomplishment and you have a cigar to prove it. It's a good feeling."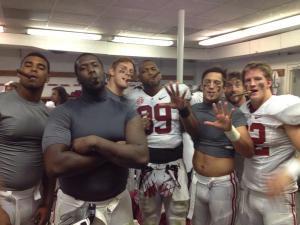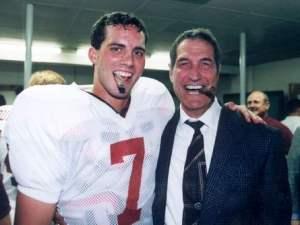 From the beginning to now not much has changed, the hate is still as present as it was back in 1901. As the players get ready to take the field on Saturday there's only one thing on both teams mind and that's dominate the opponent at all cost. The players and fans live for this game and as most people ask, don't you hate Auburn more than Tennessee? It's a simple reply really. Alabama does not hate Auburn we simply pity them, but Tennessee on the other hand is the one team every Alabama fan can say they hate. It's the nasty "puke inside a pumpkin" orange you see everywhere, hearing Rocky Top played 6000 times per game, and it's wanting them to lose every game from here to the next century. There are many teams we dislike but there is only one team we purely hate and that is team is Tennessee.
Evidence of the hate:
Roger Schultz, Alabama player from 86-90 said, "I can't stand Tennessee, because for many years Tennessee was our biggest rival. I just always wanted to beat Tennessee more, and when I played, we never lost to Tennessee. Schultz also said, "back then, I said that, we ought to pay property tax on Neyland Stadium because we own it".
Through the 70′s Bama dominated Tennessee winning 11 straight before Tennessee. In 1986 Alabama beat Tennessee 56-28 by running the same play 26 times. Needless to say this didn't help win over any Tennessee fans it only made the hate boil.
Beating Tennessee has always meant something to me, even from a young age. I can remember when I was a kid my grandparents taking me to a game at Legion Field and Tennessee beat us. There was a woman who was a Tennessee fan sitting in front of us and she sang Rocky Top the entire game. Needless to say from that point forward I wanted to beat Tennessee by 100 every time we played. I now leave you with one of the best videos on the internet.
So sit back and relax in a little more than 24 hours Tennessee is going to roll up in the Heart of Dixie and get curb stomped for a 7th straight time! To all my Bama fans Roll Tide and to Tennessee, may Nick Saban have mercy on you.
Until next time, Roll Tide!